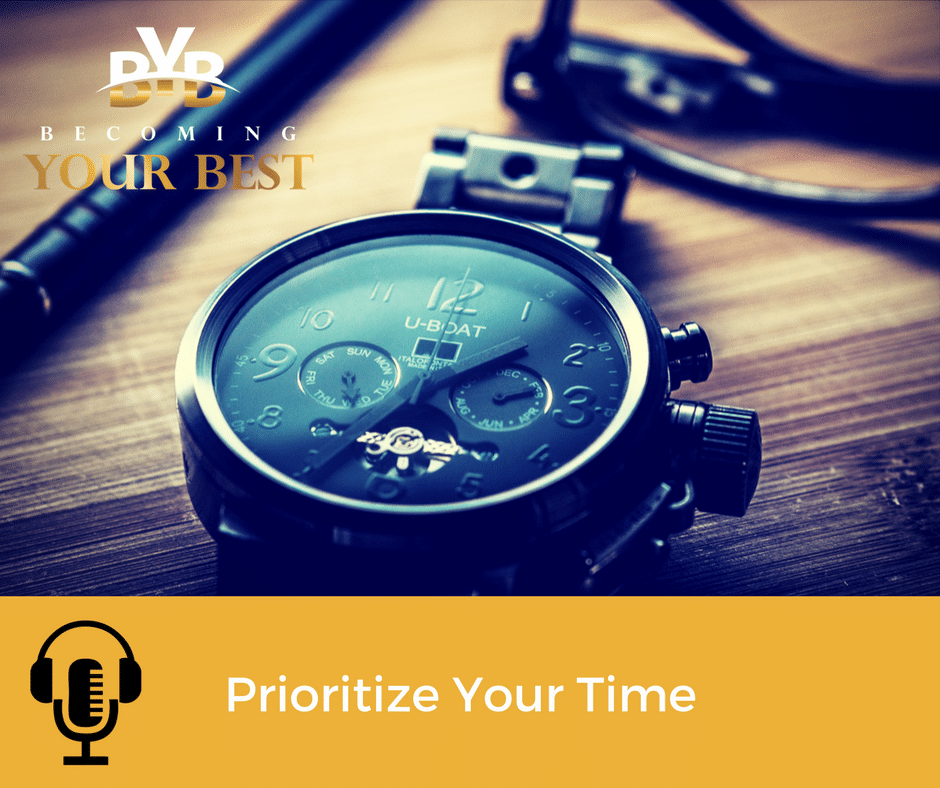 Prioritize Your Time
All right, welcome to our "Becoming Your Best" podcast listeners. My name is Rob Shallenberger and welcome wherever you are. I'm looking out the window right now in Utah at some beautiful snow-capped mountains on a crisp beautiful spring day with a nice blue sky. It's just amazing. Well hey, this is gonna be a short podcast yet, I hope very impactful in your life. I've been thinking about some people recently who have reached out to becoming your best and have been calling us and the common theme amongst their lives and their stories are that they feel like they've been on fire. In other words, their lives have just totally transformed in the last few months and it's been interesting. I'm gonna have one of those people, a friend on the West Coast who has just had some amazing experiences. I'm gonna share her story in a couple of months and maybe potentially have her on the podcast.
The common theme amongst these people as they start to apply the 12 principles and catch on fire, is that they feel this shift from being transactional in nature to being and living and thinking transformationally, and there's a huge shift in that. And one of those ladies who's become a good friend, she said that she wrote down in a seminar that at some point along the seminar I told her and the group, "If you apply the 12 principles and start to focus on them and master them, your entire life will start to change. You're going to start to think transformationally, and a fire will start to grow within you and it's going to impact every area of your life professionally, personally, your home life, across the board." And indeed that's exactly what happens when someone starts to pattern their lives around the 12 principles of highly successful leaders.
Great leaders get great results because they do the same things that other great leaders have done, and those are the 12 principles. Let me share with you a story that some of you might have heard on a video that I did recently of what that transformation looks like and the impact that it can have. So we flew into San Diego a few months ago for a ball game, a football game. We landed, we walked out to the rental car shuttle, we got on the bus and people were just packing into the bus, so it's full of people. If you can imagine yourself being on the bus, what do most people do on a rental car shuttle bus? Most people immediately go heads down and start looking at their phones. Right?
Well, this was different. We all got on the bus and the driver said, "Ladies and gentlemen, welcome to San Diego. For the next 10 minutes I'm gonna be your personal tour guide." And then he asked us to look off our right shoulders out the right side of the bus and there in 1874 Don Pedro, and he went on telling this fun story and I was fully raptured. He had my complete attention and I started looking around at the people and their responses and sure enough they started putting away their cell phones. They started listening. They started laughing. They started engaging.
Now here's someone that could be arguably doing an ordinary job in an extraordinary way. Now why do I say arguably? What would most other drivers do in his situation? You could say that, "You know what, a lot of them may complain about their job." They're driving 10 minutes back and forth the same route every single day and they're making whatever they're making an hour $12 to $15 an hour and you could say that could be a very mundane routine potentially boring job. Yet here is someone who's not complaining, rather he's thinking and living transformationally. And what's the impact? Well, I'll show you the impact.
So now he's got my full attention here. I can see that he's transformational, he's different than 99% of other rental car shuttle drivers. And so he has everyone's attention, it turns into a great ride, people are laughing. And when he pulls up to the rental car facility, people file off the bus and whereas before they were in a hurry, I watched a line form to say thank you to him. So people would shake his hand, they'd pat him on the shoulder. They'd just thank him for making their day, and then suddenly people are handing him these $5 and $10 tips. Along with us we did the same thing and I just suddenly was in the background watching. He probably made around $100 on that 10-minute drive.
So imagine the impact of that throughout the day. How much more money do you think he's making than all the rest of the drivers out there? Do you think he enjoys his job? My guess is that he loves coming to work every day, that it's not just a boring, mundane, routine job. He's taken something ordinary and he's doing it in an extraordinary way, and that is the perfect example of what it means to be transformational rather than transactional. And think about how that impacts every area of his life. He's making way more than the other drivers, no doubt about it. In addition though he's happier. He has more joy in his life. He comes to work and he feels great about his job. He's gonna be there potentially for years doing that and he sees it as an opportunity to impact people's lives.
Well, that's the difference and I wanna use that as the base, the foundation for this podcast is how do you start to think more transformationally about your life in any role, in any capacity? So certainly, whatever your professional job is, how can you be transformational and take whatever is ordinary there and do it in an extraordinary way? That's the shift that starts to happen. Now, it's difficult to do that. It's difficult to be transformational if a person is always in reaction mode, running from fire to fire to fire. And the same thing can happen at home. If you're a stay-at-home parent, how do you be transformational with your children, with your spouse if you're always running from fire to fire to fire? And I'll ask people during a seminar, "How often do you feel more like a firefighter? In other words, you're just running from fire to fire to fire putting out these fires," and almost everyone's hands go up when I ask that question.
So let's see if in this podcast we can identify something that can really make a difference in your life in that shift from transactional to transformational. It's not uncommon for people to ask me, "Hey Rob, what's the biggest piece of advice you could give? What…what's something you could share that would really have an impact?" And as anybody knows who's been to a "Becoming Your Best" seminar who are listening to these podcasts, there's not a single silver bullet of leadership or success. It's a combination of things that create excellence. However, there is one thing that always stands out amongst these others that is a huge deal, and that is pre-week planning. In other words, it's prioritizing your time to focus on what matters most.
So if I only have two or three minutes with someone and they ask that question, that's what I share almost every time. Now how much more impactful and how much more powerful is it in your life if you tie pre-week planning into having a clear vision for yourself? You have specific goals and milestones that you're achieving this year that you're working on. You're on this journey and pre-week planning becomes extra powerful when it's tied into these other principles. So let's just look at this maybe through a different lens. I know some of you have heard this term, you've practiced it, yet it's probably 80% to 90% mindset and only 10% to 20% skill set. A lot of people who started this incredible habit say, "Yeah, it changed their life." They had this amazing experience using it, yet somewhere along the way they lost the habit. And so what are some things that can help you and why is it important? Sometimes that's the value of a podcast. It's just a quick little refresher. It's a quick little get-me-up and that motivator that sometimes you need to just reengage in a habit that you knew had a big impact.
So, I just wanna address it from that angle. Now, we've talked about pre-week planning in the past being one of the single greatest habits you can use to transform your life. Why? Let's look at this from both lenses. In your personal or home life, you may have heard this before, how do kids spell love? T-I-M-E. It's the time. It's the time that you give to them, and there's two aspects to that. It's quality time and it's quantity time. Both are important. I mean, if you're seeing your kids once every three months and it's high quality, I can't imagine the scenario where that's gonna be transformational. So it's about having quantity and quality time with your kids. That's how you show your love, is being present with them. Well that's part of being transformational in the home and not transactional is figuring out how and when you're going to be present.
What are you going to do as a parent, as a spouse? You wanna bring excitement back into your marriage? We can't just leave a marriage on cruise control and hope that things are gonna work out. It's just like a business. You've got to put time and energy and effort into it. Love is a verb in that case. You gotta take action in your marriage to make it great. It's not a unilateral…it's not a one-person thing. It takes two people both focusing on that. Now let's look at this through the professional lens, from the business side of things. Being transformational requires a focus from you on what matters most. Transformational actions. Those type of things don't happen on accident in the workplace and this is how you create loyal customers. This is how you create employees who want to serve you, who want to work with you and side by side with you so that you're firing on all cylinders of the team.
Now, what's the most common excuse for this? And I'm just gonna give you a simple invitation. Count how many times in a day you hear someone say the word, busy. How many times do you hear people say, "I'm just so busy," or "I'm too busy to do that." Many times what we're doing when we say those words is we're excusing our behavior, we're excusing not focusing on the priorities, the things that matter most because we're so busy. Now, is it okay to be busy if we're focused on the things that matter most? Of course it is. It's a matter of staying focused on those priorities though rather than getting to the transactional things, the day-to-day fires both at home and at work.
So, let me put this in a different way. This is interesting. I was talking with my dad maybe a week or two ago, and in Greek and Latin and in that area there's a different terminology for this, chronos and Kairos. They look at time and how they schedule things through those two lenses. Chronos is the time aspect. What are you gonna do at eight o'clock in the morning, at two o'clock in the afternoon? Kairos, is a different way to look at your schedule on your day and that is the leadership aspect of your life. Kairos are your priorities. So what are you gonna do in your priorities today? And that's what great leaders do and those who really have the balance of success stories across all areas of their lives is they both think on the chronos side of it and the kairos side and how to combine the two, leading your own life and then figuring out when you're gonna do that.
So here's some brief steps that you can use as a refresher for those who have been to our seminar, for those who have used pre-week planning and have a "Becoming Your Best" planner. Let's just walk through the simple steps that you can use to think both chronos and kairos and schedule your priorities rather than prioritizing your schedule. So typically this is done pre-week planning on Saturday or Sunday. For most people if you wait until Monday morning, you're in the thick of the fire at that point. And for most people that wait, it tends not to get done if you wait until Monday morning. So my suggestion, recommendation based on doing this with a lot of people is that Saturday or Sunday tends to be the most effective time. And you probably wanna allocate 20 to 45 minutes to really have a solid pre-week planning.
So what do you do in that 20 to 45 minutes? Well number one, sit down and review your personal vision. What's your why? What's your purpose? If you're looking at that every week, man you're so different than everyone else out there in the world. You have that figured out and you're constantly keeping it in front of you. Second, review your yearly or annual goals and ask yourself, "What can you do this week to move towards a goal?" If you have a goal of running a half marathon by September 1st which happens to be exactly one of my goals, what can I do this week? Well, I better start setting some running milestones this week. When, kairos-chronos and why is it important? I know it's attached to the goals, so I've got the kairos part of it. That's my physical health. So that's the priority, and then I need figure out when this week I'm gonna do it.
And so you look at your goals, when are you gonna do some of those things, this week will help you move towards your goals. You're setting some weekly milestones if you will. Second is, now we're gonna focus purely on the kairos, the priority side of your life. This is where you want to identify your roles that matter most to you. So maybe it's a mother or a father, maybe it's a manager, maybe it's a sales rep, a friend, a caretaker. Never forget personal. Personal is yourself. That's an important role. Steven Covey would call that sharpening the saw, and so you wanna take care of yourself physically, mentally, emotionally and spiritually.
So you have these different roles. And then last, if you ask yourself, what actions can you do in each of those roles this week that would be transformational? Think kairos. What matters most in that role? So let me just share maybe a couple of examples and you'll have some ideas as I'm sharing these examples of things that apply to your life. So maybe in the role of father, I have four children from 15 years down to six years old. Maybe this week it's as simple as reading with each daughter, play basketball with my son, write a special note to each of my kids. That's the kairos part of it, and then I need to attach the chronos part. So once I have some actions that really matter most in each role, when will I do those?
So now you start to think about that. What are some actions that would really be transformational or matter most to you in some of your different roles? That's the kairos side of it. Then move over to, "When will you do them," and attach a time to it. Move it down into your calendar so that you have a specific time when you'll do it. So maybe CEO. Here's some things I could put in my role as CEO. Take an employee to lunch. Maybe send five texts to key clients just wishing them a great week. Do an external environment analysis for our company because otherwise we just tend to get what? Too busy, and I can't lose track as the CEO, of the threats and the opportunities that are happening around us, yet if I don't plan time for it, it's probably not going to get done. If you're a manager or a leader, when was last time you looked at the threats or the opportunities that exist around you in whatever capacity you're in?
This is one of the things that goes back to scheduling your priorities rather than prioritizing your schedule, is that you're looking at the things that matter most that most other leaders wouldn't think about because they're in reaction mode day to day to day, and this is fire to fire, and you just cannot be transformational if that's how a person is living their life. So here's one last example. If you have the role of friend, maybe it could be this simple. Call John and Chris, set up a lunch with Aaron, send a group email to start the planning for a reunion. Those would be specific actions this week — kairos, and then I would ask, "Well, when will I do them? — Chronos, and putting a time to the priorities.
Can you get a sense and a feel for how powerful that would be in your life as you're trying to lead your own life and then lead a family and then potentially leading a team or other groups of people? That's why when you both bring kairos in chronos together it can have a huge impact on your life and the end objective is to help you accomplish your vision. To be transformational rather than so many in the world who are stuck in this transactional world of day-to-day excusing their lack of focus on priorities because they're so busy. We cannot do that. You think about this in your life. Your time is precious. One of the things I love to do and it may sound a little strange to some, I love to go through a cemetery. And one of the reasons why is because I'll look at different headstones and it's interesting. You're looking at someone's life there. And every headstone is a little bit different, but there are some commonalities.
You'll see a birth date, the date they passed away and then what do you see in the middle? Usually you see a dash, right? And it always intrigues me. What was that person's dash? What did they do? I mean, here's this little line, this little dash, yet that was their life within that dash. And each week you are writing your dash, and at some point each one of us is gonna run out of time. Our legacy is gonna be cemented in our dash and the ripple effects from your life, the things that you've done, the actions that you've lived and done, whatever that may look like, begin to spread, and for good or for bad you can't stop that spread. That's the ripple effect and that's the power of pre-week planning is you're sending the ripple. You're writing your dash on a week-to-week basis. Focus on both kairos and chronos to help you be transformational.
And just like I started this podcast, when you do that coupled with the other principles, there's a fire that starts to grow within you. It's a different way of thinking. Your life changes. You come alive and become sometimes hard to watch when you don't see that fire in others. But you're experiencing it, you end up having an incredible transformation happen within you. And really one of the linchpin, the keys, the foundations that hold that all together is pre-week planning and staying focused on your priorities every week.
Well hopefully this was a quick little boost, pick-me-up and reminder of the importance to do pre-week planning. So what I would ask you to do and invite you to do is commit to do this for four weeks. So whether you started at one point and it slipped out your habits, whether you've been consistent in it, whether you've never done this before, and I won't say the word try, I almost said try. The invitation is to do this for four weeks. Not try but to do and see what impact it has on you through that month. And consistently, people who say, "Yeah you know what, I've been doing it for two months, it's been awesome and men, then I missed a month and that, or excuse me a week, and that week was stressful, it was chaotic" and that's exactly what happens once people make this a habit.
So we're gonna wrap up this podcast and just two final thoughts. For those that do not have a "Becoming Your Best" planner yet, I used to think that the tool was not that important, it was just a process because you can really do this on a blank piece of paper. Whether you use electronic calendar such as Google, Yahoo Outlook, it doesn't matter, I thought, "You know, you don't really need the tool." My thinking on that has changed. What I've found and our experience has been that the people who have the planner, the tool are the ones that are far more likely to be able to adopt this as a habit in their lives and continue to do it and think transformationally in the long term — short term and long term. So if you don't already have a "Becoming Your Best" planner, I invite you to go to the store at becomingyourbest.com. You can use the discount code, if I can say that word, VIP discount and that should give you 30% off the planner.
That's our special gift to you for being a loyal podcast listener and see what impact it has on you. Maybe you can get some planners for your team. Get some for your family, for your children. Help them learn the process. And for those that would like to really get the two day in-depth version… I mean this has just been one principle on this podcast. For those that would really like to come have a two-day transformational experience, the Breakthrough Leadership Conference is an unforgettable event. You can bring your spouse, you can bring partners, employees, you can even bring a teenage son or daughter. So those are usually done in the spring and the fall. If you go to the website, becomingyourbest.com you can see when the next event is and register for that event. We would love to see you there. You're gonna network with some incredible people and really get deep into some of these principles that can light that fire within you. So hey, wishing you a great week. Hopefully this was a good pick-me-up and let's go out there and not only try pre-week planning but think about what you can do to be transformational this week.
SUBSCRIBE TO THE PODCAST
EPISODE RESOURCES
Breakthrough Leadership Conference