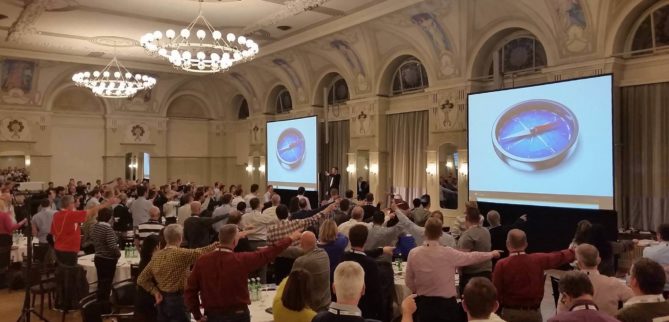 "Walsworth has had many keynote speakers in the past, but none who have resonated with us like Becoming Your Best."
Don Walsworth, President
"'I've been to many of these types of events over the years, but this is the cream of the crop!"
Michael Comet, CEO
Becoming Your Best Keynote Speakers
Too many times, you feel like you need to choose between education and entertainment. How many times have you booked a keynote speaker with a great story, only to have your team walk away temporarily motivated and a week later they revert back to old habits? It doesn't have to be that way. Your team can be entertained, motivated and leave with powerful tools that have a direct impact on ROI and real behavioral change.
Becoming Your Best combines motivational keynote speakers with real, results-driven resources to help simultaneously engage and unify your team while equipping them with a real-life toolkit that helps with everything from communication and trust-building to management and accountability. We offer the best keynote speakers for any business or industry, whether you're a thriving national brand or a startup. It's all part of our 12 Principles program.
Our professional keynote speakers are effective and entertaining — no compromises!
The Becoming Your Best Approach
Our conference keynote speakers leave attendees feeling inspired, empowered and ready to take on new challenges. We do this by applying the 12 Principles of Highly Successful Leaders, a program developed after decades of research and outlined in the book Becoming Your Best: The 12 Principles of Highly Successful Leaders, which was written by Becoming Your Best founder Steve Shallenberger. These principles are proven to produce high-performing teams, even when you're dealing with a range of leadership issues.
Whether your audience includes the top-level executive, the frontline employee or a diverse mix, your attendees will get specific ideas and tools to help them develop the mindset and skillset to achieve sustainable success. Through high-energy videos, real-world stories and specific examples from your industry, each member will feel like the speaker engaged them personally and connected with them on an individual level.
Your attendees will feel the shift in mindset, and when they start applying the skillset, they will begin to see immediate results. Your attendees will love the fun and easy-to-implement material. So stop feeling like you have to choose between entertainment and education, and choose Becoming Your Best for a world-class keynote.
Contact us today for a free consultation to learn how to book our top-notch corporate keynote speakers for your next corporate event, seminar or morale booster!
Schedule a Keynote