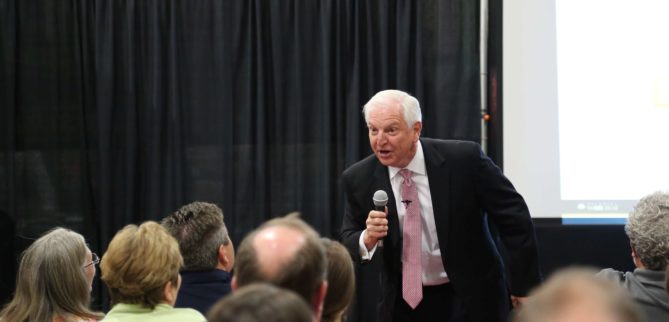 "We simply cannot thank you enough for the breakthroughs. There was a buzz and a palpable spirit of renewed motivation."
Mark Holland, CEO
"I have attended many seminars in the past. None have had a lasting impression on me like this one."
Steve Mena, VP of Operations
Leverage 40 years of leadership research to help you develop great leaders and high-performing teams!
In a fast-paced world, things are in flux and changing at a rapid pace. The difference between success and failure rests with your people and their ability to flawlessly execute at the highest level. Bring your team together to develop both the mindset and skillset that produces the results you want with Becoming Your Best's corporate seminars.
Our customized corporate training is more than a flavor of the month or a temporarily motivating experience. Attendees will walk away with powerful tools and processes that will help transform their results in the workplace and personal lives. Imagine the impact of an aligned organization, highly engaged employees, and peak-performing managers and leaders. Becoming Your Best can give your leaders the tools and skills to dominate your industry and become the disruptor.
How does it work? Considered the #1 leadership program in the world, this program was developed by bestselling author Steve Shallenberger and his son, former U.S. Fighter Pilot, Rob Shallenberger. They've compiled 40 years of leadership research to deliver the best corporate training for a range of business and leadership goals. The 12 principles of highly successful leaders will help your team develop high-performance leadership skills, increase sales, increase employee engagement, effectively execute business plans, and improve morale.
Whether in a Fortune 500 company or a small startup, the 12 Principles are guaranteed to help your leaders and teams get results that may have previously seemed impossible.
Corporate Seminars that Engage Your Team
Running a business or department in today's high-pressure business landscape gets more difficult every year. You and your team face the daunting task of prioritizing what matters most with a limited amount of time. You may have attended seminars in the past with hopes of real change, only to see implementation stall. This is what makes Becoming Your Best trainings so different.
World-class facilitators will lead your team to help your managers and employees see what their best looks like and how to use the 12 Principles to achieve it. Attendees will get the mindset and skillset needed to attain the type of success that seemed unattainable before. Each manager and participant will use the Success Rhythm™ blueprint to develop a sustainable plan that can propel them past their current goals.
Whether in a half-day or multi-day seminar, you can customize your experience by identifying which of the 12 Principles to focus on, and which tools and processes would have the greatest impact on your results.
Examples might include:
Seven ways to skyrocket sales through effective communication.
Create a fiercely loyal customer rather than just a satisfied customer.
How to develop high-performance leadership habits.
How to increase employee engagement and create a culture by design.
Time management: How to avoid Task Saturation and focus on What Matters Most™.
Conflict resolution.
How to innovate new ideas, stay on the cutting-edge, & be the disruptor.
And many more.
How Becoming Your Best Can Be a Turn-Key Solution
Many clients use Becoming Your Best as a turn-key solution for their leadership and learning program. Oftentimes an organization will combine a keynote or seminar while also certifying their facilitators to take these powerful tools wide and deep throughout the entire company. The Becoming Your Best trainer certification program is perfect for both a well-established leadership program as well as a young organization that wants to develop their employees and leaders.
Schedule Your Seminar or Workshop Today!
To schedule a high-impact seminar or workshop with your team, please call 888-690-8764 or send an email to support@BecomingYourBest.com
Schedule a Seminar