Don't Let Anxiety Ruin the Performance of Your Life.
Every time we face a fear, we grow, get bigger and we become more capable and confident.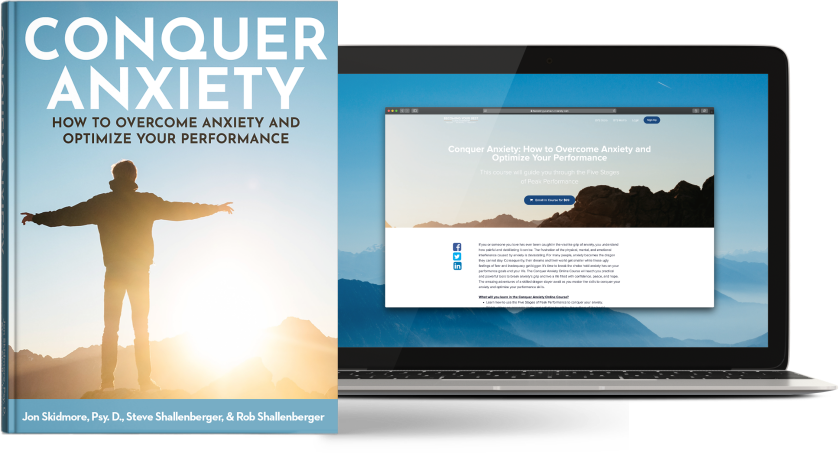 Get a lifetime access for $99
CONQUER FEAR & ANXIETY IN REAL TIME.
Fear and anxiety are real emotions that are powerful and can have a big impact in a person's life. At times, those emotions are so strong that they become debilitating. It's not uncommon for young men and women, with so many talents, to change paths, throw away careers or struggle desperately because of fear or anxiety.
If the decisions based on fear and anxiety aren't revisited and conquered, they will become memories, and more than likely, bad memories. And when triggered once again they will cause the same old fear and anxiety to show up in a new, present-day situation. The patterns of fear, avoidance, embarrassment and frustration only intensify the anxiety which in turn decreases our freedom.
2 WAYS TO CONQUER ANXIETY
LEARN PRACTICAL & POWERFUL TOOLS TO BREAK ANXIETY'S GRIP
We will guide through the Five Stages of Peak Performance.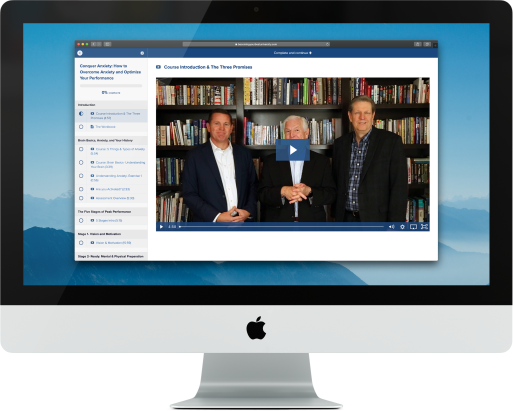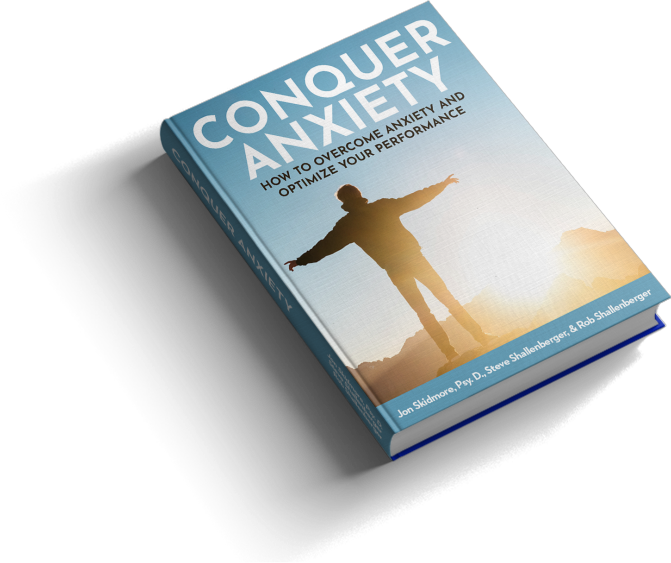 TAKE CONTROL & OPTIMIZE YOUR PERFORMANCE
Order now to save 20%. Get your copy today!
"This book is a must-read for any performer who is serious about their success. It will help anyone who has ever felt anxiety to move forward, gain a greater sense of peace, and be able to deliver an outstanding performance."
— Jenny Oaks Baker • America's Violinist,, Grammy Nominated, Billboard No. 1 Recording Artist, and Performer.
Fear and anxiety are perhaps the biggest barriers we face to almost everything we want. Getting past anxiety stands as an enormous and overwhelming task to most. With years of experience in professional psychology and performance coaching, Conquer Anxiety gives us an owner's manual for how to operate the equipment of our own brain. More than conquering anxiety, this book helps us to reframe it in a way that activates our brain, and our potential. This book could very well be the key you are looking for to unlock your power to succeed.
— Paul H. Jenkins, Ph.D. • Psychologist and author of *Pathological Positivity*
"Anxiety is real. Today, over half of the illnesses in America are stress-related. President Franklin Delano Roosevelt was correct when he observed, 'the only thing we have to fear is fear itself.' Anyone who feels stressed or overwhelmed NEEDS TO READ THIS BOOK, as it provides not only a blueprint on how to come to terms with anxiety, but also how to CONQUER anxiety."
— Danny Brassell, Ph.D. • Internationally-acclaimed speaker, bestselling author of 16 books and co-creator of ReadBETTERin67Steps.com
TAKE CONTROL & OPTIMIZE YOUR PERFORMANCE TODAY
Buying this book for others? Order more than 5 copies and receive an extra 10% off discount at check out!