Your character counts!
Character can be defined as how you act when no one is looking. Do you do things in private that would be unacceptable to do around your co-workers or family?
Every choice you make–even the small ones–will either strengthen or weaken your character. Choose now to strengthen your character by being honest, fair, courageous, and responsible.
The choice is yours; will you forget your character or be true to it?
How one individual's character shaped U.S. sports history!
Jackie Robinson made his choice to be true to character. He chose to cross the "baseball color line" and play professional baseball for the Dodgers, becoming the first African American to play Major League Baseball.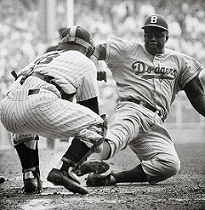 He courageously ignored critics and did what was right. Because of his choice to play baseball, he ended eighty years of baseball segregation and changed the course of the Civil Rights Movement. It was not an easy decision!
Later, as the Dodgers traveled, Jackie Robinson was ridiculed and insulted. Racial slurs and phrases, like "go back to the cotton fields" were often yelled from the dugouts. He faced obstacles from the fans, managers, and other players; but he persevered.
Jackie Robinson was true to character. He made the right choices and took the high road, even though it was hard.
Remember
Your character is determined by being trustworthy, respectful, and responsible! Never deceive, cheat, or steal. Have the courage stand up for and do the right thing. Treat others with respect and respond peacefully to anger, insults, and disagreements. Be self-disciplined and do what you are supposed to do. Be accountable for your words, actions, and attitude.
Weekly Action
1. Use a thoughts book. If you already have one, be sure you are using it frequently. Use it to capture your thoughts, inspiration, and ideas. Carry your thoughts book with you, so you can write your ideas and inspiration when they come.
2. Make progress in an area of improvement in your life. Draw a vertical line down the middle of a paper. On the left, write your strengths as they relate to character. On the right, write your areas of improvement, as they relates to character. After looking at your strengths and areas of improvement, choose one area to focus on this week that you would like to improve. Choose a friend or co-worker as an accountability partner and report back to them in one week.
3. E-mail us and tell us specifically how you're applying this principle this week. Respondents will be entered into a drawing to win a 30 minute FREE coaching session at the end of the quarter.
Your life will impact others because of your character. Keep strengthening it!