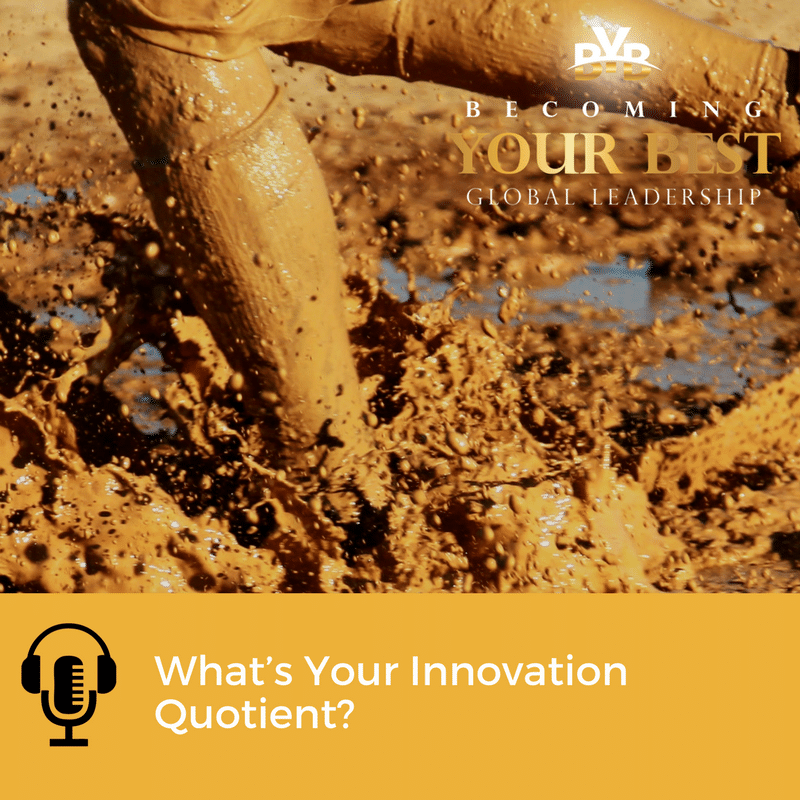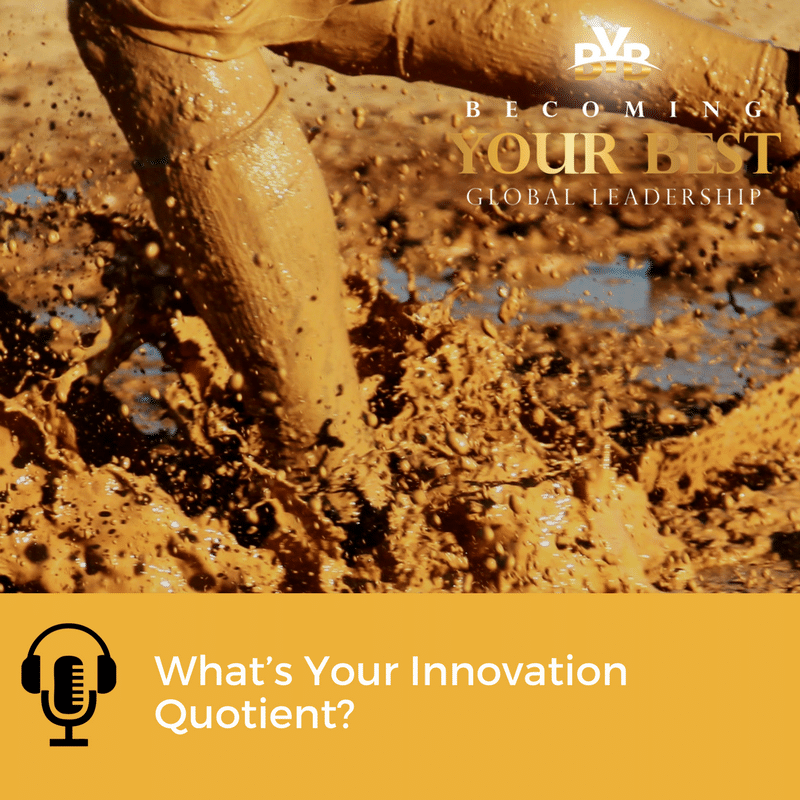 What's Your Innovation Quotient? – Interview with Tamara Kleinberg
Steve: Welcome to all of our "Becoming Your Best" podcast listeners, wherever you might be in the world today. This is your host, Steve Shallenberger. And we have a very interesting guest with us today. Our guest has helped and inspired many people on how to improve their lives and be more effective. Welcome, Tamara Kleinberg.
Tamara: Thank you so much for having me.
Steve: Oh, we're excited to have you. And before we get started today, I'd like to tell you a little about Tamara's background. First of all, this is fun. She's part of an elite group of TED speakers for completing three Tough Mudders. Tell us what a Tough Mudder is, Tamara.
Tamara: Oh, they are these…I don't know if you've done one yet…but they are these extreme sport events. It's usually 12 to 16 miles, 20 obstacle courses, and things like getting dumped in water so cold you can't breathe and electric shock wires. It just…it tests your limits, both physical and mental, every time you do it.
Steve: Lovely. Well, we know what the Spartan event is. We've had a number of our family members that have participated in that. I think quite similar.
Tamara: I love Spartan events.
Steve: Yeah, they're great. And Tamara's life is about breaking through the status quo for game-changing results. And I'll just tell you a little bit more about her. She is the founder of LaunchStreet, an online innovation program, and the creator of a proprietary Innovation Quotient Edge, which we'll talk a little bit about later in the program. It's the only assessment able to help you discover your unique innovator archetype, and we'll talk about that, so that you can innovate on demand. She is a sought-after keynote speaker, CrossFit addict, and a knee-high sock lover. She lives in the Colorado area, has two young children, a husband, and they are rocking and rolling.
Tamara: Don't forget my dog. My dog would be very upset if you didn't mention her. Her name is Zoe, and she's a 90-pound mastiff. So she's part of the family.
Steve: Well, that's perfect. Okay, well, Tamara, what was life like growing up for you? And what experiences helped you to see that you could be successful?
Tamara: Yeah, that's such a great question to open with, you know? So I was telling you a little bit offline that we moved every four years of my life. And the reason for that was my dad was an entrepreneur. So we basically bounced from business to business, and that required moving as well. And while that sounds horrible to a lot of people, what I will tell you is it taught me how to talk to everybody, because I had to start over every four years. I became the queen of reinvention I think before I was 18 years old because I always had to.
And, you know, I kinda looked back on my life, and, you know, I realized that that entrepreneurial spirit was inside of me very early on. My very first business was when I was 14 years old. I turned my teenage girl's dream closet into a business of renting clothing, and keep in mind, just to date myself, it was the 80s. So the clothing was bad, and it was before the Internet and [inaudible 00:03:19] could rent everything. But, you know, I was always looking for opportunities to just do things a little bit differently. I think a lot of us have that inside of us, that little spark, and it ignites every now and again. And sometimes we shut it down. And sometimes we let it grow. But in that case, I let it grow. And that summer, I had a ton of money. It was great.
But, you know, you would…one of the things that you would ask in a previous thing was, you know, kinda what are some of those defining moments in your childhood. And I would tell you a quick story, because I think this really kinda set up how I viewed life and how I ultimately was able to achieve success. When I was in third grade, I got the most awesome homework, which was, you know, come back on Monday morning and tell the class what you wanna be when you grow up. And I was so excited. And that's the best homework you can give a third grader ever because the possibilities at that point in your life are endless.
So, you know, I spent all weekend. I really…I took it very seriously. And I got back to school, and I stood up there, and I was the first to raise my hand. So I got up, you know, in front of that dirty chalkboard. And to see if my…you know, kids in front of me in those low tables, and I said, you know, "I'm Tamara. And when I grow up, I wanna be president of the United States."
Steve: Woo-hoo!
Tamara: And, you know, then I waited… Yeah. Well, that's what I was hoping for. Thank you. You know, I put my head down waiting for the like obvious standing ovation that was coming. But instead, I got laughter. And it wasn't actually the other kids. It was the teacher.
Yeah. She looked to me, and she said, "Tamara, don't be silly. You can't be president of the United States. You weren't born here. You need to come up with a new dream." So I wasn't born here. I was born in Israel. But I…I was born on dual citizenship. And it doesn't matter. In third grade, that's not the point, right?
Steve: Right, right.
Tamara: You know, I went home in tears, and I went into my dad's office because he's working from home at the time. And I said, you know, "I was told that those are the rules. So I can't be president." I was so upset and ready to be very dramatic. And my dad is very brass tacks about everything. And he looked up at me, and he just said, "Well, Tamara, then go change the rules." I was like "Oh my God." Like that opened my eyes to everything in life.
So I can't change the rules to be president. Frankly, at this point, I'm really glad I never pursued that path because it looks like a really hard job. But what it did teach me in life and what I've always applied is how can you go around those brick walls and those rules? How do you go under them, over them, through them? There's always a different way to accomplish what you wanna accomplish. And when I was in third grade, what I was really saying was I wanna make an impact on the world. That's really what I wanted. So when I thought about that in a different way, I was able to do different things and get to that goal.
Steve: Oh, I love it. Oh, thanks for that background. And this is a great reminder too. We who have the opportunity to work with others, to give them encouragement, to give them hope, to… I love the assignment. You know, to stoke that curiosity and creativity and… Well, great going! That's terrific.
Now, how about…you've been moving along. That was a great setback right there, a little challenge. But what's been some of the biggest challenges in your life or a challenge, just pick one, whether personal life or professional, and how did you handle it, and what was the impact?
Tamara: Yeah. So, you know, I think we all have a lot of challenges. And sometimes there are tiny little ones that seem to add up over time. And other times there are, you know, big ones that are slapping us around and leaving a little bit of a sting on our face. And I know…I think when I look back, the biggest challenges have been these tiny little things that constantly added up. And, you know, it really led to…it was me always trying to push the limits and always trying to do something different and getting pushed back.
And, you know, when I was…and so when I left university…I graduated from UC Berkeley and went out to New York City because I wanted to be in advertising and on Madison Avenue, which in the '90s was a big deal, you know, different now, but it was then. And I remember getting my first job there. And I was an administrative assistant. And that's not what I wanted to be. I wanted to be in account management. But because I didn't have an in, a connection, a referral…I was new to New York. I moved there not knowing anybody. I mean it was me and my apartment for the first six months of my time in New York City. And I had to take the job that I was provided because that's all I could get. I couldn't get the one in accounts because, you know, I didn't know anyone. However, once I got in, I was able to make my imprint and get to where I wanted to be.
So, you know, it seemed like a really big challenge, and I had to look at it and go, "Well, how do I do it differently so that I get to my goal, but do it in a different way, because that path I thought I would get is just not open to me?" The beauty of it, though, the thing I learned, not just that, is I learned how hard it is to be an administrative assistant and how that is they are the gatekeepers to everything. So not only did I learn, you know, what I needed to do to get to where I was trying to be, but I also learned what it really meant to take on that role, which was not easy.
But that's really all the challenges…every moment that I remember another time I was working at this, you know, prestigious brand strategy and innovation firm. And I used to get in trouble for going home at four because I would be done with my work, and I would do it well, but I was done because I figured out a different way to prioritize my workflow and not do it like everybody else and get even more accomplished in a shorter period of time. But I got in trouble for it. So, you know, I kind of kept having to push boundaries and I kept… What I learned along the way is I had to keep pushing back. I had to keep pushing back. It was my job to keep that flame going, nobody else's, because they were not gonna do it for me.
Steve: Okay. Well, now, I just love it. I love the fact that Tamara is out there pushing the horizons, thinking about possibilities. This is one of the things that we need to do to reach our fullest potential. We just gotta reach down inside and say, "Wow, what is it out there that…where can I make my contribution? Where is my area of interest?" and go for it. Don't let things hold us back. And that might be in the different roles that we have in life. And so great going, Tamara.
Tamara: Well, thank you so much. You know, I think this is kinda how life works, isn't it? Like it's…I saw this great quote on Facebook from Sylvester Stallone in what…a movie he's I think recently in. I didn't get to see the whole thing, because, you know, you're on Facebook, you scroll through. But, basically, it's like "Look, life is gonna slap you around harder than anybody else. And it's our job to get back up." And I think that's really how I've tried to lead through life. And when you tap your innovative mind, which we all have the power of doing… I know we don't always feel that way. But it's true. We can talk a little bit about the research that led to that and kinda, you know, the assessment that goes along with it. But when we approach things in a more innovative way, we're able to make a greater impact and go around some of those big barriers that we face.
Steve: Okay, good. Well, let's talk about innovation. This is one of your specialties. And it plays such a huge role in our success in life. And I was just reading through my personal vision this morning, which I've had for 25 years. It's been inspiring for me. And on the personal level, one of the aspects was when I have setbacks and challenges, I think of options, options, and options. And then I move again.
Tamara: I love that.
Steve: Well, this is kind of it, innovation. So what's the greatest barrier to innovation? Let's really help our listeners out today of how we can get to a better place.
Tamara: Yeah. So there's a couple of barriers that I wanna talk about here. And let me just back up by sharing my definition of innovation so we're all on the same page because I think oftentimes we think of it as a new product, new technology, or, you know, relegated to a certain point in time, exercise, the brainstorm with scented markers, you know, and [inaudible 00:11:08]. But that's really not it. What innovation is and the definition that I'd like, you know, us to move forward with is people each thinking differently about what's right in front of them to create differentiated value. And that really ultimately comes back to us in how we view things and shifting our own perspective and trying out new things.
I think that one of the greatest barriers to innovation is thinking that we're not capable of it and that, you know, Greg down the hall with his blue streak in his hair and his funky glasses and, you know, going the cafes to work. He is the innovative guy. But it's really not me, whether that's because of my, you know, how I've been trained over life or my job description or just how I view myself. And that couldn't be more wrong.
I think what we've discovered in our 20-plus years of work and research over here at LaunchStreet is that being innovative is actually universal. We all do it. But how we innovate is unique to each of us. But we gotta own that we're innovative people. You now, we all go to the movies, and we suspend belief, and we watch these crazy sci-fi movies, and we think nothing of it. Yet, we come home, and when we ask ourselves to work and we ask ourselves how to think differently about something, and we shut down. We got to bring that back up.
Steve: Okay. Well, that's great, yeah. And I love your definition, thinking differently to get better results to how do we be… As you know, one of the things we talk about a lot is helping people become their best. And this is the thinking is we can do it. We can come up with ideas, and we are capable of it. So as we get into this process, Tamara, why do most ideas die before they even have a chance to get going, before someone leaves the conference room?
Tamara: Yeah. There's a couple of reasons for it, and it's so sad, isn't it? I mean even asking the question sounds sad, like "Oh, ideas die." It's so sad, but they do, and they do for a couple of reasons. One is we confuse collaboration and consensus. So if we're working in a team, you know, we would have an idea that we wanna either bring forward or we have a problem we're trying to solve and we get together to form a solution for that, what we do by accident, in an effort to create collaboration, is we pull everybody together at the table. Now we've got everybody's opinion. And frankly, it's too many. And we need to replace consensus with collaboration, real collaboration, which I would define as the right people sitting at the table at the right time discussing the right things. That's not everybody. That's the appropriate people together.
So that's number one is, you know, we end up doing this consensus decision-making, and that just waters everything down to nothing. Nobody is excited about it, and we leave with this blah, wet clay-looking idea. That's number one.
The second thing is…and this was a really painful lesson that I learned along the way from someone who I called Mr. Mustache, because I don't remember his name, but he had a really big mustache. It moved before he spoke. And he shut down every one of my ideas in this meeting where I was presenting ideas. It was actually to Johnson & Johnson baby care. He worked for them at the time.
And what I learned that day was that most ideas die because we don't have the language to champion them and get other people along for the journey with us. We assume that the idea is gonna stand on its own, like "Oh my god, this water bottle is so amazing. How could they say no to this?" But they do say no because they weren't along for the journey of the creation of it. And now we're throwing this one-way tennis ball, you know, across the court expecting them to pick it up. And they don't.
What I have discovered, and we have a lot of these tools on our LaunchStreet on demand…I think it's part of the reasons why our clients come back year after year for more and more tools. We have this whole language of innovation method because what we discovered is that when you change your language, you change your outcome. But it is just really unfortunate to think the number of ideas that never see the light of day because we just don't know how to champion them.
Steve: Okay. Oh, those are good thoughts. I'd be interested in your thoughts about this. What role…I'm just thinking that sometimes people don't have confidence in their ability to innovate, to be a creative force, and so they're a little shy about it. Would that also be a reason that an idea dies that they don't have enough confidence?
Tamara: Yeah, you know, it's so interesting, and it's great that you really kinda brought that up to the surface. We don't give ourselves permission to innovate. So oftentimes…we hear this all the time, don't we? Like "Oh, they don't get it. They don't understand. They're not innovative enough." But what we forget is that we don't even give ourselves permission to innovate. So we…before we ever even say an idea out loud, we put layers of judgment on it. We say, "Well, that's not good enough. I mean who am I to share this? I don't have the experience. They'll never go for it. It'll never work. I'll sound stupid. I'll sound like I don't know what I'm talking about. Obviously, if it was a good idea, somebody else would have said it."
So we talk ourselves out of bringing those ideas forward. And in doing that, we're shutting down all of that innovative thinking and keeping it inside. Yet, the question we have to ask ourselves is how do we expect to get to those breakthrough ideas or results in our work and life if we're not even giving ourselves permission to innovate? And, you know, when I keynote, I talk a lot about…we do this exercise when we're together in keynote that really brings this to life about how… It's really incredible. We self-sabotage before we even get it to the world.
Steve: Right. Now, that's a great insight. If you don't mind let's talk a little about your innovator profile. I've noticed that in your information you have a unique IQE. Tell us what that is. And how can a person use it to get good results, to get innovative results that are helpful?
Tamara: So the Innovation Quotient Edge or the IQE, as we call it for short, is the only proprietary tool that helps you understand how you innovate so that you can innovate on demand, so basically so you can tap your greatest asset, which is your innovative mind, as we talked about, that we all have. And part of the reason we decided to create this tool over at LaunchStreet was because we were tired of seeing people say, "I'm not innovative." It's so and so down the hall. Or "I just don't have it in me," or "I want to. It's in me, but I don't know how."
And what we realized is if we can help people understand how they innovate, they're more likely to do more of it. I mean we do more of what works for us and less of what doesn't. We wanna tap our strength. And that's what this allows us to do. So we discovered there's nine triggers of innovation, and it's the combination of the top two that make your unique innovator archetype. And here is kind of the cool thing, and I'll use myself as an example. I am a risk-taker and an experiential. Those are my two things to come together for an archetype.
And what that means is that the experiential side of me is I have to learn in motion. I have to innovate by doing. So if you ask me to think in theory and hypothesize and leave things on PowerPoint presentation, I shut down. And the funny part is that's how I used to work because that's how you're expected to work. That's how we're trained in our nine to five jobs to get stuff done. But I was actually working against myself, and it was showing up in my work. It wasn't innovative. I wasn't getting recognized for the value I was bringing to the table. I didn't have a strong enough voice because I wasn't playing to my strength.
And then I flipped it around. Now when I build an idea out, I build it out with duct tape and scented markers because I need to see it in real life to be able to innovate. And I can now take things to the finish line. So when you understand how you innovate…it's plain and simple…you work smarter, not harder. And the cool part is if you stay in that…you know that zone we always talk about, that flow, you get to stay there longer because you're bringing that innovation to life.
Steve: Well, very good. Now I'm gonna put you on the spot here, Tamara.
Tamara: Uh-oh.
Steve: Yeah. So what's an example? Share an example of someone that used this and the result that they got.
Tamara: Yeah. Ooh, oh, this is like the Oprah question. I'm sitting on a couch, okay. So I'll give you actually an example of a company and some of the people inside their company, because there's two great examples out of this. So the company is called Footers Catering. It's one of the largest catering companies in Colorado. So they do very well. The founder, the president, Anthony, had his team take it. And two really interesting things came out of it.
First, I'm gonna talk about Kara. So Kara is…one of her archetype is inquisitive. So that means she innovates by asking questions. For her innovations and the questions is not the answer. And you know her archetype because they're the one… You know them. It's 11:30. You got a quick meeting, and you're dying to get to lunch, and they're over there with their hand up like "I just have 10 more questions, just 10, I swear." But that's because they go deep. They pull back the layers of the onion and challenge assumptions. That's how they innovate.
So when Kara recognized this, her team understood this about her, because they talked about their result. And now she's able to leverage that. Where before people saw it as kind of an annoyance, like "She's got 10 more questions," now she understands that's how she innovates. So she's empowered to ask the hard question, and her team understands it and actually…and expecting her to ask questions and is okay with it. So it really opened up her ability to add value to the team in a way that she wasn't able to do before.
The second one is named Stephanie. And she's a futuristic. That's one of her two power triggers, which means that she's always 10 steps ahead. She's envisioning what it could be, what the possibilities are. She's solving today's challenges by creating tomorrow's opportunities. So she was in a role that was purely administrative. And she was dying on the vine. It was so hard for her. When she realized this, she and the president, Anthony, got together, and they created a new role for her where she's creating themes for their clients when they bring food to their events, whatever it is. So now she's been put in a role that's all about creating the future versus managing the past. And she is doing incredibly well.
And the last I'll share with you is an entrepreneur who is outside of that realm who is a collaborative, which is all about pulling disparate people and ideas and experiences together to create innovation. And so they're all about the conversation, the team dynamic. They're very magnetic in that way, but it's because that's how they pull the data pieces together to create innovation. She had this business. She had a product. It was online. It's doing incredibly well. And she was so frustrated because she felt like this wasn't her vision, her dream. She was stuck in a silo in her house with no one to talk to.
So when she realized that she was missing the thing that was feeding her soul, this collaborative innovator, she actually created an entire feedback loop with her customers. When they buy the product, they now have this opportunity to engage with her on a regular basis. Because of that, she's able to bring more and more innovation to the table because she created a business that matched how she innovates. She created a collaborative business instead of a solo business, which is what she was doing in the past.
Steve: Okay. So that's excellent. So it helps both the individual and it helps the team of how to work better together.
Tamara: That's exactly right. That interplay is really interesting. And what we see is when you understand how you innovate, you bring more of that to the table. And we you understand how other people innovate, you respect and seek out their opinion because now you've got a 360-degree view, different ways to tackle a challenge. The results are 10 times better.
Steve: Okay. So, Tamara, what's one thing that our listeners can do right now to up their innovation quotient?
Tamara: Well, the first thing I do is say go take the assessment and find out what you are. Like I said, there's nine triggers. That means there's 35 different unique combinations that could be you. If you go to gotolaunchstreet.com, that's the way to do it. But let me give your listeners, if it's okay with you, just a little something they can do right away in their everyday life that's one of my favorite innovative exercises. Can I have a minute to do that?
Steve: Yes, yes.
Tamara: Okay, excellent. So it's what I call geek out. So you mentioned in the very beginning that I'm a CrossFit addict, which is totally true and a knee-high sock lover. I'm wearing knee-high socks right now. I'm very proud to say. So one of the things, the challenges we have with being innovative is we look in our center, you know, in that same box with the same information with the same people over and over again, and then we don't get any result, and we get frustrated.
A great way to bring innovation to your world is to go wide, go far out, and then bring that information back. The easiest way to do that is to think about how the innovative brands and products you love…how they do things and how they might solve your challenges.
So for example, for me, I always think about…because I love CrossFit…how would they solve the challenge I'm having with the usability of my website. How would Southwest engage with customers in this challenge? How would Trader Joe's bring this idea? Suddenly, it becomes so easy to think differently when you put yourself in the shoes of the brands and the businesses that you love for being innovative. I mean do you have a few that you absolutely love that you could talk my ear off about?
Steve: Yeah, sure.
Tamara: Yeah, we all have them, right? So when you do that, it becomes super easy to be innovative because you just put yourself in their shoes.
Steve: Okay. Well, that's great. I'm always amazed at how fast time goes. Our time is up. And so how can our listeners learn more about what you're doing, and how can they find out about your information?
Tamara: Yeah. So the best way is to go to our website, gotolaunchstreet.com. So it's gotolaunchstreet.com. Or you can find us on social media. We're on Instagram, Twitter, Facebook, and it's all @LaunchStreet.
Steve: Okay, that's terrific. Well, this is a great resource for people. Thank you, Tamara, for being part of our show today. Really excellent ideas. And you're just touching a lot of people. So we congratulate you on that and on making a difference in the world today.
Tamara: Well, thank you for providing a platform to share with your listeners. It's a wonderful show. So I appreciate being on.
Steve: Yeah, you bet. And to all of our listeners, never forget, you too make a difference every single day, your leadership, the light that you have as you work on these grows brighter and brighter, and it influences everyone around. So we congratulate you as you're in this journey as well. And I'm Steve Shallenberger with Becoming Your Best Global Leadership wishing you a great day.
EPISODE RESOURCES