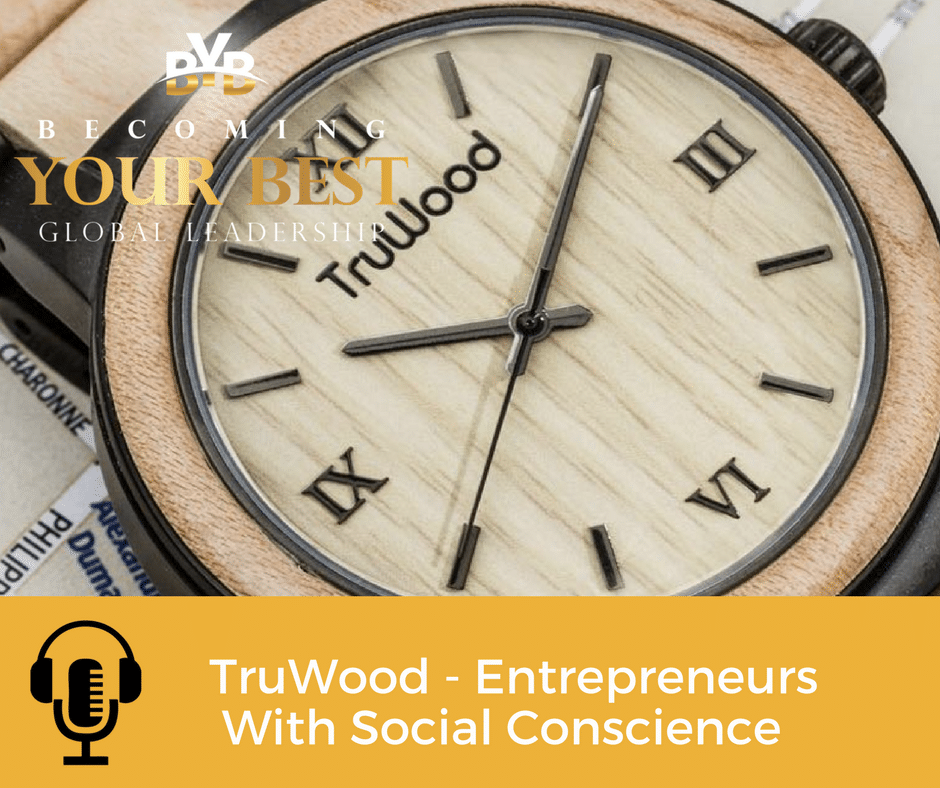 TruWood Interview – Two 23 Year Old Entrepreneurs With Social Conscience
Bish and Ibs are two 23 year old Canadian entrepreneurs who started a company called TruWood in their last semester of University.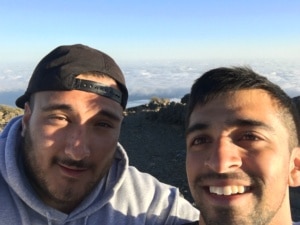 TruWood sells affordable and unique fashion accessories and also gives back by planting 10 trees for every order. So far, they've planted over 75,000 trees with a goal of planting 1,000,000 trees by 2018!
Website https://www.mytruwood.com
Instagram https://www.instagram.com/mytruwood/
Steve: Welcome to all of our Becoming Your Best Podcast listeners wherever you might be in the world today. This is your host, Steve Shallenberger, and we have a wonderful guest with us from Ontario, Canada, that recently launched, together with his partner, Bish [SP], and he can talk about him, a new company through social media. But before we get started today, I'd like to tell you a little bit about them. Abraham (Ibs) and Bish are 2, 23-year-old Canadian entrepreneurs who started a company called TruWood, that's T-R-U-W-O-O-D, in their last semester of university. And TruWood sells affordable and unique fashionable accessories, and gives back by planting 10 trees for every order. And so far, they've planted over 75,000 trees, with the goal of planting 1 million trees by 2018. So welcome to our show today Abraham.
Abraham: Thanks. Thanks for having me here, I'm pretty excited.
Steve: Well, good. We're excited to have you. Well, please take a moment, Abraham, and tell our listeners about your background, including any turning points in your life that's had a significant impact on you and well, we would to love to hear your story.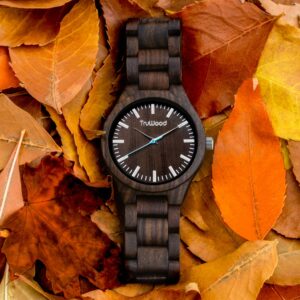 Abraham: Definitely, yeah. So my story kinda dates back to maybe about five years ago, I was in university, I was studying math and business. And all my friends that were around me, you know, universities nowadays are kinda tailored towards getting that 9-5 type of job, and throughout your whole university career, you're building up and you kind of identify yourself with what you wanna do after with respect to finding a career. And for me, that career was finance. You know, I was super into finance, I had this dream of becoming an investment banker. And after like 5 years of doing over 100 interviews, I finally got that investment banking job, and I was actually supposed to start working full time in September that just passed recently.
And the year before, I did an internship at the same bank that I was supposed to work at and I realized that I didn't want to be working for someone who… When you're working for someone, you wanna be creating all of the value for yourself, you don't wanna be just delivering all the value for someone else, making someone else's dream. And I realized this five years into the whole process of getting this job. And once I actually got it, I wasn't getting the happiness that I expected myself to. So, Bishoi over the next couple of months, me and Bishoi, he's one of my best friends in the same program as me and we said, "You know what? We should start a business." And we started maybe four or five different businesses and TruWood was the one that kinda took off and that we kinda grew from there.
Steve: What a great background. That's wonderful.
Abraham: Appreciate it, appreciate it.
Steve: Wow. 5 years and 100 interviews, and that's trying to find your way and get into the industry of finance, it sounds like, and then once you're in it, you discovered it just didn't…it wasn't one that really rang your bell, is that right?
Abraham: Yeah, and I think it happens to a lot of people, right? They kinda build up this pipe dream of what's gonna happen and they have this kind of like image, like, this end goal image, you know, once I do this, I'm gonna be happy. But I think what I realized was, that's not enough. You have to kinda be content with the whole process. And for me, the process of investment banking and the whole like…the kinda struggle going through the career itself was just not as enjoyable as I thought, and I think that's why I wasn't as happy. And so once I transitioned into entrepreneurship, it was like, right now I'm the happiest I've ever been and it's pretty good.
Steve: That's great. You know, part of becoming your best is really finding your niche, your area where you can fulfill your passion. And some people, it is within a larger organization. They can make a contribution and thrive in that type of an arena. But other people as they discover their talents, find that actually the fit might be better in doing their own thing and entrepreneurship, as you've talked about, and so…
Abraham: Yeah. I think that like, not that there is better than the other, right? Like, different people get different things to tick for them, and if you have like a full-time job, I think there's a lot of merit to that. You're not pulling your hair out every morning with all the problems you're dealing with for a business, and you don't have the…your nerves aren't wracking that if your business doesn't do well you might be out of a job tomorrow, right? So there's merit. There's very good merit to why full-time jobs are great, and it just wasn't for me.
Steve: Yeah. Yeah, that makes perfect sense. Well, that's the process of becoming your best, really listening to what's in your heart and what gets you excited, then using your talents to deploy in that way. Now, Abraham, part of leadership is taking an idea and making it a reality. And you and Bish have done that with your TruWood products. So, share with our listeners how this came about. How did the idea come up and then how did you make it a reality? And then tell us a little about what the model is too, so people can get a feel of that.
Abraham: Definitely. So, the way we kinda started off was, and I think this happens for anyone who has this kinda like entrepreneurial bug. There's always kinda thoughts of, how can I make money off this? How could this be a legitimate business? How can I add value to people's lives with this product or this service? And growing up and especially very recently, I found myself constantly thinking of all these different ways of how I could start a business. And so, me and Bishoi, we would often just sit there, brainstorm, think of ideas, and if one of us had an idea, we'd bring it up to the other person and be like, "Is this a viable business? Will people hand us money for this product or the service?" And we tried a bunch of different products. We tried to sell them, we did surveys on what products we think would sell.
And me and Bishoi, we one day one of us said, I can't remember who it was, but we saw a wooden watch and we were like, "You know what? This product could… We like the product." We were like, "Maybe other people will like it." And we asked around and there's wooden watches on the market already, but they're selling for like $300. And we said, "You know what? We know that a lot of people like this product. We've asked a lot of friends, we've done surveys. And if we can make a wooden watch for maybe a third of the price, you know, sell it for $100 instead of $300, I think that we would have a significant market opportunity over there." Because no one was selling it for a cheap price. They were all very expensive.
So, we kinda took this idea of creating like a low cost wooden watch that was available, kind of affordable to the everyday consumer, and we went online to manufacturing. I don't know if you've heard of the site Alibaba, but what you can do is you can work with the manufactures online that are overseas and you can get products developed for pretty cheap. And so that's what we did and we kind of, we got our prototype done and then we kind of marketed the product, and the sales started taking off from there.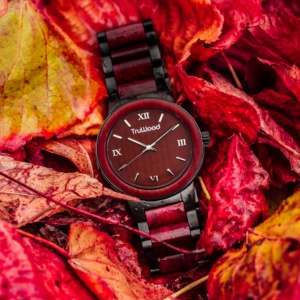 Steve: Wow. One of the things that Abraham and I were talking about before we started today is Becoming Your Best has a entrepreneur success boot camp, this is a two-day event. And we talk about the whole process of taking an idea and making it a reality, but there's a few things that you need to do. And I loved some of the examples that you gave Abraham, and one of those is, this idea of actually taking it to the customers and asking their opinion. How would you respond to this? And one of the quotes I love is that the best business plan will not outlast first contact with the customer.
Abraham: Yeah, I completely agree.
Steve: You know what I'm saying?
Abraham: Yeah, of course. So, yeah, you never know until you actually try it, and that's something we've learned, and we've failed definitely more times than we've succeeded in marketing this product and marketing other products. So, you know, we might have this or anyone might have like a great idea built up in their head, but the world is not so nice. The world's pretty cruel out there and she will reject your idea right away if it's not what she likes. And if that's not the reality, no matter how many times we or anyone else tries to delude themselves on how successful a product or a marketing campaign is gonna be. It's just not necessarily the case.
Steve: Well, you have an exciting product and I congratulate you and Bishoi on what you're doing. How fun?
Abraham: Yeah, it's a lot of fun and I'm not sure if your listeners know about us, but we actually incorporated a social aspect to our product as well, and that kind of made it all more fun. We actually plant 10 trees for every product that we sell. And like you said, we've planted 75,000 trees and once you kind of incorporate the social aspect, it just, it takes the level of funness for what you're running your business for to a whole another level, because you're suddenly doing things that are having a legitimate impact in the world. And aside from the value that you provide to your customers, you're actually delivering some…you're saving people's lives, you're helping the environment, and for that reason alone, I think it's just worthy of doing a business.
Steve: Oh, that's outstanding. So how did you come up with the idea to have a social impact aspect associated with your business, trying to do something. I love it. That's a fabulous idea. Where did that come from?
Abraham: Yeah. I think Mark Cuban has said this as well. You know, every customer, every consumer nowadays, especially the younger generation, they need some type of social aspect to stand behind, right? I think it's part of kind of defining your identity nowadays, right? It's like, consumers wanna be like, "You know what? I support this product because I also support the values that this product is pushing." And it's just the trend that this is becoming more and more important in everyday society, and so we want to take advantage that. We know that being environmentally friendly as a company is just, it's so important. All the big companies are doing it nowadays, and especially when you can kind of incorporate this into a social aspect as well.
So, just to give you some background, the trees that we plant, they're planted in kind of African communities where they re-fertilize the soil. And so, the areas that we plant trees, and then they're often like fruit trees and kind of farm trees. It also allows these villages and communities to be able to develop sustainable farming for generations and it creates an income that they can live off of. So, having both the social and environmental factor was really important. And when we market to our customers, all our customers tell us all the time, "You know what? We love the fact that you plant 10 trees and that you're doing this. That's the reason why I bought the product." So it's just, you know, the proof is in the pudding. It's a great cause and it also drives sales.
Steve: Okay, terrific. Now, that's wonderful that you're planting the trees in Africa. Just on a side note, out of interest, how do you mechanically do that? How do you find the communities? How do you get the trees to them? Are they seeds and saplings or how does that all work? And how are you going to roll out a million trees? Oh my goodness.
Abraham: Yeah. So, I think what people don't realize now is that there's a lot of opportunity for companies to get involved with social aspects by working with other organizations. Most people only have expertise in certain things. So me and Bishoi, we were really good at creating this product and we really wanted to incorporate a social aspect to it, but me and Bishoi hadn't the faintest clue on how to plant a tree. So, we want to…we searched online for different organizations that, like, not for profit organizations that actually do plant trees and we found one called Trees for the Future. And we actually work pretty closely with them in kind of getting this goal and this mission accomplished.
And they kind of have a team of people that is already set up in these villages, in these communities, and they go and they plant the trees on our behalf. So, there's just tons of organizations out there that any company can really kind of partner up with and help push the mission further and faster, because for any company, I think there's experts in every field, and if you wanna get something done, you should go to the experts. And for planting trees, we went to the experts.
Steve: Okay, wonderful. That's great, that's good advice. Now, what advice, Abraham, would you give to either college students or people anywhere who want to become entrepreneurs?
Abraham: Yeah. So, for college, I feel like the device is a bit different for college students versus someone who's already working full-time and has a lot of responsibility and they need that kind of steady paycheck. For college students, you right now have the best time and if you have even that slightest entrepreneurial bug, you're doing yourself a big disservice by not trying to start a business at this point because there's no responsibilities, and especially in this day and age with technology and being the fact that you're part of this technological movement as a college student. It's so easy to start up the business. You can literally come up with a product, get a prototype and test it within two weeks. And if you do that throughout your whole college career, it's very, very, very likely that you're gonna find a successful product over a period of four years. Every two weeks, you're rolling out a new product, it would be… I would find it hard…
Steve: I love it.
Abraham: Yeah. I would find it hard pressed that you can't find something that's successful, right? After every two weeks, you roll something out, you try a new business, you're just gonna learn and you're gonna end up hitting that winning business model. So, if you have the entrepreneurial bug, you must do it. Like, you're doing yourself and consumers a disservice by not doing it. So that's to the college students. Now, to…
Steve: Now, let's just pause on that because think of the added education, that is in itself going through every process of coming up with the idea, vetting the idea, talking with customers, thinking about the support system that would need to be in place for it to roll out if it were successful. And then how to scale it. So, you know, that is an education in itself that adds to whatever else they've chosen to study. So, good.
Abraham: Yeah, exactly.
Steve: Yeah. And how fun and exciting?
Abraham: Yeah, you're 100% right, and I will honestly tell you that in the last 8 months that we've…8 to 10 months that we've been running this business, I have learned much more than I did throughout my whole university career, and I think mostly all entrepreneurs will tell you that. It's just there's so much about the world that you don't realize until you actually interact with people, customers, other companies. And until you're out there taking charge of these situations, you're not really learning much.
Steve: Yeah. And you were beginning to also address just people anywhere who may want to become entrepreneurs. That is a different class because, you know, there's a greater risk when they're established and if they have a family.
Abraham: Yeah, and I agree with you. There's definitely greater risk and you don't wanna…if you have, let's say you have like two or three kids who are pretty young, you have to be cognizant of that as well. And I think Gary Vaynerchuk, he puts it best. You can go to your 9-5, you can go spend an hour or two with your kids, but once it hits 7:00 p.m., you have a lot of time until when you have to sleep at 12:00 a.m., right? So, if you wanna start a business, like, giving the excuse that you don't have enough time because you're running a 9-5 job is also not that great of an excuse because even after spending some time with your kids, your friends or family or whatever your hobbies are, you still have from…you know, five hours every single day to try and run and start up a business. So, there's always time, you just have to find it and you have to prioritize it. So, again, if you're older and you have a full-time job, you shouldn't let that stop you from starting a business. All you have to do is really prioritize and it'll happen.
Steve: Great advice, great advice. So let's…
Abraham: Yeah. Well, it's Gary Vaynerchuk, it's not me.
Steve: Yeah. Okay, good. Well, that's true. I mean, if somebody has the spirit and they want to do it, they need to balance their responsibility with also developing the idea. And it comes through prioritizing your time and being thoughtful about that. So, let's shift gears just a little bit. What have been your best ideas so far in helping your products be successful?
Abraham: Yeah. So, definitely the social aspect. I think that was huge, right? Because it really resonated with our brand because we were…you know, we were making our products out of wood and we kind of wanted to have sustainable products, so we didn't wanna just be cutting down trees to make our products. If we were gonna do that, we wanted to at least compensate for what we were doing and then try and do more on top of that. So, the fact that we plant 10 trees per product, it gives back way more than we take, so I think people kinda realize that and they like our products because of that. So, and that was…I think that was a big factor in why they were successful.
Number two, they really got…the products have to be unique. If I tried to sell you an Apple iPhone before the Apple iPhone existed, you would have bought it just because the product is so unique and it's so good. And there's degrees to how good unique products are. I won't to go as far as to say that my product is…you know, wooden watches are as unique or as value providing as the Apple iPhone when it first came out, but there is a certain market for our products that provides value, and being able to target that customer, that kind of nature, outdoorsy type of customer really helped our products become successful in their niche. So that was also really important.
And the other thing, the last thing like I said was kind of finding that gap in the market because for most…for a lot of products nowadays there are tons of competitors, and I think there is room…I think there's a lot of room for success even though there's already competitors in the same niche, because they might not have the-
Steve: Well, those are really helpful ideas. Now, Abraham, what are the biggest mistakes that you've made, that you wish you would have known about when you first started, so that you could have avoided them?
Abraham: Yeah, yeah. So I guess every company goes through mistakes, especially as a budding entrepreneur. You know? There's a lot of stuff you don't know. I guess the biggest mistake we probably made near the beginning was kind of dealing with our suppliers, especially because our suppliers are overseas. They're in China. There's always this kind of communication barrier with these suppliers.
So, you know, originally when we were dealing with the suppliers, trying to get all the prototypes in and doing, like, our first run of orders that we were gonna get inventory for, we didn't really realize how closely-knit we had to work with these suppliers, because we assumed that the stuff that we were telling them, they were translating it exactly how we had pictured in our heads. That actually turns out not to be the case, often, especially when there's…They don't speak English as their first language, and that's the only language that me and Bishoy [SP] were fluent in.
You know, it kind of came across…We wanted something of a certain quality, or we wanted, let's say, a certain bend or a leather strap on our watch, and that's not how it came out. You know? It wasn't that the supplier was necessarily a bad supplier. It was just more we weren't able to communicate as effectively as we realized we were…as we thought we were. So definitely the communication was bad.
Another example was we had a sunglasses supplier. He…We based our order on, like, what color sunglasses people were ordering very often. So we expected that this color was gonna be a best-seller. So we wanted to stock up on inventory for it. So we ordered the sunglasses, and we had placed a lot of trust in this guy. It turns out when the sunglasses came, we had said the wrong word for the color that we wanted and turn…
Steve: Uh-oh.
Abraham: Yeah. Yeah. It turns out that the color was completely wrong.
Steve: Oh, no.
Abraham: It was just semantics. You know? It's not something that we would have realized unless we double, triple-checked with them that the color was gonna be right. We thought it was pretty obvious what the color would be, but it turns out it wasn't. So yeah, so that was one of the mistakes we made.
Steve: Yeah, we learn. Don't we?
Abraham: Yeah, definitely. Yes.
Steve: You gonna make that one again?
Abraham: No, definitely not. I think it's very…We work much closer with the suppliers now because it's…You know, like I said, you realize it's not the supplier. At some point, you have to be very, very, very on top of things, until things are extremely smooth, and we weren't at that point yet. So yeah.
Steve: Okay. And it's a real watch-out, especially if you're working with a new supplier, to take the time to confirm what the product specs are.
Abraham: Exactly. Yeah.
Steve: Okay. Well, that's…
Abraham: Having that knowledge, 100%, is very key.
Steve: Okay. Well, that is a great lesson learned. Now, I think that you shared that you and Bishoy have used social media quite a bit. Is that right?
Abraham: Yeah, of course.
Steve: Okay. So what role does analytics play? How do you determine what's working? What's not working? And how do you use that in your organization?
Abraham: Definitely. So I think when a company starts off, they usually start off in, you know, one channel, let's say. You know? They had…They became viral off…We started off of Instagram. Let's say another company started off Facebook or Twitter or whatever the medium is. There gets to a point where you're trying to grow as a company, and you kind of want to transcend the one home market that you have. You know? You want to expand and grow into other markets. So you can grow as a company.
For us, we were, and we still are, we're trying to figure out how to expand off of Instagram and outside of Facebook. There's a bunch of different mediums out there that you can use. So Facebook Ads is really big. Google Analytics, so like doing campaigns through Google AdWords, Google Shopping. That's really big, doing campaigns on Pinterest, Reddit, Twitter. Those are all mediums that we want to hit, but it's tough to analyze just based off of how much traffic is coming to your website. How do you know, you know, whether Facebook is getting most of your sales? Or Instagram? Or Twitter? Pinterest? You really want to know whether the marketing dollars that you're investing into a certain channel or medium is giving you the return you want.
So what…You know, analytics are pretty…They're pretty good nowadays. You can track specifically how many sales came from Facebook, how many sales came from Instagram, how many sales came, you know, from a certain country. Once you drill down on the analytics, you can see, "Okay. I'm getting the most results from Facebook Ads, from Australia, and that means I should dial up this campaign and put my efforts more in Australian marketing." So, you know, really looking at numbers and crunching them and seeing what's working for you and what's not working for you. It's something that we've…That's kind of a philosophy that we've adapted, and we've tried to really lean down our marketing spending dollars. I think that's critical for any business.
Steve: Okay. That's terrific. Do you review your analytics? Is that a weekly process? Daily? What's the frequency when your…that you review it? And yeah, should…Would you recommend somebody hire somebody from outside? Do they hire an employee? What's your recommendation in that area? So kind of two questions. The frequency, and what are the best way to use resources to…
Abraham: Yeah, it depends what stage you're at in the business. So if you have the resources to hire experts in that field, then I think it's worth it because it can really speed up the kind of process and learning how to use these different mediums and campaigns, but I don't think it's necessary.
For example, I personally…I look over these numbers every single day. You know? I see, on a day-to-day basis, even on like an hourly basis sometimes, when traffic is heavy. I'll be looking, and I'll be watching these numbers and seeing where is this traffic coming from, where are the sales coming from, why are certain campaigns driving more traffic or sales, compared to others.
I think, as a business owner, especially in this new day and age, where online marketing is so important, as a business owner, I think it's very important to be on top of things. So if you're gonna hire someone, you better be very involved in the process, because you don't want to just let someone else try and take over your company, and if it doesn't work, then you kind of lost your chance. So you definitely want to be in there and kind of calling the shots as well. That's what we've done.
Steve: That's great advice. Well, Abraham, I am always amazed at how fast things go. I mean, like, we're…
Abraham: Yeah, time flies.
Steve: Yeah, we're at the end of our interview time. So do you have any final tips for our listeners, especially our entrepreneurs from around the world?
Abraham: Yeah. Yeah, definitely. You know, like I said before, starting a business in this day and age, it's so easy. All you have to do is you have to…Like I said before, you just have to create a prototype and survey some people. If you have a product that people are saying is gonna be successful, you know, people are showing interest, it's kind of your obligation, not only to yourself but to the consumers who want this product, it's kind of an obligation for you to create the value. Right?
If you can find a product that people are interested in, you're gonna be directly able to create value for yourselves and for other people. So I think that goes to show that there's demand out there for a certain product, and you can make money off of it. There's so many different products and niches where this is possible to…I think a lot of people don't realize how many of their ideas are actually gonna be successful. They think, you know, "It might not work." You know?
It's just another one of these ideas that go by, especially for people who are entrepreneurial-minded. They're always thinking of these ideas, and they're always festering in their minds. Right? Oftentimes, nothing happens. You know? It's a shame because if…Imagine they took these 100 ideas that they had in their mind and just tested it and tried it. If they tried it over a period of five, six years, how many successful businesses could they create? I'm very optimistic in the fact that people do come up with good ideas often, and that it's all about execution. All you have to do is go and try to do it. So yeah. Yeah, to all the entrepreneurs or budding entrepreneurs, just try your idea. There's interest. Just hammer it out.
Steve: Well, that's wonderful encouragement. Well, I've been so impressed with Bishoy and Abraham here and the things that they're doing. I love their mission of leaving the world a better place, of planting the trees that we discussed on this podcast. So yesterday, I…Or no, this morning, I invested in my own watch from TruWood.
Abraham: Thank you, Steve, that's awesome.
Steve: I mean, I cannot wait until it gets here, and the one that I ordered was the Onyx.
Abraham: That's awesome. Yeah. That product is actually the first ever marble and wood watch. So we created the first watch ever that's made of real marble. It's real authentic marble and wood. So when you see the pattern, when it actually arrives to you, I think you'll be pretty curious. You can look inside, and you can see the stone that glistens. It's pretty cool. It's 100…It's very natural.
Steve: I can't wait.
Abraham: Awesome.
Steve: Okay. So how can our listeners find out more about what you're doing, about your services and your products?
Abraham: Yeah, definitely. So anyone that's listening, just head over to our website, www.mytruwood.com. If you search TruWood, T-R-U-W-O-O-D, in Google, we'll be the first link that pops up. You know all our products are there, our mission to plant one million trees by the end of 2018, that's over there as well. If you want to get involved in any way or help out, just shoot us an email in the contact form, and we'll work something out.
Steve: Okay. Well, that's wonderful. Well, we've loved having you on our show today. I mentioned earlier in our podcast show today that Becoming Your Best has an Entrepreneur Success Boot Camp. This is all dedicated to you, to you entrepreneurs, that want to take this idea, whether you're in the early stage or mature, where you take a new idea, and how do you fully scale it to be successful and avoid the pitfalls that take down so many companies. So the Entrepreneur Success Boot Camp is dedicated, literally, whether…regardless of what stage you're in, to learn how to avoid these things that trip you up and as they work to become a disruptive company in the industries that they're in. So you'll find this information on becomingyourbest.com, on the website, with the dates for this year. So thank you, once again, Abraham, for being part of this show today.
Abraham: Oh, you got it. Thanks for having me. It was a lot of fun.
Steve: You bet. You've done such a fabulous job. We wish you all the best, as you're making a difference in the world.
Abraham: Awesome. Thank you.
Steve: And to all of our listeners, never forget, you too can make a difference every single day of your life. I'm Steve Shallenberger with Becoming Your Best Global Leadership, wishing you a great day!
EPISODE RESOURCES
Breakthrough Leadership Conference