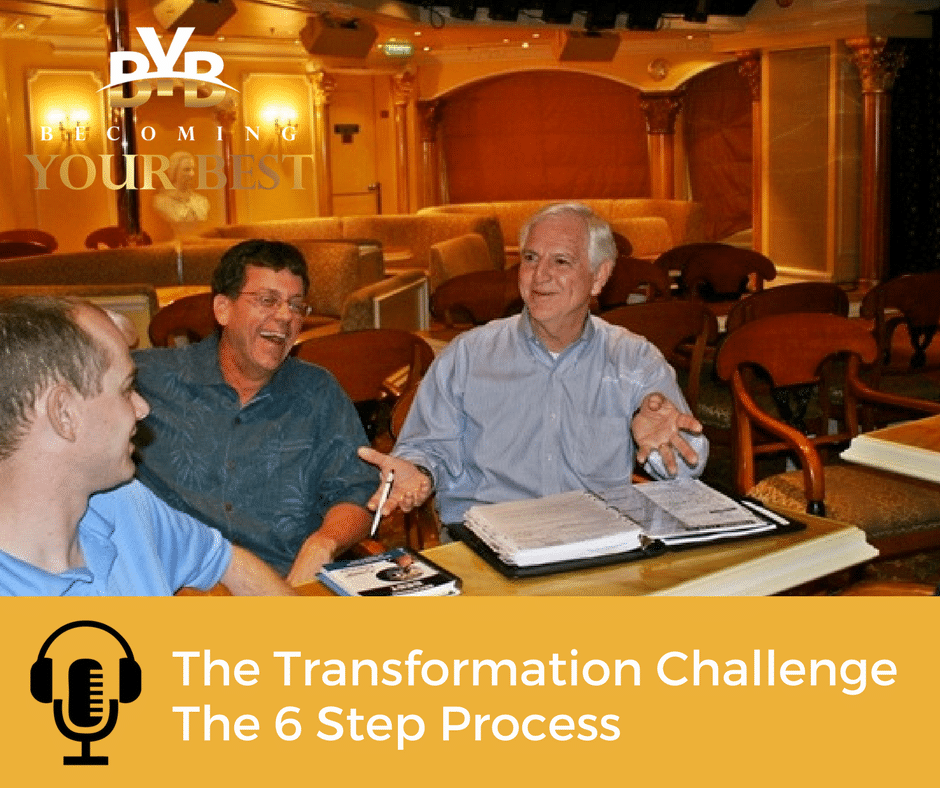 Transformation Challenge: The Six Steps of Planning and Execution
Welcome to our podcast listeners wherever you might be in the world today, this is Steve Shallenberger your host. And have you ever had a big problem in your life, a challenge or a tremendous potential opportunity and not really sure how to tackle it? How to start? How do you develop it? How do I solve this problem? And sometimes the problems are highly emotional or discouraging. You're just not sure what direction to turn. Have you ever been immobilized by a problem so big that you just couldn't get going on it? Well, today we're going to talk about a tremendous process, it's an invitation really to each one of us of how to take our bad where it exists and make it better. And how to take your good and make it better. And how do we take our better and make our best and there is a process, it's a challenge really to each one of us. We call it the Transformation Challenge, and it is an invitation to each one of us to take these types of situations and transform them into something that is good, better and best.
And how do we get the best results?
This is the Transformation Challenge. When they come down the pike at us, whether it's a threat, or an opportunity, or a problem that we say we will take it on we because of our leadership, because of our commitment to get things to a better place, we will transform this. And so, let's go, game on. This is the idea, it's almost a response. So, we'll talk about a skill that you can use over and over and over again, that you can be courageous that you can have confidence, and be excited to tackle things. Wouldn't that be wonderful? And not only that, you can teach the transformation challenge to every member of your team.
I'd like to give the background to the transformation challenge, The Six Steps of Planning and Execution. That's really the subtitle. About 30 years ago, I was working with an outstanding organization that has had a company named Buffalo Rock, one of the top Pepsi distributors in the world. They've been in business like for over 125 years and really great at what they do.
I'll never forget as we're having the chance to work together that Jim, one of the very… he was the Executive VP of the company was sharing with me about a book that he read and he said, "This is the best book that I've ever read on planning and execution." And something happened to me that day that I said, "Hold it, this is a big part of what highly successful leaders do, the best of the best." And so, what is it? This is a learned skill and that if we can learn this skill, it helps us to get to a better place.
So, I started researching and studying every bit of literature that I could find. Books, magazines, Harvard Business Review, the Stanford work that they had done and really from the best business schools in the world on planning and execution. How do we solve problems? And after all that time, I started developing some ideas. It had to be simple, it had to be something that anybody could really learn to apply from a child to a seasoned executive of a billion-dollar company. Could we really do that? Could that exist? Well, in the meantime, as many of you know, we've had a couple of sons who have been F16 pilots among other things. Another one has been an engineer and a lawyer, another got his master's in accountancy and so on. So, these you know, it's really been fun to watch them be thinkers about these kinds of things. Well Rob, as he is getting ready to get out of the United States Air Force, and we have decided to work together in a leadership training firm, he brought to bear as we talked about these Six Steps of Plan and Execution, this transformation challenge. He brought with him all of his experience in the Air Force world who are experts in planning and execution.
Their ultimate success depends on being really the best in planning and execution and carrying out a mission. And so, what we did as we pulled these two worlds together, this experience that I had had and also planned it myself as a business executive and a leader, but also then bringing in Rob's experience and this is how we came up with the transformation challenge, The Six Steps of Plan and Execution. So, what are they? How can they be used? Well, you can use it virtually in any imaginable situation. How to increase sales, how to improve a relationship, how to save a relationship, how to save a marriage, how to improve operating margins, how to grow your revenues, how to take advantage of an opportunity if you're an entrepreneur, how do I really get this idea going and make it a success and how do I overcome depression? Well, let me first teach the six steps, and I invite you and challenge you to see if you can memorize these six steps by the time I've done. See if you can get them down cold and then they'll serve as a reflex, a guide any time you have an issue to move right into the transformation challenge you say, I've got this. And this is a lot different than a transaction challenge, a transaction could just be so routine and we don't think of all of the capacity to leave things better than when we found them. That's the heart and soul of the transformation challenge, to leave things better, leave a better world. To leave a better company, to have a better relationship. So, these are the ideas, here they are. Here are The Six.
The first is, what is the vision? Typically, when we have a problem, we start with the problem when we try to solve it. We say, I've got this problem, but that is just exactly the wrong place to start. As leaders, what we wanna do is shift the playing field and take it to what is the vision? And you'll notice this elevates all of your thinking, it helps to see the problem in the perspective of a bigger picture. And so, many times a problem is weighed down with emotion or conflict or other people are involved, and it can get you're really off on the wrong pathway. So, when you shift it to saying, what is the vision, it helps get us to a better place and it puts the problem in a perspective and a way to deal with it. That is order number one, what is the vision?
Step number two, what is the current reality? So, determine whether what you're currently doing aligns with the vision and will help accomplish your goals, and so this may seem simple, but it actually can be quite challenging. So, for example, how many banks since that there was a problem in 2007 when just a year later, there was a total collapse of our financial system creating this huge recession and even in many people's lives a depression. Or in a marriage, one partner might feel like, and you may know somebody where this has happened. Like everything is fine while the other partner's ready for a divorce. I mean, how many partners have been surprised that they came home and there's the paper sitting on the table seeking the divorce where they had no idea it was coming? So, be thoughtful and considerate yet brutally honest when looking at the current reality. And so, what you're doing is you're like a fly on the wall, you're saying, here's the vision, but what is the current reality? And if there is a gap between these two, that is the signal that you'll go through all six steps and apply the six steps to get to a better place. On the other hand, if there's no gap as you do this gap analysis, and your current reality is equal to what your vision is, then you just keep doing it. This is what you wanna do.
But if there is a gap and you need to go through the six steps, then step three is, what is the real issue here? What's the cause of this gap? It's important to identify the real problem that's causing this gap between the current reality and the vision or your goals. And if you're not focused on the real issues and causes, it's easy to get distracted by secondary factors. So, the real issue is often allusive and you want to identify the root cause, the real problem, question or opportunity. And so, what you're gonna do is, be sure you keep an open mind, don't jump to conclusions, suspend your judgment and just analyze the facts. One of my favorite quotes has always been, "Get the facts or leave it alone or the conclusions you come to may be your own." Well, so analyzing this fact is a critical step and you're asking, What? How? and continue to ask why until you have the real cause. And rarely, are the initial ideas about causes correct. And when you continue asking why, and usually at least five times, the real cause is uncovered or determined. And I found that determining the real cause may take 10 minutes, it may take 10 days, it may take longer if it's a complicated issue. So, we're sure that we identify the real issue so we can solve the right problem.
Step four, now let's just repeat the first three because you're gonna get these memorized so they can become reflex. Number one is, you shift everything to what is the vision. Number two, what's the current reality and as you compare those two if there's a gap you go through the six steps and move right to number three which is, what is the real cause? And once we identify the real cause, then we can go to Step four, what are the best options? And this is a fun part of the six steps because once the real problem, issue or opportunity is identified, we can work to find the best options. And this is brainstorming all the way I mean, you're listing all the options and solutions and you can ask whether each is feasible or ethical at the end, but what you do is, you come up with this bigger list as you can and you'll notice that encouragement and hope, and energy starts coming into this process and you may have started with a very heavy problem, but as soon as you start getting into this part, light starts coming into your life. And then once you have your list, you can weigh the possible options using a balance sheet. Positives on the left and negatives on the right and which alternative might be among the best and you can rank them one, two and three. And from this, now you're starting to develop a course of action with the best options first. So, this is Step four. What are the options and which ones would be the best courses to go.
And this leads us right into step five. And Step five is that, we implement the best options, we implement a plan. So, all of the steps up to this point will help prevent the development of a plan that wastes time and resources by not accomplishing the vision or by maybe focusing erroneously on the wrong cause. Now, we're headed in the right direction. By this time, the real issues or the problems should have been identified and at least one viable solution or idea has been generated. Now, we'll walk through the specific steps in developing the plan and every step of this plan is important and critical to the overall success of the plan. And so, here are some of the components that we're gonna want to ask as we implement the plan. That's Step five, implement the plan. So, we list the key stakeholders or any additional inputs from them. We want to share with them the process we've gone through, some of the conclusions we've come to and get their thoughts and ideas. This will help improve then the implementation.
What are the factors or threats that could affect this plan? So, we briefly pause and examine the external environment. We consider any of the threats from the external environment that could impact this plan and once they've been identified, we can put the proper steps to address these threats into the actual plan and what we're going to do. These are examples and I'll give a few examples in a moment of the application of the transformation challenge, the six steps to plan and execution. And then list the factors that could affect the plan whatever they might be, and as we do that then we start actually coming up with who will do what, when? What are the systems and structures and resources that are required to leverage put this plan into action. By the way a little sidestep here, and the Pentagon when the war plans are developed, they have something called "The Red Team". So, people that have not been involved in the planning process are invited in, these are very capable people and they actually look for flaws in the plan that's been put together and offer recommendations. And then once they've done that, they leave and the group that's been making this plan can contemplate the outside observations. The plan is then put into practice who's gonna do what, when and that is step five and it's kind of fun I think for all involved, for whoever's developing this plan to put together an executive summary of the six steps that you've gone through.
Here's the vision, here's the current reality, here's the real issue, the process we went through to thinking about this, here is the brainstorming that took place on the options and weighing the pros and the cons and why we came up with the best options and now, here are the steps that we put together to implement the plan. This can be done on one page actually, an executive summary to give to your key stakeholders and before you really implement it, then you can invite final suggestions and then of course, it is the introduction of the plan, the rollout of the plan that's all part of the implementation.
And last of all is, we evaluate step six, the results. So, we have put together a plan, we've said here's the problem, here's the opportunity. So, in that regard, here's the vision. Here's the current reality, here are the real causes, here are the options that we have. Now, here are the best options and how we're gonna implement this plan and how did we do? Did it solve it? Is the new result in line with our vision? If so, we keep doing it. However, if we're off the mark, then we can go back through the six steps.
Let me just now illustrate a few case studies that helps illustrate how we can take this transformation challenge and get things to a better place by effective planning and execution using these six steps. One is the Challenger disaster that took place and as of course, the vision is what? The vision is to send our astronauts in the space with the shuttle on the shuttle program and bring them back safely having accomplished the mission objectives. Well, in the case of the Challenger, the current reality is, there was a disaster. The Challenger exploded and all perished and that was the current reality and so, there is a definite gap between the two. Now, what we need to do is what is the cause? And as the engineers and the leaders started going down the list of the real causes, it was cold, okay? Well, all right. What else happened because it was cold? Well, the O-rings were frozen, they didn't work. That's what caused the explosion, okay?
So, why did we launch with the O-rings… now, just think what would have happened if the engineers those in charge would have stopped with that problem thinking that was the cause. Well, then they're gonna solve this problem, apply the rest of the things to the O-rings, but that wasn't the real problem. So, they kept going deeper and the problem was to go no go process in place, that there wasn't a way for people to speak up and stop the launch if they saw a problem. And so, indeed that was the problem and they were able to come up with a process, a way to create a failsafe go, no go process. And this prevented any future disasters from their launches. Of course, there've been other problems on the reentry, again, we go through the same process. This is how it is applied and we evaluate the results, we got a good result and let me just give a few other examples.
A good friend of mine Crystal Maggelet is an outstanding person. I mean, she's one of the best people I know. Her father Jay Call, also a tremendous entrepreneur, he developed a set of truck stops called Flying J. Very successful throughout our country, Jay loved flying and his name was Jay so he called it The Flying J. They built this company to be one of the most successful in the country as Crystal was growing up, and came to the point where she could… she graduated from college, she could go to a graduate school, she chose the Harvard Business School, and was able to get in and had a great experience. That's where she met her husband Chuck. And some years ago, it's now probably been about 14 to 15 years ago, and Jay was flying to one of their executives with his wife, and one of them, he had been recovering from cancer I believe it was, and for some R and R. And during this trip, while he was flying their jet there was a problem that developed and an accident that took place and they all perished in the accident. It was a terrible tragedy for all of us who new Jay.
Crystal sat on the board of Flying J, and within a short period of time, the CEO came to the board and said we have a problem. We are going to have a requirement for $400 million in cash within the coming month and we don't have it. We've tapped out all of our lines of credit, we simply don't have the resources and they looked in disbelief they said, "How could this ever happen?" And he had been running the company for some time and maybe hadn't been all the best that communicate in some of the decisions. The short of it was that after a crucial meeting they realized that the directions they were going were different and he resigned and Crystal became the president. She was an excellent business person in her own right, she had started a set of Hotels called The Crystal Lands and had been successful. But here Crystal was right in the middle of the biggest crisis they had ever had that threatened their future existence. The pundits said and the professional said they needed to… they were gonna go out of business. They were gonna go out of business, the employees are gonna lose their jobs, they're gonna have to close the doors. They simply didn't have options to come up with this money, they were gonna have to liquidate.
There was doom and gloom all over the company and I think intuitively and instinctively, Crystal applied these six steps of planning and execution. And as she described it, she was so discouraged she just didn't know what to do. She was overwhelmed, but one day she woke up and realized that the vision needed to be save the company. And remember, everybody's focus is, how do we come up with the cash? But, the vision was shifted, there it was, save the company. And as soon as they did this, they sprang into action they said, "Okay, what's the current reality," and they got their key executives together. Crystal said, "We're gonna get in this room here today and we're not leaving until we come up with a plan and the vision is save the company." And so, they realized the current reality is that they were threatened with bankruptcy. They needed $400 million immediately and they didn't have it that was current reality.
So, they then went to the step three, what are the causes for this gap that we have? And as they talked about it and did this analysis and went through the facts and asked why, why, why? They realized that two predominate factors had taken place. One is, they had invested in an oil refinery, it was going to cost, it was an older one, but they felt like it would be helpful to them. The spent several hundred million dollars and invested in this older plant, they're gonna have to renew it, and rebuild it, remodel it, bring it up to speed and that this had taken a lot of their valuable cash. The other is that they'd gotten into the pipeline business of shipping oil out from the Gulf, they had hundreds of millions of dollars of oil in the pipeline and the price of oil was dropping. So, these were the factors their primary business was very successful and they were being profitable there, but these two are what cost them the money.
So now, they could go to Step four which is, what are the options? And the options they brainstorm, they came up with 15 different things they could do to save the company. They took the best ones and they came up with a plan of who would do what, when and where. When they left that meeting, Crystal described that they were excited, they were focused, there was fresh energy and it took about a year for them to fully execute this plan and involved a chapter eleven bankruptcy where they could have some protection and room to operate. They implemented some other measures including divest in themselves of the processing plant and also divest in themselves of the pipeline. They got the business back in order on their core business, they made some other key steps. The ultimate result a year later is that they came out of the Chapter eleven bankruptcy, they had satisfied every one of their obligations a 100% and the resulting company was a more successful company than they had had before by far.
Now, this is a clear example of these six steps it gives you a starting point, but we have other examples. For example, you can do this informally. I was out jogging one morning with my daughter about seven or eight years ago, she was a junior in high school and loved soccer. We lived in Spain for three years, it got in her blood and so, she played a lot of club soccer, she played in high school and so she was contemplating playing soccer in college. And she said, I'm just trying to think about this dad and what we ought to do. So, here we are out just jogging along and so I decided without doing this formally, just take her through the process, six steps. So, I said, "What's your vision? And look how this focused discussion, how it's different. It wasn't, what college should I go to or you know, who do I pick. It was, I wanna go to an outstanding college, I wanna have a good environment, I wanna gain a good education, I wanna be where there are really good guys, dad. And where I can be happy. I'd like to be away from home, but not too far and so that was her vision.
And we said, what's the current reality? And the current reality is, well, I'm a junior in high school and just getting going and I don't know a lot about the possibilities. Okay, what's the cause? And sometimes when you're planning in the future, it's not so much a cause, but it's what are the key factors? The things that might affect this decision and she said, "Well, I'm gonna need to visit, I'm gonna need to do some research, I'm gonna need to have a really good junior and senior years as a soccer player and then set up a list of criteria." Great, all right. So, what are the options? She says, "Well, I can set up a plan, I think I'll list 12 colleges I'd like to go to. I can look at each of the things, factors that are important and I can set up a rating system." And I said, okay. These are really good ideas, so the plan then was actually went into implementation.
And so, as we talked about this, she said I need to write it down, get my colleges clear and then I'll weigh each one out. And so, that's exactly what she did. She set up the plan, started contacting colleges, set up a little informational sheet for herself, a bio if you will with her picture, with her accomplishments and she went to work. She had a number of full ride offers and she ended up actually choosing a college that I was a little surprised about. It was the archrival to the university town that we live in. It was the University of Utah and Pac 12 and we live about three minutes from Brigham Young University, and so, this was her choice and now that her college career is over, she had a great experience, she met great friends, she'll never forget that experience, it helped pay for her college, she met a wonderful young man who was a football player, he was the kicker for the Utah team and she graduated with a bachelor's degree in entrepreneurship and so here we are. There we go. See, I just can't imagine what would have happened if we didn't apply something like this transformation challenge, the six steps that made it so simple.
Well, that's it today folks. So, let's just think about these six steps, here they are. Let's see if you've got them. Number one is, you shifted to what? To the vision. What's the vision? Any problem you have, any opportunity. Number two, what's the current reality and you do a gap analysis. Number three, right, what's the real cause for the problem? And we ask what, why, why, why, why, why, why and we really drill down, we pull back the layers. And your number four, what are the options? What are the possible options? We brainstorm and this is exciting. And number five, we implement the best options. And we talked about the things there. And number six, we evaluated, how did we do? What's the result?
Well, this has been great folks, I hope that you've got a few ideas I challenge each one of you to start practicing this. Teach it to others you can use it formally or informally. One of our key managers for our team came to me, he started… he learned this like four years ago, and practiced it, and I guarantee you this key manager transformed an industry by taking a problem and taking that problem as a $25,000 administrative problem, and turned it into a $30 million contract. I'm not kidding, it was this that caused that to happen with his intellect, he took it and it helped him get to a better place. That took about six years to do by the way. And just three or four months ago, we were talking about this and he said, "Steve," he said I want you to know this is Matt and Doug, they were telling me this. He said, I walked into a meeting with some of our managers and they were using the six-step process to solve a problem that they had and they were gonna bring the solution to me. Now, isn't that what every manager wants? You want others doing this, thinking about how to solve the problems before they come up rather than bringing it to you and say, "What do you think we ought to do?" Well, that's the idea. Finally, then we evaluate and we see how we did.
Well, remember as we do this, you will make a difference and this is Steve Shallenberger wishing you a great day.
SUBSCRIBE TO THE PODCAST
EPISODE RESOURCES
Breakthrough Leadership Conference