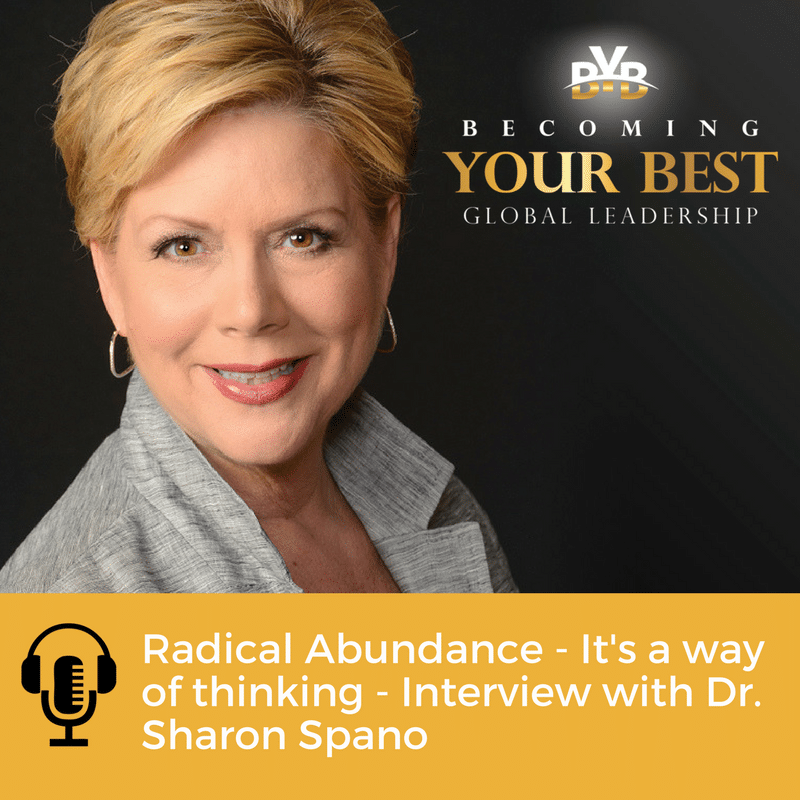 Radical Abundance – It's a Way of Thinking
Steve: Welcome to all of our Becoming Your Best Podcast listeners wherever you might be in the world today. This is your host, Steve Shallenberger, and we have a fascinating guest today. I'm really looking forward to our conversation. She has helped and inspired many people on how to improve their lives. So welcome Dr. Sharon Spano.
Dr. Spano: Thank you so much, Steve. I'm very excited to have this time with you today and to share what I have to offer to your listeners, and to learn more about you as well. So, looking forward to this opportunity.
Steve: Well, thank you. Well, now, before we get started, I'd like to tell you a little about Sharon's background. Sharon has a P.h.D. in Human and Organizational Systems. She's an author, a corporate business strategist, a workforce expert, professional speaker, former radio host of Work Smart Live. She and her husband actually run three businesses. And so she understands what it's like to have business challenges, and success, and setbacks, and overcoming those. She empowers business leaders and entrepreneurs to maximize performance. Also works on employee engagement and how to increase bottom-line results. She is a certified professional coach, she loves helping other people, and especially, stepping into radical abundance. And we're gonna talk about that shortly. Her research focuses on wisdom, adult development and leadership, and her work and her new book, The Pursuit of Time and Money: Step into Radical Abundance and Discover the Secret to a Meaningful Prosperous Life. So there you go. This is somebody we wanna have some fun and listen to.
Dr. Spano: Well, I appreciate it, Steve. I appreciate it. What a great introduction, thanks so much.
Steve: Well, you bet. All right, well, let's jump right into things. So, tell us about where you grew up, what it was like growing up, and what experiences, Sharon, helped you to see that you could be successful?
Dr. Spano: Well, I think that's a great question, Steve, because we all have our story, right? And so, my early childhood story. My parents were divorced and I was literally dropped off at my paternal grandmother's home at probably around the age of five, my sister and I, in the inner city of Los Angeles. And so, we were kind of thrust into this different lifestyle as children, and it was a pretty intense environment back in the day. I can remember growing up and there were gangs and a lot of things like that. But my grandmother in her wisdom, put us in catholic school, which was not an easy thing, even at $15 a month. I mean, we were very poor, so it was difficult for her to make that happen. But that was the saving grace, I think, because she was worried about us being in the public school system with all the gangs and the things that were going on at that time. And I got a very, very good education with the nuns.
And so a lot of my success, I attribute to those early years, because the emphasis was on literary work, and reading and writing, and I learned early. I'm a lifelong learner and I'm an avid reader. And so I would say, most of my success, if I could attribute it to any one thing, which of course there never is just one thing, is there? But it has to do with my willingness to learn, but also the ability to communicate, both in the written and spoken word. That has been really, just a big plus for me throughout my entire career.
Steve: Well, that is quite a background, not only cultural, from Los Angeles, and that kind of experience in the inner city, but also that type of a tremendous education. Your grandmother must have been some woman.
Dr. Spano: Yeah, she was. She had nine children, she buried two husbands, lost her younger son in the war, which I've just recently learned his story because I grew up kind of under this cloud, if you will, of an uncle that she always expected to come home. She believed that he was captured by the Japanese. And I only just literally a month ago found out that he actually went down with the USS Houston. So, it was interesting in many ways, in that, I now have come to see how she prepared me spiritually, but she also prepared me for loss of a son, because I lost my own son in 2008. And so, her strength, her spirituality, her wisdom, you know, sometimes when you're growing up, you don't realize how all that's impacting you, but it's really had a tremendous impact on how I've carried myself through the adversity in my own life. You know, and particularly learning Roy's [SP] story now, in my later years and realizing how she handled, you know, that grief and that uncertainty, you know, never knowing for sure what had happened to him, was quite an amazing thing to grow up, you know, under and have within the household. And I didn't realize how much it prepared me, you know, for the loss of a child. Watching her, you know, witnessing her strength all those years.
Steve: Having great role models like that have a far greater impact sometimes than we realize, and how fortunate. And I'm grateful for the wonderful women who have had such a big impact on my life, as well as the great role model men. So, good going on that. So, Sharon, what's been the biggest challenge or maybe one of the biggest challenges in your life, whether personal or in your business life, and how did you handle that?
Dr. Spano: Well, I think it's really to what I alluded to a moment ago. My husband and I, you know, met, I was pretty young when we met. We've had a very strong and long lasting marriage for over 43 years. We've been very blessed in that.
Steve: Way to go.
Dr. Spano: But our son Michael was born in 1981 with a very rare metabolic disorder. So that was sort of the first adversity that hit us. As a very young couple, that certainly wasn't what we had expected to have happen. And he was at that time diagnosed, he was supposed to live till the age two. So those first years were very, very challenging for us. But we transitioned from Los Angeles, moved to Florida for my husband's business in the early 80s. And Michael wound up living till the age of 27. So we had a very full and rich life with this young man, who was wheelchair bound throughout his life. But there were a lot of adversities and ups and downs, as you can imagine, through that process. And we're both entrepreneurs, running our businesses, you know, trying to stay ahead of the game with him. And his death was certainly, probably without a doubt the biggest challenge of my life. Because he was critical for four years, in and out of hospitals.
And of course, my business was booming at that time, and, you know, you're at the height of all of that, and of course, if you knew that you're near the end of, you know, this journey with him, I probably would have quit everything, but you don't know that. You're just kinda living day to day thinking tomorrow is gonna be a better day. And as it turned out, it was a very great opportunity for me to exercise resilience, because managing the business and managing his illness, you know, my husband and I just, again, that was the value of being entrepreneurs. We would just pitch ship for each other, and, you know, be what we needed to be for him first, but still kept the businesses going somehow. And then when he passed, in '08, that in and of itself was such a dramatic event, but one that really made us appreciate the sacredness, I guess, of that kind of life transition. We both buried parents, grandparents, but obviously, it's a very different thing when you burry a child because it's unnatural, right? That our child would pass before us.
So, you know, really helped me grow spiritually, helped me appreciate the work that I have and how God has blessed me to serve people in the corporate environment. And I love the work that I'm about. I feel very purposeful in it, and I just have a very, very passionate perspective on the value of life and the legacy that I wanna create moving forward. And I feel like God's timing was perfect, in that, if we had to lose Michael, we lost him at a time where we'd had a wonderful experience with him. Really, as a family, you know, we did so much together. And then, yet at the time of his passing, we're both young enough to still, you know, carry forth our businesses and contribute. I mean, that's really what I want, you know, the fourth quarter, as they say, to be about. How do I contribute to making people's lives better and offer what I can in terms of my wisdom and knowledge to those in business and in corporate America.
Steve: Yeah. Well, that…I appreciate you being willing to share about that experience. I'm certain that our listeners, every one of them have challenges. Some are more severe than others at different times in life, and just like the type that you've described anyhow, it's probably different for everybody in a sense. But nonetheless, in many ways, it feels the same way, which is, we wanna do what's important and balance things, and… So, if you were to give some advice to our listeners in the midst of their adversity, the challenge, these heavy weights, and yet still try to balance life. Any thoughts on that? What would you suggest?
Dr. Spano: Well, I think for me it goes back to purpose, you know. I mean, whatever role or whatever business you're in, you know, how do I be the best in that every given day?
Steve: I like the sound of that.
Dr. Spano: Well, and just fulfill that purpose, you know. And I know that sounds very cliché for some people, and if you're in a job or a position where you hate what you're doing, you know, that's certainly a bigger challenge. But part of the work that I'm about Steve, and I know that you're about is, how do we help people really dive deep enough to figure out how to be their best version of who they are. You know, for me, that's a very spiritual matter because I've been blessed in growing that spiritual line of development and knowing who God is and what he's called me to do. You know, for someone who may not have a traditional belief system to lean on, you know, there is so much out there right now to help people, and that's what I love about the integral coaching work that I do, is we really…we're less about goals in our interaction. When I finish with you today I'm going to meet a CEO who is very clear on his purpose, but he's struggling with some of the changes in the economy and the systems and whatnot.
So it's, how do we take all of his strengths and match them to another level of purpose such that we maybe shift his consciousness so he can step up into this new role, in a bigger and better way. So, for me, it goes back to purpose and then staying focused. And then how do I continue to develop my own consciousness so that I'm growing, and moving forward, and adapting. Because as you know, today's leaders have to adapt constantly. I mean, every day, things are moving and shifting so quickly. And we're a global diverse society now. And so, that requires a different type of leadership than we've seen certainly, in generations before. And I think it's exciting, you know, it's an exciting opportunity for each of us to dig deeper and ask ourselves that question. You know, what can I do each and every day to make the world a better place?
And for me, when I get up with that perspective, there is usually something miraculous that happens in the course of my workday. And that's kind of what I try to get my clients to see is, what is…even in the most adverse moments, what am I being called to learn? What am I being called to lean into, in terms of my own growing edge? And how can I step up and into that growing edge, such that I become a bigger better person, and realize my potential on the other end of it. You know, certainly through the years of my son's adversity and suffering, I had to dig really deep to be what I needed to be for him, for my husband, and for my clients. And I know I'm bigger and better and stronger on the other side of it for having risen, you know, to that adversity. That's part of my research around wisdom, by the way is, we know that leaders who exhibit wisdom handle adversity a bit differently, and they do a lot of what I've just talked about. When they're in the midst of it, they're looking for what is the lesson here and how can I be my best self in the midst of this.
Steve: Okay. Well, let's talk about leadership a little bit more. Every one of us, each one of us is a leader of course, and the mental construct that we have on how to be successful is such an important influence in our personal lives as we deal with others, as you've mentioned, relationships, and professionally. So, let's discuss for a second some different aspects of achieving success, and especially from the point of view that, from your background, your experience. So let's start with radical abundance. It's part of your book, what is it, and why is it important?
Dr. Spano: Well, I think it's vital and it's a lot of things, in that, it's more about a mind shift, less about what you actually have. And of course the focus of the book is on the experience of time and money, and I'm looking at it through a developmental lens. And by that, I mean, what we know through the research is there are 12 of what we call stages of human development. Obviously, beginning from, you know, birth on up. The average American, we know that 60% of those Americans fall within what we call the expert and achiever levels. And so, part of what I'm exploring in this work is, based on your level of development, what are your paradigms or belief systems around time and money? And I came into that quite by accident, if you will, because I saw so much human suffering in corporate America around these two very important resources that impact us daily, and in every decision and choice that we make, but often at subconscious levels that we're not even aware of.
So when we talk about radical abundance, I'm talking about developing, again, those growing edges, the awareness of consciousness, such that you can have a meaningful life of joy and prosperity, no matter what your life circumstances are. No matter how much time or money you actually have. It's a place to come from more than it is a place to get to. And so, I'm really trying to open the conversation, getting people to examine their worldview, their paradigms, and often in the contest of those early childhood stories, because that's where it all begins. What were the things you were taught or heard about time and money, you know, and how is it impacting you in terms of your daily choices today. And what we're finding is, when we can open the discussion, and of course, we have instruments where we can actually measure where people are developmentally. That helps a lot, for them to see where they are and to see that you don't have to be stuck there, you can grow in these developmental, what we call developmental lines.
There actually 26 lines of development that we enjoy as human beings, that we're aware of today. And I focus in my integral coaching work and in my strategic work with leaders on six of them. And so we can literally see where people are and where there might be some short falls or some faulty premises, as I like to say. Ideas or ways of being, ways of action that are inhibiting you from realizing and maximizing your potential. And then when we can do that, we can coach or help people shift those paradigms, such that they step into more radical abundance.
Steve: Okay. So you're saying radical abundance is something that's within us? It's a way of thinking?
Dr. Spano: Yes. I'm saying that it's a way of thinking, it's a consciousness, if you will. And if you think of the stages, kind of the easiest way that I explain it, even though they're not a hierarchy per se. If you imagine a mountain top, Steve, and you're climbing that mountain. Stage one might be at base camp, okay? And then as you mature, and grow up and into higher states of consciousness and stages of consciousness, imagine yourself at the top of the summit. So, one is not necessarily better than another, but it is a broader perspective. So, for someone who grew up in the inner city like I did, your story, the story that's given to you as a child is, you can never get out of here. You're not smart enough for an education, and you'll never get a really good job. And so, you know, that's why people get stuck in ghettos, right?
For some reason, that never resonated with me, and I don't know why, because I always knew I will become educated, and I will get out, and I will have a different life. But for many, they don't even know there is another life outside of that environment. And that's part of the opening that I'm trying to create. Because as you mentioned moment ago, we're all leaders. And I've taught that for years and years, because I don't believe that leadership is a title. I believe that it's…also, it's a mindset, it's a place to come from. You know, you can step into leadership and whatever role you play within an organization. And so, that's part of the exciting work that I've been blessed and able to do, is to help people see, when we change your paradigms and the actions flow from that. And more importantly, when we can shift your consciousness and your whole way of seeing the world, anything is possible. I mean, it really is. And so, you know, that's the work that I wanna be about, and that's the conversation I wanna open up within people whenever I can.
Steve: Okay. Well, that's very exciting. So you're really working on transformation with people. And so, it sounds like what you're saying is the experiences we have in our childhood has a big impact on how we see time and money?
Dr. Spano: That is what we've been researching and we're seeing more and more evidence of that as a reality. And so, one of the examples that I like to give for instance is, as a child, I grew up, again, living with my grandmother and my dad who was supposedly to be the provider, really never was around very much, right? My dad, you know, did his best as most of our parents did, but he wasn't a guy that was really invested in his children. And so, I grew up hearing stories of, "Your dad isn't around. Your dad isn't paying for you. You're a charity case. You know, you're lucky to be here." That was from my aunts, not from my grandmother, of course. And so, the message that I received was, my parents don't value me and I'm not really worth their time and money.
Now, as a child, you don't know that. You know, I didn't internalize it to that degree. But later in life, it played out, in that, I didn't think I was worth, you know, the salary, or the raise, or the promotion. You know, and it took me many years to unravel that. Well, then fast forward years later, I'm seeing this in CEOs, I'm seeing it in clients, you know, left and right. And when you get down to, you know, what is the scarcity mentality that's running you? Whether it be corporate wide or just in terms of your own personal life. Almost always they'll go back to a story that says, "Well, that's what I was taught." And the interesting thing, Steve, that I'm finding, that I'm so excited about is, it's fairly simple when we look on the spectrum because we have an assessment that we've developed called, "the time lining instrument." And it's an inventory that will help the individual see where they fall on the spectrum between scarcity and abundance.
Scarcity is fairly clean and obvious as is abundance. Where it gets really challenging is when you're in the moderate range. Because for instance, someone who's in moderate scarcity might look like and believe themselves to be highly responsible. And so, they're doing all these theoretically right things that might look like they're coming from abundance, but often, those very same things are fear driven. And so, for instance, it's the father who, and this is a real example that I often share. Who saves, and saves, and saves, you know, from the time he's a young man for retirement, but he saves to the point where, you know, they can't even go to dinner or his kids have never been to a theme park because we don't have money for that because we're saving…we're doing the responsible thing and saving. So the lifestyle is affected. And what the children learn is how to be fearful and worry about both time and money, because that's what dad does.
Steve: Okay.
Dr Spano: Does that make sense?
Steve: Yeah. And there is a big difference between the scarcity mentality and an abundance mentality, and how we treat everybody, and our experiences. So that's a very interesting level of research that's going on. How do we help somebody that may not have had the type of childhood that positions them for the type of success they could have. How do you give them hope? How do you help them with that transformation? Where do you focus?
Dr. Spano: Well, I think, you know, for me, I always say that with the first moment of awareness comes opportunity for change. And so, what I find is, a lot of the things that I'm talking about here, particularly get into the scarcity, they're very much at a subconscious level. So I might know for instance, that I'm worried all the time, that I'm fearful all the time, or that I feel like I'm being chased by the clock, but I don't know what to do about it. And so, part of the work that I do with groups or even with individuals is, we bring those thought processes to a level of awareness. And then we start to talk about what would a new way of being look like. You know, I'm this way now, but what if I were this way. What would that look like?
Because the other thing that we know about development is that people, particularly in the earlier stages, don't always have the capacity to see things moving forward. Like, they can't see things a year out or two years out. Or they don't often understand consequences of certain actions. And so, when you start to connect the two, when you think this way and behave this way, this is the outcome, you start to… I mean, it's literally like you put a mirror in front of them and they're seeing themselves for the very first time. And it takes a while, but once they have that awareness and then you start to, together, paint a picture of how things might be differently. And then of course, obviously, when I'm working in companies, we're looking at infrastructures and systems and processes and all of those kinds of things. Because a leader, whether it be corporate or entrepreneurial who's coming from scarcity, it's gonna impact obviously not only how he leads, but how he builds or fails to build the infrastructure for the organization. And so, you know, we get into a lot of that.
And it can be sometimes a very quick process. It can lean on just how open the individual is to change. And sometimes it takes months and months and months, maybe even years. And a lot of times I work with a leader who goes off, and then I hear from them two years later because now they're at another…what we call another growing edge. They're moving into another stage of consciousness, and so now we have to kinda revisit things again. But that's what's cool is, you know, the progress is being made and it's a process.
Steve: So, these things that cause success and you talk a lot about, Sharon, time and money and how it correlates to what we value most in life, right?
Dr. Spano: Right.
Steve: So, there is hope for people then, that they can develop these skills?
Dr. Spano: Well, the skills are the outcome of the shift in consciousness. So, one of the things that I talked about is the cycle of freedom, which I believe begins with understanding the essence of stewardship. And that's a big word that means a lot of things. You know, some talk about it in terms of sustainability, but I'm talking about it in the context of, where your treasure is, there is also your heart. So, I'm gonna put my time and money, I'm gonna utilize these two most important constructs or resources based on what I value and treasure the most, right? So, stewardship is a part of how I make those choices and decisions. And then from that, I believe grows greater compassion, generosity, a greater sense of gratitude, and then eventually, even a greater love for myself and others, because self is a part of it. You know, if I don't value myself, I'm not gonna take the time for instance to nurture my mind, body, my spirit, you know, those things. And then that translates to how I love and care for others, and even my love and care for greater humanity.
So, it's letting go of the fear and then stepping into this radical abundance of, there's enough for me and for others, and for me to be generous and to give, and to focus my attention. So like, one of the examples that I like to talk about is, there's this young child that comes from an environment where nobody wanted to invest in me. And then I meet this amazing man who lives in abundance, who believes in the flow of money, and that there is always enough. And when there isn't, he just creates. But he's always invested time and money in me. So, he's kind of the opposite of what I knew as a child. You know, he's the nurturing, loving, caring, generous husband, who, you know, is the president of my fan club, who is always willing to invest in whatever it is that I'm about. And that's a pretty big deal for someone like me because I could have just as easily married an abusive guy, coming from the environment that I came in.
Steve: Got it. That's a good example.
Dr. Spano: I mean, it's truly a blessing, right? That I kind of stumbled into the right guy. I don't know what that says about me, but…
Steve: No, I had a friend one time who is the CEO of a major utility company in the United States. And I was the young man and he said, "Now, let me just share with you the three biggest things that will have the greatest impact on your happiness." I said, "Okay, great. I've got my pen ready." He said, "Number one is the person that you choose to spend your life with, to marry." He says, "That's one of the three biggest decisions that will impact your happiness." And it's fortunate that you've found that somebody that helps you see what can be possible. In our language, that helps you see that, you know, you can work on becoming your best. And it's different for really everybody, but to have people like us that can help like that is helpful.
Number two, he said is the career that you choose. So you wanna choose a career that you can love, that you can make a difference in. And then number three was interesting, is the first major company that you work with. He said, it will have a huge impact on, you know, on your future, your career. So this kinda deals with what you've just been talking about of creating an abundance mindset, and how it affects everything else. Your time, your money. Well, tell us as we wrap up. I'm always amazed how fast time goes, what was the impetus behind you writing your most recent book?
Dr. Spano: Well, a lot of what I've discussed and I think anyone can…who's been in business can relate to the idea or the experience, I guess I should say, of hiring someone who wasn't the right fit. And years ago, I had a guy that I hired that I thought had great potential, and he was quite brilliant, and I just was never able to get this guy to make money. I mean, he couldn't get any clients, he couldn't make any money, and I just couldn't figure it out because I had invested quite a bit of time, money, and energy into him. And one day I just asked the question, "You know, what do you believe about people who have money?" And he said, "I think they're oppressive, greedy, and egocentric." And in that moment, Steve, I went, "Well, wow. No wonder I can't get you to make any money. Why would you wanna be like those guys?"
And he was one of those guys who came also from the inner city of New York, and he'd had a rough life. And even though he was brilliant, he just could not step into the type of radical abundance, you know, that I'm talking about. So he sabotaged his entire career and even his home life. And it kind of opened my eyes and it began, kind of it was like the first stages of curiosity for me to begin to study this further. And then of course, once I got into the developmental work, I started to see the correlations between where people were developmentally. And I just got very excited about, you know, wanting to be an interruption to some of that in a more concrete way.
So that was really the impetus behind the book and some of that earlier research. I mean, my whole body of work is not only on time and money, but time and money to me are just the symptom of the other things that are going on within this. Because again, there are two very important resources that can define, you know, our life if we let them. And what I'm really saying is, have awareness of how you utilize them. Have awareness of how they're impacting your relationship so that you can make better choices, and live a life of radical abundance.
Steve: Okay. Well, that's great. Yeah, I had a friend one time say, "You know, money is not the most important thing in life." But it is right up there on the list with oxygen.
Dr. Spano: Yes, it is. Unfortunately, it is, and we have to learn to be good stewards of it.
Steve: Exactly. Okay, well, Sharon, tell us how our listeners can learn more about what you're doing, tell us about your book. I think it's coming out, right? Or is it here already?
Dr. Spano: Yes. Well, the pub date is August 1st, and they can go to the www.timemoneybook.com/becomebest/, and we have some resources there. One is a manifesto that I've written on radical abundance. The other is, they can have access to our research based time, money, inventory. It's all confidential, but it'll help them see where they fall on the spectrum between scarcity and abundance. So that's the TimeMoneyBook.com. And certainly, they can visit my website, which would also get them there, at SharonSpano.com, to learn more about my overall work and the work that I do, you know, as a consultant and integral coach.
Steve: Well, congratulations Dr. Sharon Spano. What a great job you're doing.
Dr. Spano: Well, thank you, Steve. And I would say the same to you. And I appreciate so much the opportunity to be on your show, and to hopefully, have an impact on some of your listeners on some of the thing that they're thinking about, as they too, begin to embrace what it means to maximize performance and step into radical abundance.
Steve: Well, great. Well, I'm sure that that will be the case and we appreciate you being part of the show today, you've done a great job. We certainly wish you all the best because you're certainly making a difference in the world.
Dr. Spano: Thank you, Steve.
Steve: And to all of our listeners, never forget, you too can make a difference every single day of your life. I'm Steve Shallenberger, with Becoming Your Best Global Leadership, wishing you, a great day.
EPISODE RESOURCES