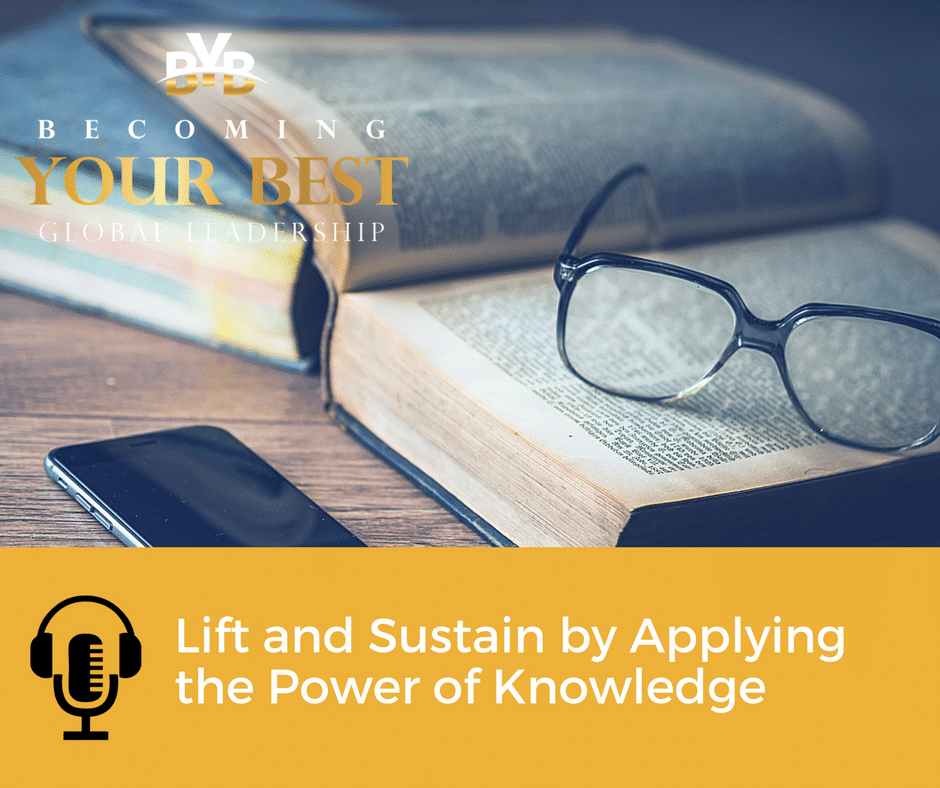 Lift and Sustain by Applying the Power of Knowledge
Hi, this is Steve Shallenberger, your host for this podcast, the "Becoming Your Best Global Leadership." And today we're going to talk about an exciting principle, which is…and hold onto your seats, folks, because this has a huge impact on us all over the world, and it is apply the power of knowledge.
Well, a number of years ago, two of our sons were cadets at the United States Air Force Academy, and during the Parents Weekend we were provided with a tour of the beautiful campus nestled in the foothills of the Rocky Mountains. And on the main quad I stood in front of a large statue depicting a falcon and her chick. And the inscription at the base of the statue reads, "Man's flight through life is sustained by the power of his knowledge."
Well, the inscription uses words like "flight" which is wonderful, "sustained" which is so important for our success in life, and "power" in relation to knowledge. And indeed, one can be lifted and flight can be sustained by the power of knowledge and the wings of knowledge and enlightenment can help you soar to great heights in your personal life, in your relationships, and at work. And the lack of knowledge leaves you on the ground and at times renders you totally defenseless against the forces of the external environment. So, this knowledge and this metaphor is wonderful as we move through life in thinking about, "Well, how can I be my best?" Because that's really the vision of life, is to be the very best that you and I can be, and in our professional life, to be among the best at what you do.
And so, I mean there's such an explosion of knowledge going on today. I was just reading a professional…excuse me…journal, and it talked about the number of abstracts had been increasing exponentially. So, for example, it talked about the number of abstracts published by the 12 leading publishers of secondary science had gone from 550,000 articles published in 1957 to in 1997, just a few years later, 3.7 million articles. Think about that. But that's just one discipline of knowledge. I love getting the Astronomy Magazine. I'm captivated by the universe. And the last article, the front cover said, "Well, astronomers have now said their original estimates were off a little bit by the number of galaxies they thought there were in the universe," and then there was a pause, a hyphen, that said, "by one trillion universes."
So here we go. In my life alone, I was just thinking in about 1984. I'm a young businessman and I'm commuting to California to supervise one of our companies, and so I took my portable computer, which was the size of a small suitcase. You could actually unhook the keyboard and it was a three by five green screen and you put in floppy disks. And now we have all of this many, many times over in our devices in our pocket. And so, I think about computers. Internet has come on, the devices, and now digitization, which is going to trump most everything that we've seen in the past, may have as three to five times an impact on us that the internet has had. But this affects us in the economy, world affairs, politics, health, relationships. So the stakes are high. So what do we do about this?
I would like to suggest there's two aspects, if you will, to managing this knowledge. And we all have the same challenges. Where do we start? How do we get ahead? I read an article not long ago and talked about the different…the faces of learning, if you will, and how it has also morphed from the nomadic learner to the ageless educator to the lifelong learner. And that's really what it's become, hasn't it? If we're going to get ahead, if we're going to become our best, we have to be a lifelong learner. I saw an article that said, "Well, there's no more three Rs, reading, writing, arithmetic, but it's the four Es and the three Cs." So, what are those?
Well, this is an interesting way to think about it, then we'll get back to our two aspects of knowledge and how do we manage. But they're the four Es, which is: exposing knowledge, employing information, expressing ideas compellingly, and ethics. Okay, the four Es. And the three Cs that go right along with it: creativity, communication, and collaboration. Well, these all have to do with this principle, 1 of the 12 principles that I've identified with highly successful leaders, high achievers, and that is, apply the power of knowledge. That's the principle. That's what I've observed that has always taken place with those that have been able to make a difference.
And so, here are the two aspects. The first aspect is to gain the knowledge in the first place. You can't apply something that you don't have. And so, how do we gain knowledge on a consistent basis? I love the rule of five. This is five hours. Investing five hours a week into yourself. This is really the minimum of being able to stay ahead of the game, and these five hours we utilize in fitness, physical exercise, but also gaining knowledge.
So what are the ways to do that? I'm always thinking about acronyms. Here's a good one. Think of this one, arrl, A-R-R-L. Oh, you're saying, "Well, that's Steve." Well, here's what it stands for. And it is a great way for us to gain knowledge, and that is to ask. Ask for other people's opinions. Ask for their insights.
I was…yesterday I had the opportunity to be in Seattle and I was with one of the best financial planners, the most successful planners in the United States, and I asked him, I said, "If a young man or an individual, a young lady, would like to become among the best as financial wealth advisers, what would you recommend?" He thought for a second and he said, "I would recommend that they connect, that they go in business together with someone that is like 65 or 70 years old and that is interested in retiring but they've got it down, they're among the best, and go work with them and learn. And then after 5 or 10 years then they're in a position to succeed the efforts of that person." And there's the opportunity to have a buyout, but this is a very successful profession. Well, this is essentially asking.
It's a little bit more of a long-term ask but you can do it on a short term. You may have an issue. Ask people that you trust. You can ask a group of people, "I've been thinking about this and what are your thoughts?" That's the first one, is ask.
The second, we have two Rs now. And the first R is to read. There is no doubt that readers are leaders, and this is one of the real signs of how we can get ahead. But we want to read the right materials. So, it comes back to this vision. What's our vision? Well, it's to become our best and to be among the best at what you do, whatever profession that is, a teacher, a professor, a coach, a CEO, a salesperson, a scientist, an engineer, a lawyer, a doctor, whatever it might be, this is clearly something we keep doing. We read about how do we become our best. We stay ahead of the game. And so, every single day we make the habit to be reading. We like to say read a book a month at least and this is a good target. Twelve books a year of things that will lift and inspire you.
The second R is ongoing research. Oh, by the way, when we read we're reading books and magazines and news information, so newspapers. And also the same thing with research, that's the second R, if you will, we're researching articles that help us get to a better place, to have a better understanding.
And then the fourth one, the ARRL, can't forget that L is to listen. And so, we turn our cars into a university, and if you spend any time at all in your car, you can listen to books, you can listen to podcasts, you can listen to TED Talks also while you're exercising. This is another perfect time to listen to these uplifting things that helps us gain knowledge. I've got to tell you some of the absolute most inspiring times is when I've gone out to exercise, and I put on the earphones and I listen to something that is helpful to me in the field that I'm trying to work on. That's it. Gain knowledge every single day. Just take a few minutes to do this. This will help us stay ahead of the game.
Now, of course, the next part of this principle is to apply the power of knowledge. We had a friend do a seminar for our group, Jason Hanson. Jason's a former CIA officer and he has now dedicated himself to helping people stay safe, and if they happen to get into a really bad situation, how to escape. He's wonderful. And what he taught us was what happens if you ever…the first thing you do if someone comes up or threatens you, what do you do? Well, you run. Statistics show that gives you the very best opportunity to preserve yourself to stay out of the situation. So run and don't be bashful about it.
But let's say that you do, you're caught, you're abducted. The preferred way to subdue a victim is through duct tape. And so, what Jason teaches us how to do is to get out of duct tape in two seconds. How many of our listeners would like to have that knowledge, that skill set? Well, so he would actually demonstrate it. We would put our arms up and he would tie the duct tape around our wrists and, through a process, he would show us how of putting your hands above your head and you quickly come down with a full thrust at your waist, pulling your hands apart, and just like that it's gone.
So you have options. This is what it teaches us. We have options of things that we can do. Even if you're in the trunk, heaven forbid, you can saw it off and then try to escape. But there are these options. You keep trying to get away. Okay, so that's with this knowledge. Now you have the chance to save your life.
And this is the whole deal. Once you have the knowledge, then you can apply it. Well, this applies in every area of your life. I'd like to recommend every person that's listening, if you don't have one now, that you acquire a notebook. This becomes your thoughts book. And as you're gaining information just on a freestyle, starting at the very front page, you can write down your thoughts, your inspiration, your ideas, and this helps you look for ways to apply those thoughts. And as we think about curiosity and communication and collaboration we look for these three ways and ways to apply these to our situation.
So whether it's fitness, our own health, whether it's improving a relationship or a professional application, we're always thinking about these areas of how can we do better. And this idea of good, better, best, never let it rest, til the good is better and the better is best is both the mindset and the skill set. And so, this clearly is mindset, how can I do better in these areas, but it takes the skill set to gain the knowledge and then apply the knowledge.
And so, essentially what we do is we get the knowledge. We say, "Okay, I'm gonna take my good to better and my better to best. Let me try it. Let me apply it now." And so, essentially you practice it, you talk with others, you create the strategy, you apply the transformation challenge, the six steps to planning an execution, and you go to work.
One of the things we like to say is that you, first of all, practice, practice, practice, and you nail it then you scale it. And this is the idea. This is how we apply the knowledge. One of my favorite approaches as we're working on doing this is to share your idea with others. I've been thinking about this, and if we're to apply this, I think this is what could happen. What are your thoughts about this? And this is how we do it. This is the two-prong approach. Gain the knowledge and apply the knowledge, ARRL. So, what do we do, is we ask, read, research, and we're listening. Turn those surroundings into a university, an ongoing university.
Well, I invite each one listening to think about how they gain and apply knowledge and work on doing this on a consistent basis in a way that helps you to become your best, to improve your happiness, your joy, health, and prosperity, to strengthen your relationships and teams, and to teach your teams how to do this. Make this application of this principle cultural and deep so that we're creating cultures by design that are effervescent, that are energized and helping one another. And then this leads to not only prosperity individually but professionally. This helps our companies and organizations to consistently be the best of class.
This principle, apply the power and knowledge, in conjunction with the other principles of highly successful leaders, puts you at the very top of your profession and allows you to consistently make a difference for good. Well, this is Steve Shallenberger. It's been a thrill to be able to spend a few minutes with you today, an honor, and a delight, and I wish each one of you the very best as you make a difference.
EPISODE RESOURCES
Breakthrough Leadership Conference