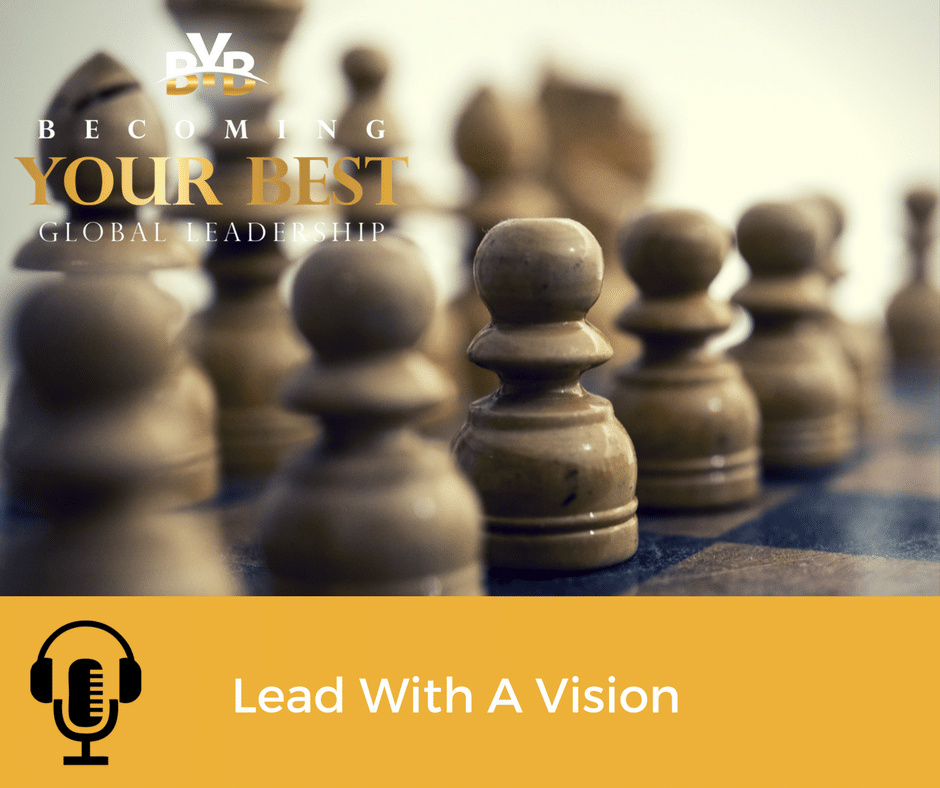 Lead With A Vision
All right welcome back to the Becoming Your Best podcast. This is your host Rob Shallenberger and hope you're having a wonderful day wherever you are in the world today. Well today's podcast is focused on principle number two of highly successful leaders and that is leading with a vision. So let me ask you a couple of questions and just think about what comes to mind. When you wake up in the morning are you excited to get up and get out of bed? In other words, how do you feel in the morning when it's time to wake up? Are you excited and anxious to face the day because it's going to be another great opportunity or is it one of those where you just feel like you're kind of dragging yourself out of bed? Well here's another question. Do you have a clear vision or direction for your life? So if I was to ask you what's your vision, you know, where do you want to be in five in ten years? What does that look like? Would you be able to describe that?
And this is one of those characteristics over and over and over that we saw in the most successful leaders is they had a clear vision of where they wanted to go. So, for example, look at you know great leaders through history such as George Washington, having a vision of a free liberated country. Or Bill Gates having a desktop computer in every home. Mahatma Gandhi to liberate a nice nation peacefully. You know, it's these simple visions that created a powerful direction for a lot of people. And that's what a vision can do in your life as it gives you a very specific direction. Amongst a team, if you're running or leading an organization, it creates that alignment with your team members. And that's the idea that everybody listening to this podcast is a leader in some form or fashion. At a minimum you're leading your own life. You may have a family and in that case you're leading your family. Or you may have a team and you're leading a team. In every one of those circumstances a vision is a critical piece of that puzzle. In other words, when you're speaking of your team, what's the direction your team is going? Well if you're talking about a family or you as a couple, what direction are you going as a family, as a couple? And then especially personally which way are you going personally? What direction are you going? And so the focus of this podcast is really those three areas and that is how to develop a vision for a team or a company. How to develop a vision for your family. And then, what I consider to be most important, how do you develop a personal vision?
So let's start with the company vision. And, as you're thinking about the why, the why is always important to understand. Now think of this from a leader's perspective. You will have a culture by design or a culture by default. And that's one of the things the great leaders do is they establish a culture by design. In other words, it's not gonna happen on accident. If you're not focused on developing the right culture then it's going to evolve into whatever it evolves into. And that's what a vision can do, is it aligns and starts to create that culture a direction for the entire team an organization.
So imagine in your mind a bunch of arrows and if those arrows are all pointing different directions and you start to move them, you know, there's no energy. Everybody's going a different direction. However, now imagine in your mind a bunch of arrows that are all aligned pointing the same direction and that's what a vision does. It aligns those arrows, it aligns employees and resources so that they're all moving the same direction. I mean, think about this. Almost everyone listening to this podcast has been a part of an organization or at least walked into a company where you could quickly tell that nobody was aligned. And you could feel that energy in that type of team. At the same time you've probably been with an organization at some point along the way where you felt like they were firing on all cylinders, all going the same direction they knew what the direction of the team and organization was. And there was this power behind that. And that's exactly what a vision can do for your team.
So, for example, Southwest Airlines. Their vision is this, "We operate with a warrior spirit, a servant's heart and a fun loving attitude." And this really dictates the culture that exists at Southwest. You know, when you see a captain outside loading bags for an on time departure. And they're all about the fun and they're all about creating that environment, where it is a warrior spirit, a servant's heart and a fun loving attitude. They don't cater to the first class group, they don't have that premium of level service. It's about, "Hey get people on, give them a fun experience, get 'em there on time." And that's their vision and they do a great job of living and supporting that vision.
So, on that note, the question then is how do you do this within your team? So here's the best place to start. There are four questions that I'm going to give you and what I would suggest is that you ask your team members these four questions and have them actually write down the answer. And when I say your team, you know, this really depends on the size of your organization. So if you are a manager and you have five sub managers, then maybe we're talking about those five sub managers. If you have sixty employees that you lead you don't need to do this with all sixty. So with a handful of people, your key team, ask these four questions.
Number one, what are the top three most important areas of focus for our team or company? Number two, what are the operating principles and values that will help our organization be the very best? Number three is what do you care most about? And number four is have them write a sample of what they think the vision for the team or organization should be. And then you're going to take those as a leader, you're going to compile those and come up with a draft vision. So taking all of their input you come up now with a draft. What does that do? It creates buy-in, they've been a part of developing the vision. So you take their input, you develop a draft vision and then go around and ask a few employees, what does this vision mean to you? And if you're getting a similar response or answer, you've got a vision that's creating alignment. There's a focus there. If you're getting different answers from all different employees and they're saying, "Yeah it means this." And someone else answers this, then it's not there. That's not the vision. It's got to create that alignment and that focus and it's got to get people somewhat excited to be there and feel like they're a part of something. So if it's all around money, well that may or may not be it, you know? So you really want to ask employees and test it and see what they feel and how they respond.
Once you get their response take that vision and really make it a part of the organization team. Put up posters. You don't want to become a wall ornament, you want the vision to burn deeply in the organization. So put up the posters, develop rewards around the vision. So a quarterly reward around customer service if that's the focus of your vision. So if I was Southwest I'd create a warrior spirit award, a servant's heart award and a fun loving attitude award. And then give those out quarterly and recognize people. And that way you're reinforcing that vision. And that's how you really develop a team vision and get started on that.
Now how about the family vision? And it's interesting in a group of about one hundred people, just to use easy math, during a seminar I'll often ask the question, well how many people in the room have either a written family vision or a personal vision? And on average one out of one hundred hands will go up. And so this is a huge deal for a lot of people and it's been amazing to hear the feedback from couples who say, "You know we just started doing this for the first time ever in our marriage and it's made an incredible difference." Or to say, "We sat down with our children we started asking them what's most important? Where you think we should go as a family?" And now you're getting the kids involved. And so this can be a really fun, cool experience if you have a family or if you have children. Even if you have a partner, sit down with your partner and come up with that vision.
So here's an example of our Shallenberger vision and we have four kids ages 6 to 15. And can this be changed? Of course it can. So this is one that we actually recently modified about a year ago. And it says this, "Shallenbergers are kind." And the letters K-I-N-D are big and highlighted. And each of those letters is separated out. So K in the word kind says. "Keep the commandments. I, imaginative. N, we're nice to others. D, do our best." And this is why we go back to the vision as family. If a son or daughter comes up and says hey how do I solve this or what do I do about this? Well it's our vision. Imaginative. Okay So let's imagine some ideas, what do you think? And it's teaching them to lift up their eyes and go after that vision rather than, you know, head down and focusing on the problem. So it's a real shift. So if you don't have a family vision already, one of the invitations from this podcast is within the next week craft a draft of your vision for your family and see what that looks like.
And now, most importantly… So that's number one, the corporate vision. Number two is the family vision. And number three, most importantly, at least in my opinion, is the personal vision. And I was out on a walk about six months or so ago and just walking along thinking about, you know, what is the real impact of a vision? And this thought came to mind that our personal visions, your personal vision, is the seed of your legacy. Now think about that, what happens when you plant a seed in fertile soil? Well it can grow into a massive tree, can't it? However if you never plant the seed, the tree can never really grow, it never has a chance. And so this is what you're doing by articulating your personal vision and writing it down, is you're planting the seed. Then you can develop a plan to make that vision a reality.
And some of you have heard this analogy of the dash. Think about this. When you go to a cemetery and you look at a headstone, What do you often see there? You'll see a birth date, a dash and then that death date. And we really don't know a whole lot about that person, but imagine all the things that are in that dash. And what you're really doing there with your personal vision is articulating what your dash looks like. In other words, when people look back at you how are they going to describe and think of you? What is that going to look like? What impact are you going to leave within your family and your neighborhood in the world. And that's what you're doing with a personal vision.
Now there's some questions that can help you get started on your personal vision. So let me give you these three questions. If you're in a place where you can write them down, write them down and maybe take two to three minutes and just answer them as you feel best or whatever comes to mind. They're pretty simple questions. This will help you as you start to get ready to craft your personal vision.
So number one, where would you like to be and what would you like to have accomplished in 10 or 20 years from now? So, in other words, shifting out to the future aways, what are some things that you would like to accomplish? Just brainstorm with yourself and write some of those answers down. You're not going to capture everything, and some of the things you put down here may not make it into your vision and that's okay.
Question number two, think of a mentor or a person who's had a significant influence for good in your life. What are some of their traits or characteristics that you admire? This is a great one. You think about the sphere of influence, the people who have made the biggest difference in your life. What was it about them that really stood out to you? What is it that you admired about them?
And then the last question is this, in fifty years from today, where many of us might be gone after fifty years, how do you hope others will describe and think of you? What would you like them to say about you? "He or she was kind, they were caring, they gave often, they were charitable, they made a difference, they took time to listen?" What is it that you would like people to say about you?
Now once you've taken a few minutes to answer each of those, come up with a draft of your vision. And there's a way that I would suggest doing this, or at least invite you to try, that many people haven't thought about. And that is your vision by roles. So let's focus on women here. If you happen to be married, one of your roles might be a wife, a spouse. You might be a mother, that might be one of your roles. You might be a manager. You might be a son or daughter if your parents are still alive. So you think about those different roles and then craft a one to three sentence vision in each of those roles. And the most important role that you need to be thinking about here is your personal role. In other words, self. Mentally, physically, emotionally and spiritually what is your vision look like for you? And then think about what your vision looks like in those other roles. And that really describes you and your personal vision.
Now how does this apply to you? Well, as an example, in the role of husband a small part of it is to help Tanya my wife feel like 10. So that really dictates the behavior. If i'm driving around and I'm a little upset with her I can go home and we can get into an argument and we all know how that works out. Or, as an alternative, if the vision is to help her feel like a 10, well I can go home and what are some of the things that I could do to help her feel that way? So if you're married and you had a spouse and your vision was help your spouse feel like a 10, what are some things that you would do today to help achieve that vision?
And so what does this mean to you to have a team vision for your company, a family vision or personal vision? It's what gives you that clarity in that direction. And here's the real litmus test. And that is when you wake up in the morning and you look at your personal vision, does it get you excited? And if you can look at your vision and say, "You know what, this gets me pretty fired up. This isn't where I'm at today. This is where I want to be." That's a pretty good start to a vision. Remember, it's the seed of your legacy. So you're planting that seed in your heart and your mind. Unless it's written down though, it's all just a good intention. And so what you're taking is these good intentions and you're being very purposeful now about your life, your family and your team and you articulating that on paper.
And once you've got a vision whether it's a team vision for your company, for your organization. Whether it's a vision for your family or whether it's your own vision, make sure you write it down and put it in a place where you can see it often. And especially for your personal vision. I would highly encourage you to memorize that. It becomes a part of your DNA that drives your decision making. So hopefully this is then helpful. One of the invitations today is to look at each of those areas of your life, where you're at and if you haven't done any one of those to start that process within the next week. The sooner the better. Too many people that we've worked with in seminar suffer from paralysis by analysis. In other words, they just never actually get to doing something because they're always analyzing. And so you know that it's a tough person to be around sometimes and they're always analyzing and never doing because they just get caught in this vicious cycle. So let's not get stuck in the paralysis by analysis and just get started. It does not have to be perfect. Having something is far better than having nothing.
Now there are some additional resources for you that can help you. If you'll go to becomingyourbest.com you're going to see a place where you put in your name and e-mail in there. Go ahead and put in your name and email. You're going to get some additional resources that can help you with this along the way. If you haven't read the book already go to Amazon and invest in the book. And you're going to find there, in chapter number two, under principle two, "Lead With a Vision" with additional specific ideas that can help you develop both your team, family, and personal vision.
The other incredible opportunity…now some of our listeners have already attended the Breakthrough Leadership Conference and had a great experience there. If you haven't been this is a great opportunity to get away for two days, come out to Utah, into the mountains, in either the spring or the fall and really focus on you, your family and your business. So it's a two day Breakthrough Leadership Conference and you can find the dates on the website becomingyourbest.com. See if those work. And if you're married we highly encourage you to bring your spouse if that's doable. If she can't come or if he can't come that's fine. You coming is still better than not. If you come with a partner or someone from your team, that's great as well. And you're gonna get very focused on each of these twelve principles and how they apply to you in these different arenas, just like the vision.
So hopeful this has been helpful. Just to set you up for next week, next week's podcast is designed for entrepreneurs. In other words, how many people listening today have ever had an idea and you think to yourself, "Well, how do you take this idea and build it into something, you know, a thriving reality where it's generating cash flow? It's really making a difference in people's lives. You're having impact in the world." Whether it's a small or big idea doesn't matter. How do you take that idea and make it into a reality?
So the invitation for today, work on your personal vision, your team vision and your family vision at some point the next week. Get those started. Put the pencil to paper and get going on it. If you haven't looked at the Breakthrough Leadership Conference or invested in the book, go look at those today, becomeyourbest.com and that will really accelerate you and put you on the path to get there. So just remember that one person can make a difference. You're that one person and we'll look forward to talking with you next week.
EPISODE RESOURCES
Breakthrough Leadership Conference