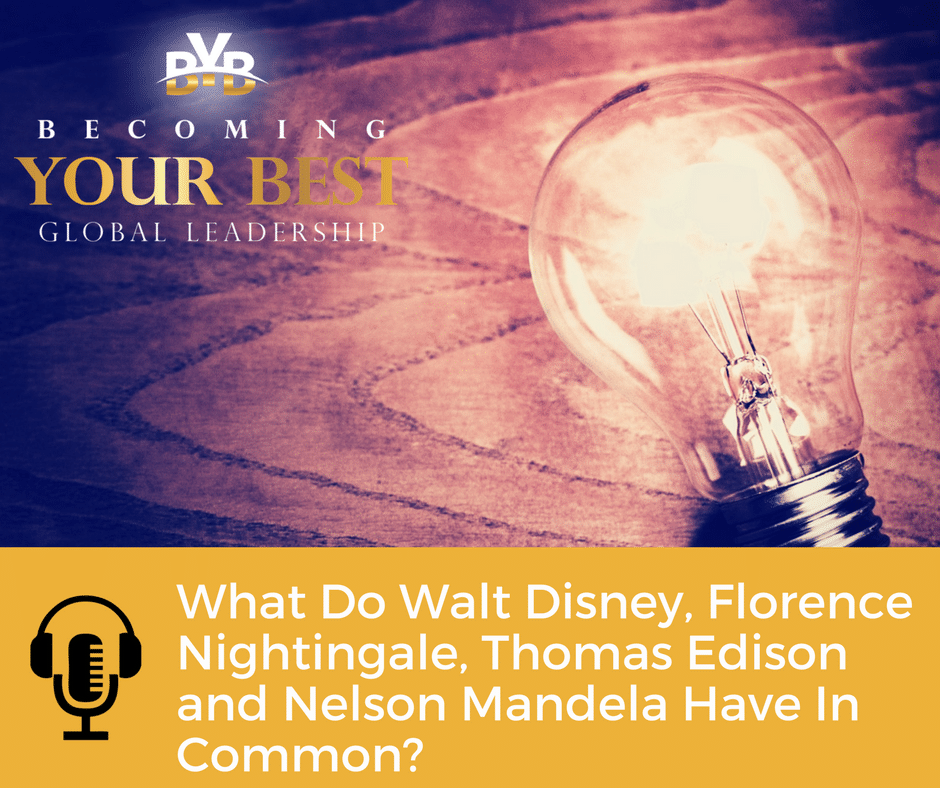 What Do Walt Disney, Florence Nightingale, Thomas Edison and Nelson Mandela Have In Common?
Hi, this is Steve Shallenberger with "Becoming Your Best Global Leadership". I'm your host today for this podcast and today we have an exciting principle that we're talking about: Innovate Through Imagination. So what do the following people have in common? Walt Disney, Florence Nightingale, Thomas Edison, Nelson Mandela, Mahatma Gandhi, Mr. Ford, J.K. Rowling, Marie Curie, and many more. What do you think?
If you guessed that they all had an active imagination and each one has had an enormous impact on our world, you would be exactly right. Now what's interesting about these people, much like we are, is that they learned to flip on and engage their imagination to innovate and improve with the roles, responsibilities, or vocation that they had. In other words, they took their strengths, their abilities, and built upon them by using their imagination. And get this, there was no instruction book for them.
So what did they do? How did they do it? It's interesting to think. How would you explain the 21st century to a time traveler from the Medieval times? It's difficult knowing where to begin. Think about how far we've come and now think about the possibilities that lie ahead of us. Digitization of all things, mind-controlled robotic limbs, 3D printers, space tourism, autonomous vehicles, electric cars, smartphones, and much more. We've already seen that but we haven't even seen the beginning of it.
Of course, the many medical miracles that will continue, wearable computers that are part of our body. So all of these things come about from this very same thing which is imagination or innovating through imagination. And from research into what makes individuals, companies, and organizations successful, we've identified common success factors in the long-term highest achievers. And one of them was this ability to tap the powers of imagination to innovate and remain relevant over many years and decades.
And it's about creating opportunities and possibilities in both your personal and professional lives. The human imagination is capable of producing endless opportunities and possibilities. And with them come hope and the belief that there are solutions to problems, even the most difficult ones. There are ideas waiting to be acted upon. There are many options available. This is the spirit of innovation driven by imagination. And imagine the effect it might have on your company or your family if each employee felt empowered to constantly find innovative ways to serve your customers and clients better and to make your product or service better.
World-class companies have risen to the top of global business by tapping the imaginations of the best and brightest of their resources. And what about your business? What about your family? How might it benefit from inspired and imaginative employees or family members who are constantly striving to do things better, faster, and smarter? This indeed is the spirit of becoming your best. Ideas must be conceived in our minds before they can become a reality. And once an idea is developed, it starts growing and it takes shape. However, you must first dare to use your imagination to get the ball rolling.
And as we think about it, every invention sprang from someone's imagination. Elon Musk imagined an electric car that was not a compromise but an advanced in technology and he's created Tesla. The innovative minds at Google imagined wearing a computer and they produced the Google Glass. J.K. Rowling, a struggling single mother, imagined the Harry Potter novels which delighted and engaged millions of fans and transformed her own life as well. Now, these breakthroughs arose from the imagination of regular, ordinary men and women who were working to stay ahead of an ever-changing world.
And can you recall a time when you imagined an outcome and then it happened? Well, of course. And this is the ability to keep turning on this switch that we have. I wake up every day and I say, "Is my imagination switch on?" So as we think about imagination, this is the very same for you and I. You are the navigator to plot the course of your life and professional development. This course comes from your intellect and impressions and feelings that you have, research and analysis and thinking. And perhaps the most important is using the foundation of your imagination.
So the real question for you and for me is how can you flip and how can I flip this switch to on? And how do you spark your imagination? How do you avoid getting stuck in the mud and stale? Well, I'm going to suggest just a few things that may be helpful to you that I have seen across the United States and the world, where people have been able to turn on that imagination.
So number one…I'm gonna suggest three things that we can do. Number one is think of the issue, the problem, or opportunity that you would like to improve. I recommend that you write it down. And can you more clearly describe what it is? Be as precise as possible. And is it the real issue or the real problem, the real opportunity? This is one of the ones that's most important. So we have a piece of paper, we have a device of some type. Let's get it down, let's look at it, it's front and center.
Now once we have this idea in front of us, here are four things that we can do to develop that idea. What have or what are others doing right now? The internet is a tremendous resource, so go right in and just research what's happening regarding that issue that you have identified. Another thing that you can do is ask others for their advice. So identify somebody that's already traveled this way or somebody that you respect and just throw out the idea. Say, "Listen, I'm working on this idea. I'd love to get your thoughts about it." And get two or three or four people. This might be people that work right within your own organization. This might be family members. But you would be amazed at how this gets you unstuck. This gets you going.
Another powerful tool that you can use is the skill set of brainstorming. Brainstorming is wonderful. What you're really working on is the quantity, getting down as many ideas in a shorter period as possible, and then going to back and adding the quality dimension, which are the best ideas? This can be done by yourself or you ca invite in a small group of people. Put a time, leave it on there 5, 10, 15 minutes, and give the instructions. No criticism. What you're doing is just trying to spark one idea after another, get the best ideas. And then from there take it and watch what happens. And these are all things that we can repeat time and time again. We don't see it as a one-time setting or a checklist. Imagination is wonderful because it's a process of starting got get it out on the table and we actually move in levels.
History and research clearly shows this. Not long ago, my wife and I, Roxanne, had the opportunity to visit Egypt. And it was interesting to see where the idea of pyramids actually came from in the first place. There was kind of a crude type of what we currently see as a pyramid. There was a series of platforms on top of one another that a king devised to honor his service and burial so that people could see it. Well all of a sudden, this idea started developing. Hey, we can improve upon it.
So this is how it goes. And then the last thing that you might consider doing as you're working on that particular issue or problem or opportunity is mind mapping. This is a vibrant, energetic, current day, virtual technique experience. I might say also another skill set that you develop simply by doing what we just talked about. You put idea in the middle of the page, put a circle around it, and start drawing arms off of that. Let's say that for example, my circle in the middle is fitness. I want to be more healthy and fit. So one arm might come off and it might have exercise. And another arm might come off and it might have diet. And another arm would come off and it would be cardio. And so you just keep going, your mind gets going, and under fitness you have two or three more arms come off of possibilities.
Well, these are all things that you can do to flip the switch on immediately . Never sell yourself short. I mean, you have this capability. Everyone single one of us as human beings are endowed with an imagination. It's part of what we have. Now once we have all of these ideas that we start generating, the next thing we do, the second thing of the three is you pick the best ideas that you have come up with. And once you've exercised this creative process, you say, "What are the best things that I can do?" Maybe rank them one, two, and three. And the third thing is to move into action. Do something, try it out, see how it goes, experiment, test. And once you get some experience with this, you can start scaling the idea.
So that's it, three things. One is identify the issue and then use your curiosity. These things that I just talked about all are a curiosity asking questions that you might have. And the more questions you have, it sparks this imagination. Number two then is pick the best ideas once you're done with the process. And then three, move into action. Do something. Who's gonna do what, when? So these three things will help us and then we evaluate how it went. We can go back and do it again and again and again. These are things that will spark your imagination.
And practice it to reflex and you're on your way to a fuller and more abundant life. And you will be among those that help to innovate to success, regularly solving problems, developing valuable opportunities, and changing the world in the process. Just one last reflection here as we step back now and think about this, I'd like to give a couple of examples.
Thomas Edison was born in 1847 and he was an inventor, a scientist, and a businessman. Edison had patented…had over 1300 different inventions. They were all patented, that's a lot. And those inventions included the phonograph, the motion picture camera, and a long-lasting practical, electric light bulb. He greatly influenced life around the world and the list of his inventions staggers the minds. And their impact is so vast that's impossible to measure. Not long ago I recent attended a speech by a modern day creative genius who is following the Edison footsteps, Dr. Patrick Soon-Shiong, and I came away convinced that the imagination is even a more powerful force when it's paired with modern technologies.
And it's interesting because Dr. Soon was born in 1952, 100 years after Edison. And Dr. Soon is surgeon, a medical researcher, CEO, a philanthropist, and professor at the University of California at Los Angeles. And he is one of the preeminent scientists and medical minds of world today. I just love it hearing the things that he did. Dr. Soon has a great creative vision. He's pioneered treatments for diabetes and cancer publishing more than 100 scientific papers, and finally more than 95 U.S. patents. He performed the world's first encapsulated human isolate transplant, which involves transplanting an isolated mass of tissue from a donor's pancreas into another person to stimulate the production of insulin as a treatment for type 1 diabetes.
This remarkable man has also performed the first pig to man isolate cell transplant in diabetic patients. And in addition, he pioneered the use of a process for the treatment of breast cancer. And this a groundbreaking drug and it's now in trials for treating lung, gastric, and pancreatic cancer and melanoma. Dr. Soon is an entrepreneur as well. He's developed and solved two multi-billion dollar pharmaceutical companies.
So as I think about Dr. Soon, how can anyone accomplish so many things? Well, highly successful people fire up their imagination with an insatiable desire to understand how things work. Their curiosity is boundless and their lives and accomplishments are built upon creativity and drive as well as powerful intellects. I love what Walt Disney said. This is something we can all do. Remember–and I feel this way–a very ordinary person trying to do these things it helps us do extraordinary things. Here's Walt Disney's quote: "Around here, we don't look backwards for very long. We keep moving forward, opening up new doors and doing new things. Because we're curious and curiosity keeps leading us down new paths."
Isn't that great way to think? Well, this is the idea, folks. Hopefully, you've gained a couple of ideas. Let's just keep this in mind that as you and I continue to flip that switch on, we will continue to have new ideas, finding ways to solve problems and developing these opportunities in an ever-changing world. And in the process every single day you will be making a difference. This is Steve Shallenberger with "Becoming Your Best Global Leadership", wishing you a great day.
EPISODE RESOURCES
Breakthrough Leadership Conference