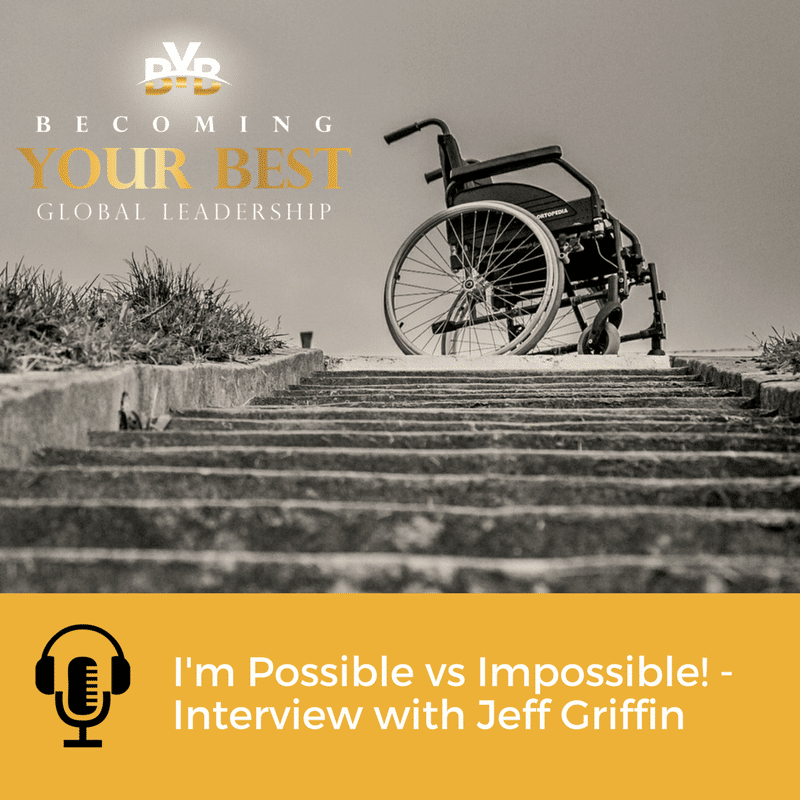 I'm Possible vs Impossible!
Have you ever had a dream?
Everything working in your favor and your dream with was within your grasp. Suddenly a random accident cuts your dream short?
That's the story of Jeff Griffin.
Jeff recounts his story, "I always dreamed of playing sports on the 'big stage'! As a kid I envisioned playing college football as a receiver. I was one step closer to fulfilling my dream until the following summer when a construction accident left me broken and paralyzed from the waist down."
After Jeff's construction accident he picked up the pieces of his shattered dreams. He realized he had a decision to make. He could either stay down and quit or get back up and succeed. He chose the latter!
Jeff has turned the impossible to the possible!
Jeff's experience helped him find a formula for success! It's helped motivate himself as well as others to find a definite purpose in life.
Jeff's purpose is to inspire millions to Desire, Dream, and Do one step at a time. "I've turned this tragedy into a triumph! I have since fulfilled my lifelong dream of performing on the 'big stage.'", says Jeff.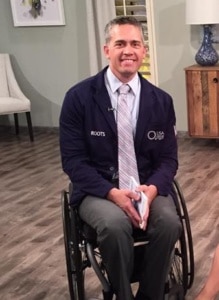 In today's Becoming Your Best Podcast, Rob Shallenberger interviews Jeff Griffin. Jeff is a wheelchair athlete who earned his Master's degree in Education and knows how to win. He played in the 2004 Athens Olympics, holds a Guinness Book of World Records, and is a four time NWBA All-Star MVP. He enjoys mentoring youth, distributing wheelchairs, and providing Peer Training Materials through his humanitarian efforts with LDS Charities, which he currently sits on the board.
 

"These successes, all though impressive, do not define who I am. What really defines me is my ability to overcome life's great challenges one step at a time! And inspire others to do the same." – Jeff Griffin
Full Transcription of the Interview
Rob: All right. Welcome to our Becoming Your Best podcast, listeners, wherever you might be in the world today. Hey, we're excited to have you with us. We have a special guest for you today. He's an incredible person. I had the chance to meet Jeff a few weeks ago, he came down to our office, and that was after talking with him on phone and listening to his story, and I thought, "You know, there's a lot of people out there who would really benefit from listening to Jeff and hearing his story." So we're excited to have Jeff on here. Jeff, how's your day going? Tell us a little bit about you and then we'll jump into this.
Jeff: Well, my day's going great, Rob. Thanks for having me on. This is a great privilege for me. I really love what you guys stand for, being your best. And so thank you for… First of all, thanks for letting me have a chance to sit down and talk with you and have a great conversation.
Rob: Well, you're welcome, and it's an honor to have you here. And first of all, it's really helpful just to build a rapport with our listeners so they know who you are and a little about you. So if you don't mind, really Jeff, I mean, part of what intrigued me so much about you was your story and your background. So do you mind just sharing that with our listeners, you know, bringing them up to speed on your background, your story, and how you've gotten to where you are today.
Jeff: Oh, absolutely. Ever since I was a little kid, my dream was to play football at the college level. And I remember telling my friends one time, "Hey, I'm going to go play football in college." And they turned to me and they said that word that most of us hear all the time. I think John Assaraf, if that's how you would pronounce his name, he mentioned that by the time you're 17 years old you've heard that phrase, "I can't," 150,000 times. And what was interesting is I told my friends that I thought I could confide in, that I was gonna go play…that I wanted to go play some football in college and they turned to me like, "Griff, you can't do that. You're too slow. You're too short. You're too white. okay?" I was like, "Okay." So when I got a letter from LaVell Edwards inviting me to come down to BYU, I was excited. I was stoked. And I talked to LaVell Edwards' Coach Keller, decided that the best option for me would be going up to Ricks College and playing there first. So I got a…
Rob: Which is in Idaho, right?
Jeff: What's that?
Rob: Which is in Idaho, for our listeners, right?
Jeff: Yes. Yes, in fact, it's BYU, Idaho now. It's Rexburg, Idaho, and some people call it Iceberg. But I had an opportunity and a chance to go up there, learned very quickly that I was not the big fish in the small pond anymore. And there were great players that were at Ricks College. Ben Cahoon, Aaron Roderick, to name a few, were there at the time I was there. Anyway, I experienced two collegial plays to what it would be like to be on the, be in the first team, offensive team, and I was so excited about that. And I was ready to come back the next year, went home and… I don't care what they tell you, they don't pay you enough money to play football in college and so I had to make some money. And so my dad taught me how to paint. Not pictures, but houses. And so I started my own business and business was booming. Things were great.
And I got a call from Napoleon Dynamite Country to come up and do a bid on a barn. And $3,000 later and 3 days later and $3,000 richer I'd be able to have enough money to go back to college and fulfill that dream. And fate hit, if you believe in fate. That morning when I went up there to begin the construction site, I got there, put up some scaffolding, was up 40 feet up in the air on a 30-foot ladder with some scaffolding there and reaching my arm above my head to begin and that infamous feeling that we've all felt, that the ladder slid on out from underneath me. The scaffolding came crumbling to the ground and I fell. I fell 40 feet, landed on my feet perfect. Stepped the landing perfect as if I was a gymnast, but I wasn't, I was a painter at the time. And it caused my legs to come up, my back to come down, and my L1 vertebrae shattered, leaving me paralyzed from the waist down. And it changed my life, changed my life at that point. And as I was lying there on the ground, trying to move but unable to grab my leg to alleviate the pain, my hand could feel my leg but my legs could not feel my hand. And just…my world was just spinning at that time and my thought at that time was, "Now, what. What do I do?"
So, the doctors [inaudible 00:05:00] hospital [inaudible 00:05:02] gave me the news. I write about it in my book where it feels like it was a heavyweight boxing match and the knockout punch came when the doctor told me…confirmed the news, confirmed my fears that I'd be paralyzed from the waist down. I'd never move, I'd never walk. And he gave me a life sentence of living life in a wheelchair. And my world just started to spin with that news. And so I had a choice to make. I could either stay down or get back up and dream new dreams. That's why I've decided to do, is to dream new dreams. And it's been a wonderful journey so far.
Rob: Yeah. Thanks for that background story. And I wish people could see you and meet you. So if you can visualize Jeff, handsome, strapping guy in…what, are you in your mid-forties?
Jeff: I am. If we're divulging things, I'm in my mid-forties. At the age of 22 that happened. And so I've been in a wheelchair…this summer I'll be in a chair as long as I've lived my life out of it.
Rob: Huh. And that man can move around in a wheelchair, I'll tell you. He came to our office, was working his way through gravel over, and up and around different things. So he's pretty impressive with that. Well, and what's amazing about that story, Jeff, is just how quickly life can change for any one of us. And as you've traveled around, as I've traveled around, and as our listeners think about their friends and family, we all have people who we know, if we haven't experienced it ourselves, whose life changed in an instant. And if we just reflect on the 12 principles of highly successful leaders, the twelfth, and maybe potentially one of the most powerful, is never give up. And you just talked about it. You had this choice. The doctor gave you what would be potentially, maybe I'd call it a death sentence, said, "You're never gonna walk again." And then we're faced with a choice. What do we do? Do we believe them and succumb to life, or do we go from there? What you didn't tell them, our listeners, is what happened after that. So maybe can you expound on what happened in part two of your life?
Jeff: Yeah, absolutely. Absolutely. In fact, one thing that I would share with your listeners is, when people hear me speak and get to know me, they think that I just have this natural disposition of being this positive person. And what's interesting is there was a moment, a very, very distinct moment in the hospital, where I…I call it entering the sauna of self-pity. And I recall that day as clear as if it just happened yesterday. And I remember getting the news, I remember after surgery going to therapy. It'd take me 30 minutes to get from my bed into my wheelchair with the help of some nurses. It took me an hour to dress myself. Everything was just slow motion and it was just so discouraging. And I wasn't this strong, strapping young man that I was on the football field. And like you said, my life just turned upside down. And I thought that… And up until that moment, I had a pretty good disposition, I had a pretty good attitude, but it just hit me, it got to me, wore on me.
And I remember the nurse getting me out of my bed. The only way for me to eat was to get out of my bed, right? So I went through this ritual, got out of my bed, headed down to the cafeteria, and I was pushing down the hallway. And just…the weight of the world was on top of me. I started feeling sorry for myself. By the time I got to the cafeteria I was crying. Tears rolling down my face. I got the tray, I put it on my lap. I got the food. I wanted to be away from everybody. And so I went the furthest I could. And I put my tray, which happened to be right across from a patient who happened to be an inmate from the prison, who had an aneurysm while lifting weights and had a stroke. Couldn't speak, couldn't move. So he was in for therapy. And I'm just crying and having this self-pity of the moment, this pity party at the time, and the guy, in his slurred speech, says, 'What's wrong, dude? Why're you crying?" And I'm like, "What?" And he's like, "What's wrong, dude? Why're you crying?"
And that moment it just snapped me out of that sauna of self-pity. And I realized, "Why am I crying?" And it snapped me out of looking inside at my problems and I looked around and I noticed here's a guy who can barely talk, who can't even lift his left arm. I looked at another patient who was a quadriplegic and had to be fed by somebody else. Then I noticed these other patients who had it worse off than I did. And it just snapped, it just snapped me out of that pity party. And I realized, "You know what? Life can be great. Life can be fantastic." And I stayed away from that sauna of self-pity and have reminded myself that you gotta have a good attitude. Now, when you mentioned to never give up, when times get tough and difficult, you've gotta adjust your attitude. And I really believe that your altitude is determined by your attitude. And so I wear a bracelet that says, "I am possible," and, "DOn't quIT." Capital D-O and capital I-T at the front and back ends of that statement. And occasionally I have to adjust my attitude. I'll reach down there and I'll snap that rubber band to remind me, "You know what? Don't give up. It's not that bad. Just take the next step forward and things are going to be okay."
And speaking of taking the next step, the doctors, they gave me that life sentence. "You'll never move your legs again. You'll never walk again." And once I could get past feeling sorry for myself and looking for the good in things, I was able to then decide for myself what I wanted from this experience. And I told myself that I was gonna walk again. And it's been 22 years, I wouldn't call it walking yet, but I can move forward uprightly. And in fact, just the other day I was on an elliptical bike and I went five miles on that from where I couldn't even get out of my bed into the wheelchair without the help of a nurse.
Rob: Yeah. Isn't that amazing? And that's one of the things that was… Here, hold on a second. Let's pause it right here.
Yeah, that's a fascinating story. And what so impressed me about Jeff is that I watched him do this. I watched him get out of his wheelchair, get into his truck, throw the wheelchair into the back of the truck. And what I love this is, he had a choice. He had a choice to believe the doctor who said it can't be done, and yet the over the course of… And really this is what is impactful to me this, is it wasn't weeks and months, it's been years. Over the course of years, you said, "I refuse to believe that." And you established a vision, you went after the vision, and even though progress may not happen fast, it's happening. And you're influencing all kinds of people as a result of that. So you've been through this incredible experience, Jeff. I mean what you just described there, you know, you've now been 20 plus years in the wheelchair and you've met with groups, you've inspired them. Along the way, you would you succinctly summarize two or three of your biggest lessons learned in that process?
Jeff: Oh. The biggest lessons learned. Learned a couple things. I learned… You know, when I was in football, and this was pre-accident, right, I learned that there are two plays that I mentioned that I was able to get onto the field. And I think that's important. I think a lot of us are just happy and content just to have a jersey, just to be on the team, and be on the sideline. While others are content to be up in the stands, if we can use that metaphor for playing football. You've got spectators, and you've got players who are on the sidelines who aren't really playing. Then you've got those who are on the field and they're experiencing life. And I learned a couple… I learned one powerful thing that moment when the captains of the team, the leaders of the team… While we were destroying the University of New Mexico Academy, the coaches went up and down and said, "If you want to get in, let your coach know." And I went to my coach, he was the head coach at the time, and I said, "Coach, put me in." And he looked at me and he was like, "No." And so I'm thinking to myself, "I must be the scrub of all scrubs, the bottom of the scrub barrel." But I was there excited to see my teammates who were able to get in, get in the game.
And then I remember the moment when the captains, they could have just sat back and relaxed and done nothing, right, after they did their jobs, but they didn't do that. They went up and down the sidelines and made sure their teammates got in the game. And Ben Cahoon came up to me and was like, "Griff, do you wanna play?" And I'm like, "Absolutely. But coach…" He's like, "Don't worry about coach. Just go in there." And I went in there. My fan club goes crazy up there in the stands, my two roommates. And I go out there and I'm holding the hands, I'm in the huddle. And I'm breathing in the crisp fall air and the fresh cut grass. And when we break the huddle I go out there and I run a play. A play that I have been practicing hundreds and hundreds of times. And I remembered that those captains demonstrated leadership at that moment. And I learned for myself that every great man and woman of history is a man of service. And that was the greatest…one of the greatest lessons I've learned before my accident. And it kind of spilled over once I got into my wheelchair, just like this idea of getting in the game of life and playing.
After my accident, excuse me, I was afraid to do things that I normally did before. I was afraid before, but for example, one example was to go to dances and ask girls out on dates, right? I'm like, "Oh, man. How am I going to do this in a wheelchair? I had a hard time doing it on my feet," right? And I remember a dance was being held up at Utah State. My friends convinced me to go. I go rolling in there, and it seemed like the music just stopped. People turned and stared at me. I wanted to turn around, roll away. And you know how you get that push back when you're trying new things. And so when it…
Rob: Can I just pause right there?
Jeff: Yeah.
Rob: What is probably interesting about that experience is that was probably an internal perception. You know what I mean? It's like…
Jeff: Oh, yeah.
Rob: We feel like people…the world stopped, everyone's looking at us. But in reality, people weren't even fazed by it. But just, it's our own internal perception sometimes that it becomes so powerful.
Jeff: You're absolutely right. And it's those demons inside our heads, those bullies that we've gotta push out and get them out of our minds, because, really, we are our worst own enemies. And I believe it's because we choose to listen to everyone else's negativity, and then we tend to beat ourselves up, and then it's just a receptacle cycle that just keeps on killing us. You're absolutely right. I went rolling in there perceiving that. And after a few minutes, a few moments, I started to feel the music, I started to feel the beat. It was going through the wheelchair, it was going through the metal and was vibrating it to my body and I was just enjoying it, and I loved it. And I remember my friends convincing me to go ask a girl to dance. I'm like, "Okay." Like, "We're right behind you." It's like we're rolling up to this girl and I turn around and they're gone. They're nowhere to be seen. And so I'm like, "Great wingmen. Appreciate that." But I couldn't back out now. I couldn't back away, turn around. And so I went up there, asked her and we went out there and danced. And just this idea of getting out on the dance floor of life and experience the music. So many of us die with the music inside of us, without doing and sharing and experiencing what we have the capacity and talent to do.
Rob: Those are just great analogies. And I'm just thinking of the times in our lives where I've met people and experienced it myself. We've all gone through times or phases where you just don't feel full of energy and full of life. It's just one of those maybe slightly more lull-type areas. What's interesting about what you described in both examples is, one of the quickest ways out of that, I have learned, is to shift our mindset of service out towards other people. The more inward focused we get, the easier it is to get stuck in a rut, to have pity for ourselves. Like you mentioned, a pity party. And I've just found that the times in my life where I found myself in a rut were the same times that I was focused on me. And it was, "What about this? What if I did this? Well, how come this is happening?" And as soon as I turned the equation outwards towards others of… You know, "How can I serve other people? What if I did this for so and so?" So I'm just thinking about the captains on your football team. Like you said, they could have sat on the sidelines. They didn't have to walk up and down. Yet they did. And here it's impacted your life years later. You didn't have to go the dance. Your friends didn't have to go with you to the dance.
And it was, when we start stepping out and doing things for others and stepping out of our comfort zone, the oftentimes those feelings start to fade away. I mean, it's a powerful thing. And it's hard, as I look back, to find at a time in my life when I was really down when I was serving others. And that's what I was thinking about when you were telling your story there is, what are we doing to lift others, to inspire others? To shift our mindset out away from us to lift others. So it's a little bit related but that's what it sparked in my mind as you were telling that story there.
So let me ask you this. You have been through this experience. A lot of people would consider it a life-changer, which it certainly was. What's been one of the blessings that came from this accident, if you could find one? As you look back and say, "You know, I would have never anticipated learning this," or whatever it was, what's been a blessing that's come from this experience if you had to identify one?
Jeff: Well, that's a great question. That is a great question and there is such a big bagful of positive experiences since it's happened. And what's interesting is you have this paradox law, right, where the temperature for freezing is 32 degrees. And the temperature for melting is 32 degrees. It's just a matter of perspective. It's a matter of which direction you're looking. And what I find interesting is, there's some people like, they have the glass analogy where the water is halfway in the glass and they ask you, "Is it half full or half empty?" And I look to look at it as it's completely full. You know, you've got half water, half air, but it's completely full.
But one of the greatest things, I think, that has blessed me the most out of this experience is to be more empathetic and to see things differently. You know, I sit… I'm the only person that's like 4'7″ and 6'2″ at the same time. When I get out of my wheelchair I'm standing six foot two tall, and then when I sit down in my chair I'm at four seven. And so I see things differently, figuratively and literally. And it's helped me to have a little bit more empathy and to really look past what might be obvious and try to go a little bit deeper and to find out what the root cause is, but at the same time give people motivation that if I can do it, you can do it, right? I am not that special other person, I'm just an ordinary person that consistently does certain things. And because of that consistency, extraordinary things come about. And then I do really believe that if I can do it, anyone can do it. It's really blessed me to able to see things in a different aspect.
Rob: Isn't that one of the hallmarks of a great leader, though? And that is that they take something that appears to be ordinary and they do it in an extraordinary way. And not only that but they inspire others to do their best, to be their best. Whether it's our children, whether it's employees, co-workers, neighbors, friends, whoever it might be. To me that's one of the hallmarks of a great leader, is they can take something that appears to be ordinary, they do it an extraordinary way, and inspire others around them to lift and raise themselves and to think about what their best looks like and how they can achieve that. And that's great.
Can you go back one more time before we wrap up, and explain again… You handed me a copy of your book, which I'm gonna give to my son and daughter to read. Can you explain the metaphor that you use of the word impossible?
Jeff: Yeah. My book is, "I'm Possible." And there's an apostrophe there and it looks like the word impossible. There's this idea of the word, "I can't," is used all the time. "I can't, I can't. It's impossible. I can't." What I find interesting is…there's a great line in "Princess Bride" where they're coming out of the swamps. I don't remember what the swamp name is, but Wesley says to his beloved sweetheart, she says, "No one comes out of the swamp." And he says, "Never say never because no one ever has." Meaning that we think that it's impossible because it's never been done before. That the four-minute mile was thought to be impossible to run and now high-schoolers are running the four-minute mile. Mount Everest was thought to be impossible to climb, and for 30 years they were correct. The experts were correct and the critics were correct. During Madame Curie's time, they thought the periodical table was completely finished. There was no more elements to be found. And she found two, Madame Curie. And because of her, we have the x-ray machine. And so this the idea of impossible.
And I love the adage from Ralph Waldo Emerson when he says, "That which we persist in doing becomes easier for us to do." And I believe that to be true. If we consistently and persistently try to improve and progress, we are going to accomplish the impossible. And we're going to get past those barriers that have never been crossed before. And it requires vision, it requires faith. You know, I describe faith as reaching out to the future and bringing it back to the present and then implementing that.
And so this book, the book, "I'm Possible," I'd love to give to your listeners a free book. All they have to do is cover shipping and handling. But if they go to my website at griffinmotivation.com and sign up for the book, I'll send you out one for free. Just simply cover shipping and handling, and you can just read some other events that took place that were life-changing. And you can find out where I came from, where I got to, and hopefully, it will inspire you to help you go to where you want to go, to achieve the dreams that you want to achieve. That's what I'm very passionate about, is to help people get up, get out and get going. And I appreciate this opportunity to speak with you, Rob. Great things that you are doing.
Rob: Oh, well, thank you, Jeff. And it's griffinmotivation.com, right?
Jeff: Yes. Correct.
Rob: So griffinmotivation.com. He'll send you a free copy of his book, so all you need to do is cover the shipping and handling, which is probably just minimal. And everyone should get that. I'm gonna read it, I'm gonna have my kids read it, that's one of the things that we do.
And one of the things that I enjoy is to end our podcast with an invitation. And it's something I'm gonna make sure I'm gonna do more consistently, so that's a call-to-action for each of us this week. And building on this idea of impossible, for each person listening, it may mean something different. So for some people maybe it is a huge dream. Become one of the first people on a manned-mission to Mars. Well, maybe that's a big dream. For others, maybe it's as simple as stepping outside your comfort zone and taking a friend to lunch because it's something that's so hard for you to do, to go out and be in public like that. Everyone has their own barriers, their own things that they consider to be a challenge and to be impossible for them. For others, it's to enter the sales world. There's just so many things out there.
I would ask you to consider something that you've considered in your life, that you've wanted to try, that you've wanted to do. Maybe it's to learn a new sport. Maybe it's to run a half-marathon. Maybe it's to finally start shifting the eating habits, to set some goals. Whatever it might be. Because the only thing that makes them impossible is us.
Jeff: Yeah.
Rob: And as soon as we start addressing it, what's your vision, what's your plan, and then have the tenacity to never give up, it's no longer impossible. And that's what Walt Disney said, "I dare or I love doing the impossible." And so really, the word impossible is something that's usually just conjured up in our minds in most cases. So that's the invitation, it's for all of our listeners to build on this idea that Jeff was talking about. Identify something in your life that you've wanted to do but you've found all these reasons maybe not to do up to this point, and develop your vision, what does it look like, and set some goals and then go to work and turn it into the possible.
So thanks, Jeff. Great thoughts, great ideas!
Hopefully, this has been something that people can listen to on their way to work, from work, quick drive with the family, and had a new idea that you never know, it may be a seed that grows within someone that really does transform their lives. So thanks for being on the show, Jeff. Great friend, amazing person. griffinmotivation.com. And all of us are becoming your best listeners. We appreciate you, we love you. Go out in the world and continue to make a difference in your organizations, in your societies, and especially in your families and in your personal life. So have a great day and we'll see you next week.
EPISODE RESOURCES