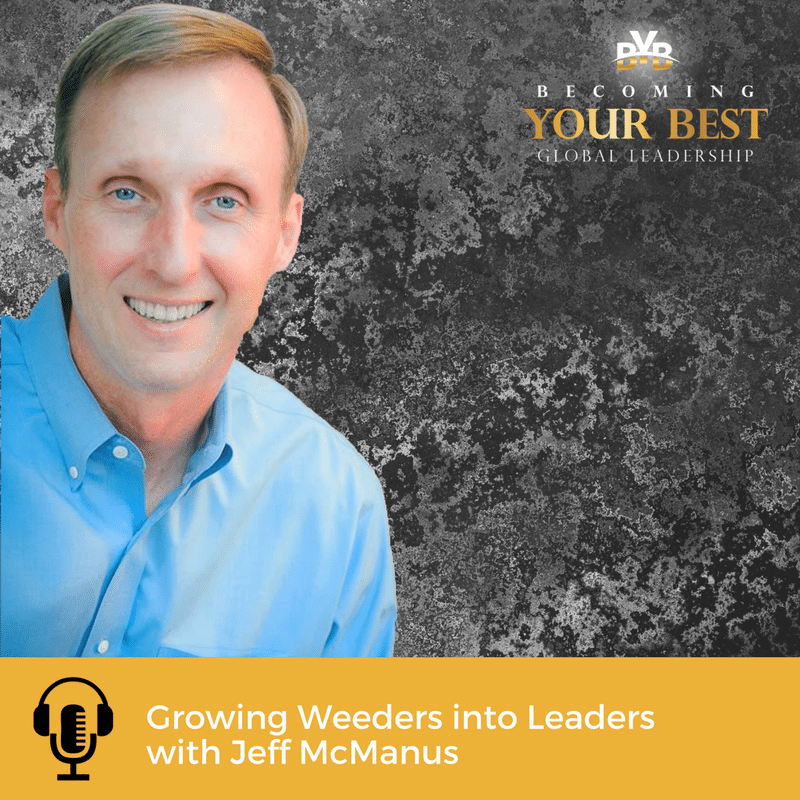 Growing Weeders into Leaders with Jeff McManus
Steve: Super. Welcome to all of our Becoming Your Best podcast listeners wherever you might be today. This is your host, Steve Shallenberger, and I am so much looking forward to our guest today. He's unlike any other that I've had on this show. Our guest has an earthy background that has had a big impact taking principles from nature and helping recognize those in a leadership application. So, welcome, Jeff McManus.
Jeff: Steve, thank you so much, I'm excited to be with you today.
Steve: All right. Well, same here. Well before we get started, I'd like to tell our listeners a little about Jeff's background. Jeff McManus grows things. And as the Director of Landscape Services at the University of Mississippi, he grows plants and he grows people. He grows ideas. And Jeff is a problem solver, understanding that doing more with less is a 21st century mandate. So, faced with a multi-million dollar landscaping beautification project, a demand for excellence, high productivity with a pretty tight budget, Jeff knew that growing the people was critical to growing the plants. And understanding that all humans either have or strive for this kind of an eight element of greatness, resiliency, opportunity, and wisdom, Jeff developed his Grow theory into an impactful management and professional development leadership program for his staff. And so, with that background, he's had many accolades, recognitions and just done a world class job. We're thrilled to have him. So, once again, Jeff, glad that you can be here today to share this whole perspective that you have.
Jeff: Well, thank you Steve. And it's a lot of fun and getting to use nature and plants. What I do naturally in leadership now has even grown me as a better leader.
Steve: Yeah, I can imagine that. You know, this is one of the toughest things in life, I think Jeff is for people, wherever they might be, to take their natural gifts and talents and those that can be developed. Things they'd really like to do, and do them professionally. Look for applications that can lift and build and leave a better world. And you're able to do that, that's really fun.
Jeff: It's been a fun ride. The more discovery as we walk through that path and down in that journey to discover the new aspects of what you can take in leadership and how just apply it at every level in any organization is just amazing.
Steve: Well, good. Now, before we get into this discussion about leadership and the things that you've learned, you're insights and how you've taken this perspective and apply it to leadership. Let's talk about your background a little bit. What was your life like growing up and what experiences did you have that you see that have really contributed to helping you become what you are today?
Jeff: Well, I had a great childhood, was raised just outside of Atlanta, Georgia, in a little place called Douglasville, Georgia. And I was the youngest of three, and my mom and dad were both in the school system. My mom was a chemistry teacher and my dad was in the administrative part, also taught Ag early on. But he made sure that all of us had an opportunity, Steve, to work. And he grew up on a farm and he knew what a hard work meant, and he's always been that kind of person. So I attribute a lot of my values and hard work for excellence with him. He also taught me a valuable lesson in growth. Every time we were working in the shop or in the barn or wherever we were working, he usually had his tape recorder going, and Zig Ziglar was on, or there was somebody talking, preaching, or teaching. But it really got into my DNA as far as growth that, while you're doing something, be listening to something. So that had a…I had a great memories and a great raising there in Georgia.
Steve: Well, now, if we didn't do anything else today, that message alone would be worth our time.
Jeff: That's true.
Steve: That while you're doing something, be listening to things, be listening to something.
Jeff: That's right. That's what the automobile is for. That's why I like to drive places. So we can listen to books and all of that good stuff.
Steve: Well, okay. That's terrific. And just one other aspect to mention here that might be helpful, as you reflect back, have you…what's been a big challenge or setback you may have had in life, personally or professionally? How did you overcome it? And how has it helped you to be more successful?
Jeff: I believe the biggest challenge that I had was coming right out of college, fresh with a college degree in horticulture and taking in a horticulture job in Orlando, Florida. And I was running a crew, didn't have a lot of experience in running a crew, especially on a high end property, very prestigious property with a lot of moving parts, a lot of people. And I made a lot of mistakes. I thought incorrect things about people's motives. I assumed things that weren't right. And it cost me that times. It cost me my reputation as far as not being a strong leader, making bad guesses instead of making drawing things on facts. So one time I was walking through the resort, and just outside, and our crew was hard working, and they had just got through planting this huge flower bed. And they asked me what I thought about it. And it was gorgeous, just beautiful colors, large, large bed. And I said, "Man, it looks great. You guys did a super job. However, you…these plants over here in the back are crooked and these things." And I was starting to be a little hypercritical. And one of my seasoned employees who'd been there for years and years, and he's just the backbone of the company, had a great relationship with our customers, and here I was, I'd only been there maybe six months. He looked at me, his shoulders slumped down, he dropped the tools in his hands and he looked at me and he said, "I quit."
Steve: Oh.
Jeff: And he turned around and walked away.
Steve: Wow.
Jeff: Well, you know, that'll get your attention, especially when you're young like that. And I didn't say anything out, but inside I was, I was terrified. I was telling, "No, please don't leave. Don't leave." And, anyway, the next day or a couple of days after, we got together and talked. And we got to have some communication. And I learned how important communication was, to listen, to value people. No matter what they're doing, value them. Know that they have pride. They want to do well. They wanna do a good job. Don't be always be suspicious. And he told me, "Jeff, your words are important to us, what you say matters." And he says, "You're very hypercritical to us. You're just always nitpicking everything." And in my mind, Steve, I thought I was being a good manager. I thought, "Hey, I don't want these guys to get the big head," right? I want them to know they've got things to work on. But I was going about it the wrong way. So that taught me a valuable lesson.
Steve: I am so glad that you're willing to share this, because leadership truly is, especially great leadership, is something that is developed. And people aren't born this way. I mean they're not just naturally pop out with all these great leadership skills. And based on your background, you may have a little bit more advantage than others, but all of us have to do certain things that creates excellence. And they're similar things. And so, your comments give hope to people. They give encouragement for leaders that may feel like, "Well, I may not have what it takes today. Will I ever have it?" And the answer is yes.
Jeff: That's right.
Steve: This is the spirit of becoming your best. It's that something that we keep working. Just like baseball or soccer or football, you don't just show up the first day you've ever played and you're ready to be an All-Star. It takes practice and practice and practice. So, your comments here give a lot of encouragement to people. A few weeks ago, I was in Rwanda, in East Africa, and I had a woman come up, we'll say…we'll call her Teresa, and she said, "You know, I've just been asked to be the leader of this organization, but nobody supports me."
Jeff: Wow.
Steve: And she said, "They're kind of critical of me." And I just wanna…today, give Teresa hope. And just like Jeff here, it's a learning process. And as long as you're humble and willing to talk with people and adapt and change, it'll come.
Jeff: That's right. Good word.
Steve: Okay. Well, let's get right into this then because I can't wait to hear your unique perspective. And let's take what you've learned professionally in creating a world-class landscape, and how this experience could be applied in creating excellence in other areas. And let's have some fun in the process. Okay, let's use your terminology. So how do you turn weeders like W-E-E-D-E-R-S, weeders into leaders?
Jeff: Well, Steve, it's a mindset. It's creating. Everybody has ownership in the property. Everybody has a role. But most important, everybody is a leader. Everybody leads at least one person, and that's themselves. I had a very eye-opening experience when I went and I asked my crew, "How many of you think you're a leader? Or how many are you are a leader?" And only maybe a third of the team raised their hand. And I was shocked. I was thinking, "Man, they don't know that they're leaders." And you know whose fault that was? That was mine, because I hadn't told them. I hadn't reinforced the message. I hadn't communicated it over and over again. So I began to continually show them how important their role was, but to empower them that they were leaders. And I learned a lot of this from my mentor and my boss, who was here, Dr. Robert Khayat. Dr. Khayat, every morning walked the campus, and he picked up trash as the Chancellor, the head of the university, the doctor, everything. I mean, he didn't even need to pick up trash, you know, that wasn't his job. But he showed me just by example, by doing that, how important it was, about how he was willing to get his hands dirty. Its how he was willing to empower people by saying your job is important, so important I'm gonna even help you do it. And so, that mindset of valuing people, no matter what they do, and then making sure they know that, has really helped us start the process of stepping them up into leaders.
Steve: Okay, well that is a tremendous message here today. And I like the way that you discuss this and talk about it. That you help people recognize this, their importance, that they can make a difference.
Jeff: Yes.
Steve: And it takes leadership to do that. I mean, that's what they are. So, they're able to see their role here. And so, how…another one of your terminologies that I love is going from paycheck to purpose. Maybe this is part of this, of how you work with people. So how do you help workers go from paycheck to purpose? And consistently get to a place where they can produce excellent results? What have you found works best?
Jeff: Well, I learned this from watching great leaders. You've got to have a vision. You got to have a place for people to go and what they think about. So we started talking about that…there's a statistic out there in our world that says, "62% of perspective college students who have not decided that they're gonna come to your university will decide in the first few minutes of a college visit based on the way the campus looks.
Steve: Oh my goodness.
Jeff: So we took that message to our team and then we developed it, grew it, cultivate it, and watered that message. Because here's how it goes Steve, that person who comes to this campus may go on and get that degree and become the doctor who goes on and cures HIV, cures cancer. So in a small way, we helped to recruit that person. So in a small way, we're a part of that greatness that they have gone on to do. And so we've used a lot of different stories. I mean, we had Dr. Hannah Gay, who came within a whisper of curing HIV a few years ago. It was in the Time magazine, Most 100 Influential People. And she came to our university. She was a graduate of our school. So we let our folks know, "You helped in that." And inspire them for that bigger purpose of what they're doing. That's one of the ways we do that, Steve, is continuing…we have a little thing called football on this campus. You know, you and the SCC. And so, we tie that message back to the football, because a lot of our guys love football. So we bring our coaches in and let them talk to our staff about inspiring them. That hey guys, you're a part of the recruiting process. When we bring people here on this campus, you make a difference because they feel connected to the campus by the way it looks. They feel safe. They feel like this place looks superior and top notch, just like we run our program type things. And so all of our coaches, we let them come and talk to our staff so that their staff feel like they're a part of the team as well. And we do that even with our professors, our academias. They talk about recruiting top talent here and how that matters to have a beautiful campus. So we paint this bigger part of what they're doing. They're not just cutting grass, they're not just pulling weeds, they're curing cancer, they're helping recruit. And they're winning national championships at other levels.
Steve: Well, this is fantastic. Because this is from my research of 40 years of things that highly successful leaders do, aside from having character, which is a foundational to all of the rest, job number one. And you're doing this. This is why I'm so glad you talked about it. But to see this application in landscaping is really quite inspiring, which is, that highly successful leaders lead with a vision.
Jeff: That's right.
Steve: It's the first thing we do. And what you've just done is created this vision that brings meaning and purpose into their jobs and it changes everything. It's great. Way to go.
Jeff: Well, you know, when you take that even deeper, you let your team be a part of that vision. And so our vision now is two words, we're cultivating greatness. And within, we just talk about what that means. And so, we kept it short so I could remember it. So we're cultivating greatness every day. And you're right, when there's not a vision, the people perish, right?
Steve: Yeah, absolutely. And for our listeners, and I'm including Steve Shallenberger in this today, that this one of the wonderful opportunities of leadership is within our families, our relationships, within our teams and organizations, or even civic assignments. One of the very first questions we should be answering is, do we have an inspiring vision that points to the direction? And that it gives meaning with our children or our grandchildren. And this is a great opportunity to have very significant influence. That moves way beyond any checklist. Okay, good. Well, let's hit some more of these wonderful Jeff terminologies. We've talked about weeders into leaders, great going, and paycheck to purpose. Well, here's another one. So how do you turn the menial into meaningful? I'm giving Jeff credit for this one. I love these. In other words, how do you cultivate this pride of ownership in what you do? What have you found really works?
Jeff: Well, there's a lot of little things that we do, but I'll give you one, specific one is, we let our people have a voice at the table. Give people an opportunity to participate in what their standards are, what their beliefs are, their core values. And we give people a voice. One of the things that we did is we created a landscape creed, where every Monday morning, we say this creed to remind us of our core values and the things that we believe. And they're not all of them, you can't put all of our core values in there but we have a lot in there. And this came from an exercise where our staff participated and said, "This is what we want to be known for. This is who we are." And they talk about, we'd lead by example. We adapt and overcome. We never stop training and growing. We dedicate ourselves to professional integrity, and it goes on. But it's the mindset that quickly, when new people come here, they see what the culture is. So we spend a lot of time now, intentionally focusing on cultivating the culture. I didn't know that's what I was doing, Steve, until I saw the results. I just had to change what I was doing. But then when I look back on it, it's like, we changed the culture. Because when I first came here, Steve, we had a really toxic culture. And then, I helped change some of that, but then I realized that I needed keep changing some other things, so we started doing some other things proactively. And maybe we'll get into that here in a little bit. But that's one of the big things, it was creating that meaningful work that we're here and our core values for a bigger purpose.
Steve: One of the things that I know from our experience, and I know that Jeff is doing this and bringing out the greatest potential of those that he works with. But frequently, we'll ask what people, leaders, audiences, what level, what percent of potential would you estimate your employees, fellow workers, are currently using? It's interesting, it's all over the map, but typically, and research supports this, suggests it's about 55% to 65%. So, the real question is, how do you get, how do you unleash that other 35% in helping people contribute 100% of their potential? And as you were talking, these are the kinds of things that do it. And I can just imagine that your team, they're into it. Would that be a good description?
Jeff: That's right. And when I came, everybody told me we didn't have enough people. We don't have enough people to do 1,000 acres of maintenance here. Steve, we have fewer people today working in the field than we did 17 years ago because of this. You are absolutely right, the production has gone up. The efficiency has skyrocketed. And the passion for what they do, to be the best of the best, to be the top, is just there. And they're excited to be here. There's more than just a paycheck, there is that passion to be known for excellence in what they do. See, we've won five national awards, five national recognitions. We never had done that before. But we don't call them recognitions, we call them national championships. There's a lot of pride in that. We keep that in front of them, Steve. Something silly and it's kind of fun, is you go into a stadium or go into a coliseum, you see banners hanging down that have national championships and win. We've done the same thing in our truck sheds, where we bring in all of our trucks. We've hung our national championship banners in there, to remind our team that they are national champions. They're some of the best of the best at what they do.
Steve: Bravo. Bravo to you and to your team, and that's great, congratulations. And this is exactly the impact that leadership can have. It's a unique brand of leadership, when you're doing these kinds of things, and it totally sets you apart from everybody else. And it also flows through in the other areas of our lives. So not only does it contribute to greater productivity and work, but also greater happiness and people that are around this, it influences them in their personal lives.
Jeff: Yeah.
Steve: Yeah. Okay, so one of the things that you have talked about is getting beyond barriers to beliefs. So what does that mean and what impact can that have on getting outstanding results?
Jeff: Well, I'll just share a story with you. One of the barriers I had in my own personal belief was that, we had some drama years ago that was just continually hung around us, just like a really bad smelling aroma. And I kept saying, Steve, I kept pointing, you know, kind of out in space and going, "I wish those people would stop the drama. I wish they would stop." And I realized later, like, old Zig Ziglar used to say, "I have three fingers pointing back at me that I was the problem." And I had to step up and change, so we did a few things different. I had to start with accountability, a little bit more accountability. But I also wanted to change the atmosphere, how these folks think, how they talk. Could I interject a different level of conversation that got them into looking beyond even their personal life to what they might, some of their dreams, some of their visions and what they wanna do with their life?
So we started this pilot program called Leader to Leader. And we brought in six guys, just brought them out on the field and we just had conversation. We talked about some of the things that you and I have already discussed about leading by example. And just things that were, maybe we had in common, but we never talked about. Then we introduced them to guys like Steven Covey, and Zig, and John Maxwell, and Les Brown, and we just slowly let them have a little diet of this once a month. And it was working really good, so we started another group, a second group, and then a third, and a fourth until we had everybody in the team attending these small breakout sessions. Once a month, one hour. And I'm telling you Steve, I didn't know I was changing the culture, but it changed the culture. And that was able to give us the outstanding results because people started wanting to do what they were doing. And they were hearing themselves say things in front of their teammates that they'd never said before, that they believed in. And their trust went up. The trust factor went way up. And when trust goes up, you know, speed goes up. When trust goes down, speed slows down. And the unity that these guys were building…and I didn't even know I was doing this. I mean, I knew good things were happening, but it was interesting, as you grow good grass, you don't have to worry about as many weeds popping up. You know, good healthy grass chokes out weeds. And I started seeing that with our team. After a little while, some of our guys just, they found other jobs. They were like, "Man, I got a great job working somewhere else." And it ended up being some of those guys that were leading some of that drama. And we were glad for them, and it worked out good for us. And it was like the culture changed in so much, that they had lost their influence. It's just a natural process that people didn't wanna talk about that silly drama anymore. And so that conversation got raised. And that's something that I have held to, even though it initially slows us down to pull people in, it's speeds us up so much more because of what that value of developing those beliefs, that trust, does for our team.
Steve: Okay. All right. Those are very powerful concepts. And, you know, if you think about this whole spirit of becoming your best, which is what you're working with your team to do. Every single one of them, and the results and we're never done, by the way, with that quest.
Jeff: That's right.
Steve: Because it stays with us throughout life. So in these 40 years of research, although people weren't necessarily perfect. I interviewed over 150 CEOs, studied the lives of hundreds of historical figures that have really had a big impact on all of our lives in a significant way. What I did identify is that there were 12 things that were always there, that created, that set them apart from everybody else. And I'm telling you Jeff, you're doing them.
Jeff: Oh, good. Whew. You had me nervous.
Steve: You are doing them. And look at the impact. I mean, it just…I can't wait to get out there someday and look forward to meeting you and seeing what you're doing. Great going.
Jeff: Well, Steve, funny thing. My brother told me, he goes, "You're not doing anything unique. You're just applying what you've learned." And that's true. I mean, I'm listening to guys like you. I'm learning and then really just trying to apply it. That's the key. And you know what? I was scared to death trying to do some of this stuff. I'm gonna be honest with you. I mean, it was scary bringing these guys in and showing them a video. I mean because you just don't know what the reaction is gonna be. And now that I look back, I kind of laugh on that. But it takes courage to do some of these things.
Steve: It does. Way to go. And that's leadership, by the way. It's courageous leadership. Well, one of the things that blows me away, is how fast these podcasts go. We're out of time.
Jeff: Oh man.
Steve: And so thank you for a great job today. And any final tips for our listeners before we wrap up?
Jeff: Well, the final tip would be just, continue to grow. Cultivate your greatness. And everything you do, you just bloom where you're planted. I don't care where you are right now, be the best at what you're doing. It'll be amazing the opportunities that'll come your way.
Steve: Well, bravo to you, Jeff McManus. So how can our listeners learn more about what you're doing? This has been a really terrific interview, great ideas that you shared.
Jeff: Well, I'd love to see them on my website. I'm at jeffmcmanusspeaking.com. And I have a great handout for your listeners, my five leadership tips that I use with my team, my frontline team, every day. And if they wanna go to jeffmcmanusspeaking.com/byb, I'll let them download that for free.
Steve: Oh great. Well, that's a great offer and I'll look forward to doing that as well.
Jeff: Perfect.
Steve: Well, thank you Jeff McManus for being part of this show today. You've done a great job, totally, totally inspiring.
Jeff: Steve, thanks. And let me just say one quick thing, I've got a book coming out September 5th, "Growing Weeders into Leaders," and would love to have your viewers, listeners take a look at that. Take a peek at that and see what their thoughts are on that. And I'm looking forward to diving into your book when I get home.
Steve: All right. Well, that sounds good, can't wait for that to come out. That'll be fun. I'm putting that on my list.
Jeff: Thank you Steve.
Steve: Okay. And to all of our listeners wherever you are, this is a reminder for each of us. That you are making a difference every single day, in your life, with the people you associate with, and in our world. This is Steve Shallenberger with Becoming Your Best, wishing you a great day.
EPISODE RESOURCES