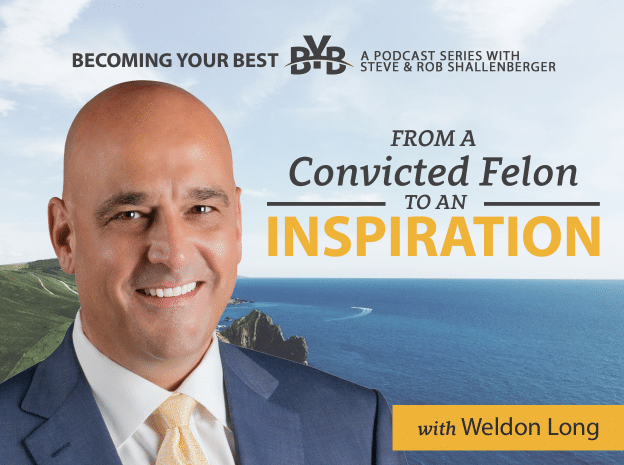 From a Convicted Felon To An Inspiration | An Interview with Weldon Long
Ready for some jaw-dropping inspiration?
To say that Weldon Long turned his life around doesn't come close to conveying his amazing story of transformation. Sure, today Weldon's a highly respected entrepreneur, sales expert, and New York Times bestselling author. But would you believe that 20 years ago this same man was a three-time convicted felon who'd been living, in his words, a life of "poverty, desperation, and struggle"?
Today you'll hear how over a seven-year period—from the confines of his prison cell—Weldon profoundly and irrevocably changed himself by changing the way he thought about his life. Within just a few years of leaving prison (for the last time), he went on to build an Inc. 5000 company with $20 million in sales. And that's just the beginning.
In this BYB episode, you will . . .
Hear the details of Weldon's success story and get powerful insights that can help you in Becoming Your Best
Discover why creating a specific vision for the future was so crucial for Weldon
Learn what it means to live with a prosperity mindset
Understand how the things you fear most can find their way into your own life—and how you can change that
Learn how to handle life when you're in the depths of despair
See why blaming others only hurts you in the end
SUBSCRIBE TO THE PODCAST
 EPISODE RESOURCES
The Invincible Sales Professional (forthcoming event from Weldon Long)
Becoming Your Best: The 12 Principles of Highly Successful Leaders
The Seven Habits of Highly Effective People