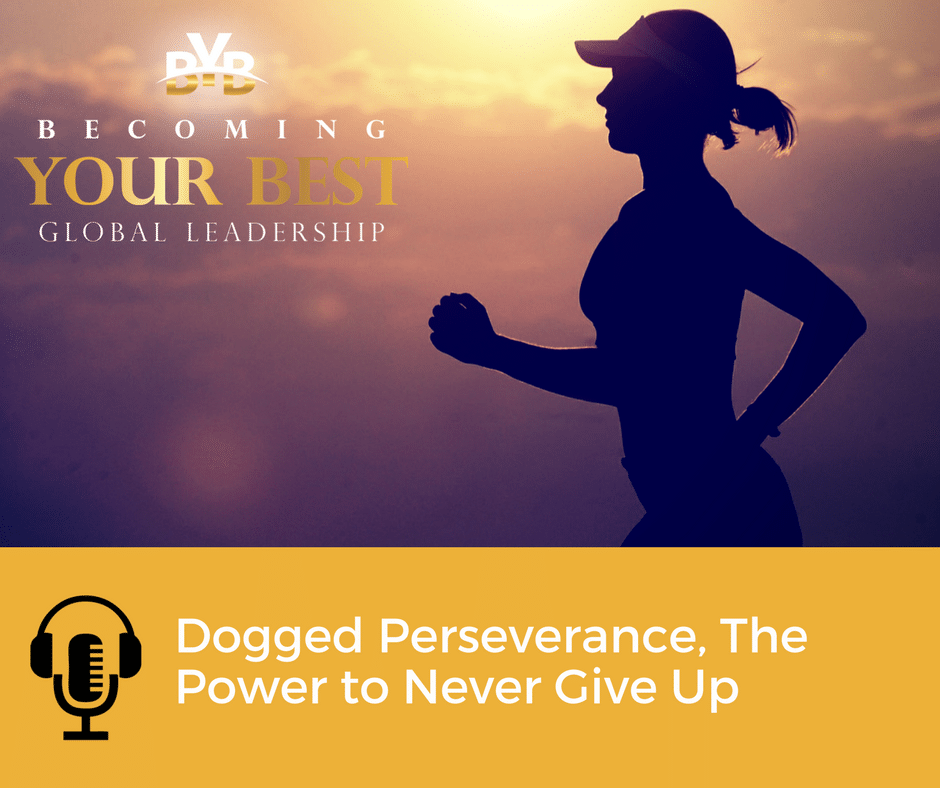 Dogged Perseverance – The Power to Never Give Up
Today, we are going to talk about a principle that gets down to our very core, and is what allows us to see everything else through. It is perhaps one of the most noble, necessary, and powerful forces in our life. It's the principle of never giving up.
Welcome to the "Becoming Your Best" podcast series. This is Steve Shallenberger, your host today. We welcome you here from wherever you may be in the world.
I'd like to share an experience I had many years ago when I was a college student. I had been in South America for a couple of years and returned to my university studies to get an accounting degree. A friend of mine had sold educational books in the South and throughout the country the summer before. He made enough money to pay for his expenses for school. And so, he wanted to know if I'd like to go out and sell with him, this is door-to-door sales, but I said, "Yeah. Hey, let's go do it!" He was a good person and a big influence in my life. And so we headed off at the spring break, at the end of the springs semester, to Nashville, Tennessee with the Southwestern Company. This is going to be a place where we would be working 80 hours a week. The idea was to work as hard as you could during the summer. Make as much money as possible, so that you could pay your expenses for the whole school year and focus really on your studies.
Well, anyhow, we had a week-long training, that's called "sales school," it was a great experience. And then we headed off to our assigned area. My assigned area happened to be just north of Aberdeen, Maryland. Communities such as, Bel Air, and Havre De Grace, and Churchville. Wow, what an experience that was. I'll never forget what took place as I had my first Saturday on the job. This is the very first day. I started at 8 a.m., and as I had been taught in that sales school, I went out on time, a little bit early. I was scared to death. And my first house was on a country road and it didn't seem like very friendly country, you know all the mind games that people can play. My first knock brought the reply, "What in the heck do you want?" Only it wasn't heck. I said, "Nothing," I shouted before hustling down the road. The next house I approached with some trepidation. I could tell that it was occupied by ferocious, big dogs. Those dogs were barking and they had deep voices, and I didn't dare to go on to the front door. So I stood outside, outside of the gate and just clapped my hands, which is what people do in South America in place of knocking on the door. And I felt like an idiot. There I was out there clapping away, early Saturday morning. I probably looked like one too, but eventually, a woman came out and after I explained what we were selling, she actually let me into the house. Before I went in I said, "Let's see, have your dogs eaten this morning?" Well, she assured me they were more barkers and not biters. And the woman was very kind and receptive to what we had to offer. She bought the full set of books.
I had only visited two houses. I had been on that street just one hour, my career was launched. I got out my calculator and figured out that if I kept on at this pace I'd earn $16,000 in commissions by the end of the summer, so that's not bad for the early '70s. But it didn't quite work out that way. I'd peaked a little too soon. I sold nothing for the next two days. I mean, I knocked and I knocked, I knocked, I knocked, and I knocked, and I was rejected, and rejected, and no, no, no, no. Well, my future earnings calculator dropped to $334 for the entire summer as I figured it out, but I kept at it. And my hard work, slogging from door-to-door, eventually paid off. I hit my stride, and I hit my goal, making enough money to pay for my tuition expenses for the following year in college.
Well, what I learned was that if just kept working, putting one foot in front of the other, I would eventually get enough yeses. As a matter of fact, I learned that the more no's I got the more yeses I also got. And so, I discovered the harder I worked the better I did. This is one of the greatest lessons that I've ever learned. That may have been one of the hardest jobs I've ever done, and I figured that if I could make it there, I could make it at anything. I actually made it a game to see how many no's I could get, trying to figure out how to have fun being a failure. I also learned a great deal from failure. It causes a great deal of introspection, and how can you improve? But by the very fact that I kept at it, I was able to build upon those things, and by the end of the summer I was getting a lot of yeses.
The next summer I built upon those principles. I became a manager and I made four times the money the summer after that one, and the next summer, five times as much. As a matter of fact, I think about some of those experiences out there. I remember particularly one very difficult street, I wondered what I was doing out there. It was no, after no, after no. I got to the end of the street and I sat down on my sales case, on this busy freeway. I remember thinking, "What am I doing out here?" And as I paused about that I thought, "Well, I'm out there because I felt right about it." It was the right thing for me to do. I took a little look up to heaven and gained new strength. I ran across that highway safely, and I sold in the next three houses in a row. I mean, this is just how it goes in life, and we have these challenges, we have these setbacks. And so this powerful principle is what keeps us going.
You know, it is one of those principles. If you master all the other principles, but give up at some point during your journey, you may fail to reach your destination. If, on the other hand, you choose to never give up, in other words, keep putting one foot in front of the other, keep working, we have a much better chance to succeed. And we certainly may have to make corrections along the course, but as long as we refuse to give up, your goals will be much more within reach. So what can we do to be successful as we move forward? It's so interesting to hear some of the statistics about rejection and about being successful. So, for example, did you know the average person has been told no, or that his targeted goals are unattainable about 148,000 times by the age of 18. Well, heavens, is it any wonderful that successful people put aside a "no" and continue to go? It's not easy. We need to work through that and develop a mindset that we're going to move forward.
Did you know? In the sales world, for example, 90% of salespeople, on average, give up after four unsuccessful contacts. Yet, 80% of sales are made after five contacts? So what's the difference between the highly successful salesperson and those who gave up? Well, it's the will to be politely persistent despite the challenges and rejection. And if you're in a sales organization imagine the difference of just one more contact, and the impact that would have. Many salespeople give up way too soon. I love what Henry David Thoreau said, "All endeavors calls for the ability to tramp the last mile, to shape the last plan, to endure the last hour's toil. The fight to the finish spirit is the one, the characteristic we must possess if we are to face the future as finishers."
So what are some things that you and I can do to never give up? Every single one of us is going to have: setbacks, challenges, disappointments, we'll all be beaten down at some point. So how can we get back up? How can we keep going? I would like to suggest four things that you can do, that I can do to keep moving forward, to keep putting one step in front of the other even though we are pushed back. Here are the four, very quickly. See failure as a stepping stone to success. Number two, when you're beaten down keep your inspiring vision in front of you, remind yourself of the direction that you're going. And number three is to have faith that things will work out. And number four is work, work, work, and keep taking one step forward. And when we get pushed back, then we take two more steps but we keep pushing forward. Now, this is the way it goes in virtually every profession and every walk of life. We have family members or friends that may disappoint us, or we may disappoint them, but we can't give up. We can never give up.
I'll never forget, I'm going to share a personal story here that has had a profound impact on my life. When I was 16 I'd had the opportunity to work for Milton Dunlap for two or three years. I did lawns and Mr. Dunlap had lost his wife of many, many years, and he turned to alcohol. He was a wonderful reporter for the Associated Press, known throughout the country. And so, at any rate, he asked me also if I'd clean his house and just help generally, which I did. He had one daughter way back on the east coast, but they weren't able to see each other a lot. So I loved Milt Dunlap. He was a good man. He encouraged me, but I was so disappointed to see that he would fall into this trap of turning to alcohol and a lot of it. He would buy a fifth of whiskey a day, and so, we had a game out of it. I would hide it. I'ld encourage him not to drink. But finally after one point, I wrote a note to him. I said, "Mr. Dunlap, this is gonna kill you," and I said, "I just can't be here anymore and work for you anymore around this type of a situation." And to his extraordinary credit, he quit drinking cold turkey. I mean, it was amazing. He was able to go back to work and just make such a difference. About nine months passed and he's fighting this battle, essentially, alone, and he turned back to the alcohol. And after about two or three weeks, he lived about ten houses from our home, I went in and he was in a stupor, and finally I said, "Mr. Dunlap," I said, "I give up." I said, "Here's all the alcohol you have. Just drink as much as you want." And I left the house. About three or four days later I returned and found him in a coma. I called 911, and the ambulance came, and unfortunately he died that afternoon. I honestly felt like much of that was my fault. The reason being, is because he heard the last words he heard from my mouth, of this young boy, 16, was, "I give up." I vowed that I would never give up again in my entire life on anyone, on anything. And so this is the type of resolve that each one of us needs.
We are going to have challenges, these are learning opportunities. We can see these failures as stepping stones. When we're beaten down. Renew your vision. Keep getting back up. Remind yourself of the direction that you're going, have faith, have faith that it will work out. And then work, work, work, and trust in the end outcome, that things will get better. So this wonderfully power, powerful principle, "Never give up," is every part of our fiber to make a difference. This is one of the grand one that makes a difference. As you look back over the history of all the world. Recent history, in the last 100 years. In the last 2,000 years, we see the example of people that have made a difference doing these things. The fact is that you and I can do them as well. It's ordinary people that become extraordinary, as we do these things, and have faith that all will turn bright. This is Steve Shallenberger, your host, from "Becoming Your Best Global Leadership." And, remember, every single day you are making a difference. You're lifting, and building, and leaving the world a better place. Wishing you a great day.
EPISODE RESOURCES
Breakthrough Leadership Conference